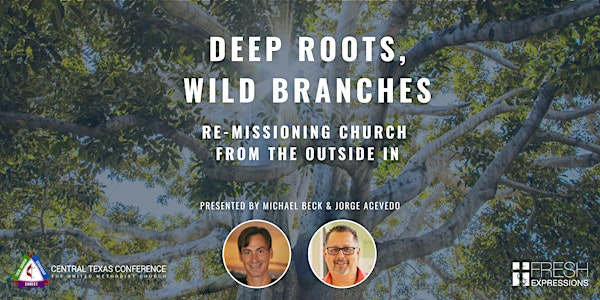 Deep Roots, Wild Branches: Re-Missioning the Church from the Outside In (In...
Location
First Fort Worth UMC - Wesley Hall
800 W 5TH ST
Fort Worth, TX 76102
United States
Description
Live in Texas and livestreamed everywhere, Deep Roots, Wild Branches is a one-day event that will show you how any church can experience a new season of mission.
BONUS: Attendees and American livestreamers will receive a copy of Deep Roots, Wild Branches: Revitalizing the Church through the Blended Ecology.
Across the United States and beyond, the God who "makes all things new" is up to something. Amid a Christian landscape that looks and feels like a desert of decline, new oases of the Spirit are springing forth. Inherited congregations, with long histories, deeply rooted in their traditions, are experimenting with cultivating "fresh expressions" of church and experiencing forms of revitalization.
The revitalization conversation with many of its fundamental assumptions is quite flawed. At this point in world history, amid the significant decline of the US church, our current strategies around revitalization are insufficient. Churches rarely find new life by internal maneuvering, trying to attract the dwindling numbers of already Christians playing church musical chairs.
Revitalization occurs through re-missioning from the outside in, when the whole people of God, the apostlehood of all believers, are released to join what the Spirit is up to in our neighborhoods and networks. Acevedo and Beck are practitioners of a blended ecology (inherited and incarnational forms of church living together in an amplifying fashion, for the betterment of all).
Don't miss a day of interactive learning, sharing tools, and practical processes!