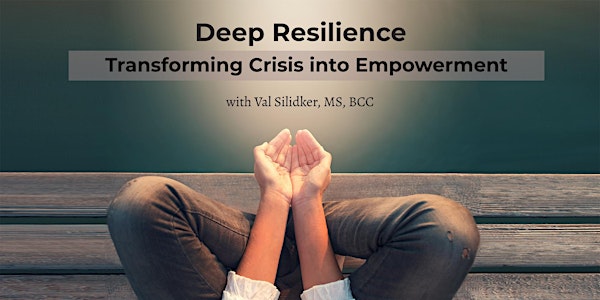 Deep Resilience: Transforming Crisis into Empowerment (4-week course)
Empower your life with compassion, resilience, and active hope for global change.
Refund Policy
Contact the organizer to request a refund.
About this event
Deep Resilience: Transforming Crisis into Empowerment
What is life asking of us now? How do we build the resilience to hold the intensity of these times and participate more fully in the larger life of the world?
There is great power in being present to the truth of our experience. Right now, we have an unprecedented opportunity to create profound changes in our lives and in our world. Each of us is invited to let go of conditioned ideas of how our life "should" be and discover a new story, a soul-level story, that allows us to experience a deeper intimacy with life, and to live a life that feels more aligned, more fulfilling, and contributes more fully to our world.
This is our moment. It's time to summon our collective regenerative power and access our ability to more wisely navigate the turmoil of these times.
~*~*~*~*~*~
Join Val Silidker, Co-Founder/Director of Psychospiritual Institute, for this upcoming 4-week ONLINE workshop.
𝐃𝐞𝐞𝐩 𝐑𝐞𝐬𝐢𝐥𝐢𝐞𝐧𝐜𝐞: 𝐓𝐫𝐚𝐧𝐬𝐟𝐨𝐫𝐦𝐢𝐧𝐠 𝐂𝐫𝐢𝐬𝐢𝐬 𝐢𝐧𝐭𝐨 𝐄𝐦𝐩𝐨𝐰𝐞𝐫𝐦𝐞𝐧𝐭
June 30, July 7, July 14, July 21, 2020
Tuesdays, 7-9pm EST
This 4-part workshop will take place online via Zoom.
~*~*~*~*~*~
In this online workshop, we will explore the importance of this unique moment and what it has to teach us. We will become present to the philosophical and experiential depths of our emotional responses and how they can deepen us, explore our perceptions and our relationship to life, and discover our honest next steps for ourselves and our world, as we tap into the strength within us and our community.
𝐖𝐡𝐚𝐭 𝐝𝐨𝐞𝐬 𝐢𝐭 𝐦𝐞𝐚𝐧 𝐭𝐨 𝐡𝐚𝐯𝐞 𝐜𝐨𝐮𝐫𝐚𝐠𝐞 𝐢𝐧 𝐭𝐡𝐢𝐬 𝐦𝐨𝐦𝐞𝐧𝐭?
This workshop is for those of you who feel the shift in our world and want to be a catalyst for change, and those of you longing to engage more deeply in your personal expansion and the healing of our world.
During this 4-week workshop, you will experience:
~ Highly interactive and creative exercises
~ Soulful meditation and guided imagery
~ Grief council and rituals- Receive the gifts of your emotions
~ Deep philosophical and paradigm shifting inquiry
~ Mutually supportive exploration of powerful and personally relevant actions
~ Profound nature connection (through personal invitations in between classes)
~Solidarity with your change-maker allies
~ Soul-level nourishment
~*~*~*~*~*~
*Breakdown of Each Week*
Week 1: Crisis/Opportunity: Grounding into the Importance of our Time. We will take a deep look at our current crisis and explore both the challenges and blessings. You will experience gratitude practices and a wild reframe of this current moment.
Week 2: Honoring our Experience: Opening the Feedback Loops. Create space to express your grief, anger, fear and despair, and understand the power and gifts of our authentic emotions. This experience will allow your energy to flow, and you will find a strong sense of connection with others and with the larger world.
Week 3: Deep Perspective: Seeing the World With New/Ancient Eyes. This profound session will help you to see your life and work within larger contexts of space and time. You will experience your interconnection with life and become inspired to take action on behalf of a larger story.
Week 4: Active Hope: Creative Responses and Empowered Action for Global Change. In this final stage, you will create and clarify your intentions and affirm your commitment. You will have the opportunity to assess your inner and outer resources and plan actions in collaboration with others.
~*~*~*~*~*~
Together, we will experience our inner and outer world and empower our lives with active hope, compassion and collective resilience.
If you are ready to feel more deeply, connect with a deeper sense of purpose, forge soulful relationships with like-minded powerhouse change-makers, and get inspired into action in your life and for our world, this is for you!
The work we will do together is inspired by Spiritual Psychology, Deep Ecology, and the Work That Reconnects, which is a deeply engaging and interactive body of work created by eco-philosopher Joanna Macy, and designed to help you transform fear and despair into inspiration, empowerment and action.
♥
Here a few comments from this recent group:
I just finished this 4 week class. It was outstanding and deeply profound. Check it out...You'd be smart to join. - N.R.
𝘛𝘩𝘦 𝘸𝘰𝘳𝘬𝘴𝘩𝘰𝘱 𝘩𝘢𝘴 𝘣𝘦𝘦𝘯 𝘴𝘰, 𝘴𝘰 𝘱𝘰𝘸𝘦𝘳𝘧𝘶𝘭. 𝘐 𝘧𝘦𝘦𝘭 𝘢 𝘳𝘦𝘴𝘰𝘯𝘢𝘯𝘤𝘦 𝘰𝘯 𝘵𝘩𝘦 𝘥𝘦𝘦𝘱𝘦𝘴𝘵 𝘭𝘦𝘷𝘦𝘭, 𝘮𝘺 𝘸𝘩𝘰𝘭𝘦 𝘣𝘦𝘪𝘯𝘨 𝘧𝘦𝘦𝘭𝘴 𝘴𝘰 𝘯𝘰𝘶𝘳𝘪𝘴𝘩𝘦𝘥 𝘢𝘯𝘥 𝘪𝘯𝘷𝘪𝘵𝘦𝘥 𝘧𝘰𝘳𝘸𝘢𝘳𝘥 𝘪𝘯 𝘵𝘩𝘦 𝘴𝘱𝘢𝘤𝘦.𝘐 𝘧𝘦𝘦𝘭 𝘴𝘰 𝘣𝘭𝘦𝘴𝘴𝘦𝘥 𝘵𝘰 𝘣𝘦 𝘤𝘰𝘯𝘯𝘦𝘤𝘵𝘦𝘥 𝘵𝘰 𝘺𝘰𝘶, 𝘢𝘯𝘥 𝘵𝘩𝘦 𝘤𝘰𝘮𝘮𝘶𝘯𝘪𝘵𝘪𝘦𝘴 𝘺𝘰𝘶 𝘢𝘤𝘵𝘪𝘷𝘢𝘵𝘦...𝘐 𝘢𝘮 𝘦𝘯𝘤𝘰𝘶𝘳𝘢𝘨𝘦𝘥 𝘵𝘰 𝘢𝘵𝘵𝘦𝘯𝘵𝘪𝘷𝘦𝘭𝘺 𝘭𝘪𝘴𝘵𝘦𝘯 𝘵𝘰 𝘵𝘩𝘦 𝘤𝘢𝘭𝘭𝘪𝘯𝘨 𝘵𝘩𝘢𝘵 𝘣𝘦𝘤𝘬𝘰𝘯𝘴 𝘸𝘪𝘵𝘩𝘪𝘯, 𝘢𝘯𝘥 𝘢𝘭𝘪𝘨𝘯 𝘮𝘺 𝘸𝘩𝘰𝘭𝘦 𝘣𝘦𝘪𝘯𝘨 𝘵𝘰 𝘢𝘭𝘭𝘰𝘸 𝘵𝘩𝘦 𝘦𝘯𝘦𝘳𝘨𝘪𝘦𝘴 𝘵𝘩𝘢𝘵 𝘤𝘰𝘮𝘱𝘳𝘪𝘴𝘦 𝘮𝘺 𝘥𝘦𝘦𝘱𝘦𝘴𝘵 𝘪𝘮𝘱𝘶𝘭𝘴𝘦𝘴/𝘥𝘦𝘴𝘪𝘳𝘦𝘴 𝘵𝘰 𝘴𝘦𝘳𝘷𝘦 𝘪𝘯 𝘢𝘭𝘭 𝘰𝘧 𝘪𝘵𝘴 𝘶𝘯𝘧𝘰𝘭𝘥𝘪𝘯𝘨 𝘱𝘰𝘵𝘦𝘯𝘵𝘪𝘢𝘭𝘪𝘵𝘺.- 𝘕.𝘞.
My heart is bursting! - J.D.
I left each class buzzing, and looking forward to the next one! Thank you again for putting it together, it was just what I needed. - G.M.
𝘛𝘩𝘪𝘴 𝘤𝘭𝘢𝘴𝘴 𝘩𝘢𝘴 𝘣𝘦𝘦𝘯 𝘢 𝘣𝘦𝘢𝘶𝘵𝘪𝘧𝘶𝘭 𝘪𝘯𝘵𝘳𝘰𝘥𝘶𝘤𝘵𝘪𝘰𝘯 𝘵𝘰 𝘢 𝘸𝘢𝘺 𝘰𝘧 𝘵𝘩𝘪𝘯𝘬𝘪𝘯𝘨 𝘢𝘯𝘥 𝘨𝘳𝘰𝘸𝘪𝘯𝘨 𝘵𝘩𝘢𝘵 𝘐'𝘷𝘦 𝘬𝘯𝘰𝘸𝘯 𝘷𝘦𝘳𝘺 𝘭𝘪𝘵𝘵𝘭𝘦 𝘢𝘣𝘰𝘶𝘵. 𝘐 𝘵𝘩𝘢𝘯𝘬 𝘺𝘰𝘶 𝘧𝘰𝘳 𝘺𝘰𝘶𝘳 𝘤𝘰𝘯𝘴𝘪𝘥𝘦𝘳𝘦𝘥 𝘢𝘯𝘥 𝘩𝘦𝘢𝘳𝘵-𝘧𝘶𝘭𝘭 𝘪𝘯𝘴𝘵𝘳𝘶𝘤𝘵𝘪𝘰𝘯. -𝘙.𝘚.
𝘞𝘰𝘸! 𝘑𝘶𝘴𝘵 𝘸𝘰𝘸. 𝘐 𝘧𝘦𝘦𝘭 𝘴𝘰 𝘯𝘰𝘶𝘳𝘪𝘴𝘩𝘦𝘥 𝘣𝘺 𝘵𝘩𝘪𝘴 𝘴𝘱𝘢𝘤𝘦, 𝘵𝘩𝘦 𝘦𝘹𝘦𝘳𝘤𝘪𝘴𝘦𝘴, 𝘵𝘩𝘦 𝘤𝘰𝘮𝘮𝘶𝘯𝘪𝘵𝘺 𝘰𝘧 𝘱𝘦𝘰𝘱𝘭𝘦, 𝘢𝘯𝘥 𝘣𝘺 𝘵𝘩𝘦 𝘥𝘦𝘦𝘱𝘭𝘺 𝘩𝘦𝘢𝘳𝘵𝘧𝘦𝘭𝘵 𝘨𝘶𝘪𝘥𝘢𝘯𝘤𝘦. 𝘛𝘩𝘢𝘯𝘬 𝘺𝘰𝘶 𝘸𝘪𝘵𝘩 𝘢𝘭𝘭 𝘮𝘺 𝘩𝘦𝘢𝘳𝘵! - 𝘝.𝘑.
Take this course if it speaks to you! I just finished this incredible experience with Val and a beautiful group of humans. Such a delight to gather and share what's alive for us individually and collectively, and how our actions and visions support freedom, healing, and wholeness for all. - L.S.
ABOUT VAL SILIDKER MS, BCC
Val Silidker is the co-founder and director of Psychospiritual Institute (PSI). She is a Deep Ecologist, international speaker, Board Certified mindset and leadership coach, and coach trainer. She is also the author of Call of the Ecological Self. Her programs combine transpersonal psychology, deep ecology, and leadership skills, along with conscious business development, to address and develop not only ourselves as individuals, but our ability to impact and inspire society as a whole.
In this time of global change, Val works with emerging leaders and visionaries, who feel the suffering of our world and want to be a catalyst for change, to inspire the highest level of mindset, purpose, and action in their lives. She has been featured on Hay House Radio, NBC, and USA Today, and has had the honor of presenting alongside such luminaries as Don Miguel Ruiz, Dr Joe Dispenza, Andrew Harvey, Dr Brian Swimme, Parker J Palmer, and many more.
Over the past few decades, Val has inspired the transformation of thousands of people throughout the world through her mindful-living events, workshops, and training programs. Val is passionate about the Universe Story, nature and the human psyche, rewilding our hearts and authentic connection work. She believes that through love and connection, we are inspired into sacred action toward a more compassionate and whole world.