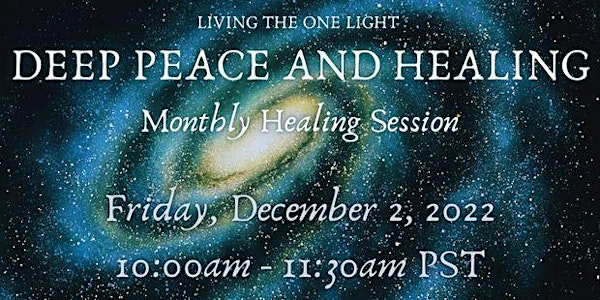 Deep Peace and Healing Monthly Healing Session
Join me for a gathering where the spirit world will hold us to promote deep peace and healing in our lives and in the world.
Refund Policy
Refunds up to 7 days before event
Eventbrite's fee is nonrefundable.
About this event
As we navigate life on Earth, the spirit world wants to support us.
They know that sometimes, we need deep rejuventation, deep healing, and a sense of incredible, abiding peace.
Sometimes our nervous systems need a total break.
The spirit world knows this and knows many ways to support us in getting this sense of deep peace and healing in our lives and in our world.
If this deep peace and healing is what you are needing in your life for any reason, please join me.
In this gathering, you can come live and/or watch the recording any time you like, indefinitely.
The live gathering will go as follows:
1) We will start by briefly introducing ourselves (optional and not recorded)
2) Turn off your video if you like, lie down or get as comfortable as you like and simply RECEIVE.... The spirit world will spend most of the gathering channeling a deeply healing, deeply peaceful experience to support you, your body, your nervous system, and your whole being to come into a place where you can let go, where you can receive, and where you can fully relax and allow yourself to have a complete break for total healing and coming back into a remembrance of yourself as The All That Is
(This part will be recorded and will be the majority of our time together.)
3) After the healing session, there will be optional time for sharing. You can choose to be a part of the sharing, to simply listen, or whatever feels best for you. (This part is optional, will be recorded partially if participants would like their sharing recorded; the remaining portion will not be recorded.)
There are two options for paying for this session and for each of the monthly Deep Peace and Healing sessions:
1) Regular Payment: $45
2) Deep Peace and Healing Monthly Membership - $44/month
The membership includes access to these monthly Deep Peace and Healing gatherings, the monthly Soul Wisdom Community gatherings, AND 20% off all of my other offerings - one on one sessions, live workshops, guest workshops, and all items in my online store.
Join the membership here: https://livingtheonelight.com/membership/
- If you are needing or wanting one on one support as well, you can schedule a discounted personal session with me along with this group session as well.
See you soon!
Love,
Martha