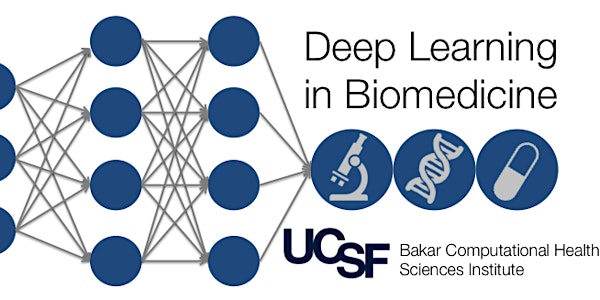 Deep Learning in Biomedicine
By UCSF Bakar Computational Health Sciences Institute
When and where
Date and time
Monday, March 11, 2019 · 9am - 5pm PDT
Location
Genentech Hall 600 16th Street San Francisco, CA 94158
Description
Event Overview
Come learn how researchers in academia and industry are using Deep Learning algorithms for applications in the fields of biomedicine. You will hear how these methods are being put to use in medical imaging, physiological signal processing, molecular modeling, and more. You will also have an opportunity to attend hands-on sessions in the afternoon. The day will conclude with a reception and poster session, in which you can showcase your work and/or view the work of your colleagues, while helping to grow your academic network!
** Email to submit a poster. Poster entries will be considered for a grand prize (provided by NVIDIA), which will go to the poster judged as the "Most Innovative use of Deep Learning in Biomedicine".
Agenda
Genentech Hall Atrium
8:30 – 9:00 Arrival and Check-in (coffee and light breakfast served)
Genentech Hall Byers Auditorium
9:00 – 12:30 Featured Presentations
9:00 Welcome
Michael Gropper, MD, PhD
Chair, Department of Anesthesia and Perioperative Care
9:15 AI and Echocardiography
Rima Arnaout, MD
Assistant Professor, UCSF Cardiology
9:45 Predicting Joint Degeneration Using Deep Learning
Valentina Pedoia, PhD
Assistant Professor, UCSF Radiology
10:15 Coffee Break
10:30 Quantifying Intra-tumoral Heterogeneity in Individual Breast Cancers
Neeraj Kumar, PhD
Postdoctoral fellow, UIC Pathology
11:00 From Bits to Bedside™: Translating Big Data into Precision Breast Oncology
Dexter Hadley, MD, PhD
Assistant Professor, UCSF Bakar Computational Health Sciences Institute
11:30 Deep generative models for single-cell RNA sequencing
Romain Lopez, PhD candidate (Lab of Nir Yosef & Michael Jordan)
UC Berkeley Dept of Electrical Engineering and Computer Science

12:00 Machine Learning for Protein Engineering
Jennifer Listgarten, PhD
Professor, UC Berkeley Dept of Electrical Engineering and Computer Science
Genentech Hall Atrium
12:30 – 1:30 LUNCH BREAK (lunch provided for attendees who register prior to March 5, 2019)
Genentech Hall N-117
*1:30 – 3:00 Hands-on Training, Advanced session: Modeling Time Series Data with Recurrent Neural Networks in Keras

Genentech Hall Byers Auditorium
*1:30 – 3:30 Hands-on Training, Beginner session: Fundamentals of Deep Learning for Computer Vision
*Concurrent sessions
3:00 – 4:30 Featured Presentations
3:00 A Deep Learning Healthcare System
Beau Norgeot, PhD
Postdoctoral fellow, UCSF Bakar Computational Health Sciences Institute
3:30 Trusted Digital Credentials for Doctors
James Brogan, MD candidate
CTO, truu.id
4:00 NVIDIA research
Massimiliano Fatica, PhD
NVIDIA Director of HPC

4:30 – 5:00 Panel Discussion
Pallav Sharda, MD, MA, MBA
Global Lead, Healthcare, Google Cloud

Mohsen Hejrati, PhD
Fausto Milletari, PhD
Dmytro Litieuv, PhD
Postdoctoral Fellow, Bakar Computational Health Sciences Institute
Genentech Hall Atrium
5:00 – 6:00 Posters / Reception (drinks and snacks served)
EVENT SPONSORED BY:


About the organizer
The emerging field of precision medicine demands a new approach to research that harnesses the power of data science. This requires biomedical researchers and practicing clinicians with skills in quantitative and computer sciences as well as modern computing and data infrastructure to support relevant research activities and implement findings in clinical practice. The UCSF Bakar Computational Health Sciences Institute is working to build a foundation of faculty and knowledge assets in computational health sciences and bring together a community of thinkers interested in this emerging field. Our initiatives are focused on enhancing education and infrastructure as well as building community with the goal of advancing computational health sciences in research, practice, and education—in support of precision medicine for all.