An evening conversation exploring how and why Catholics can think about history in order to deepen our understanding of the faith.
About this event
Please note: For those experiencing issues registering through Eventbrite, please click the link here for the Zoom link to attend and, if you're able, send an email to Jess Sweeney at jsweeney@collegiuminstitute.org noting the issue.
"To apprehend the point of intersection of the timeless with time is the occupation of the saint." -T.S. Eliot
How can the study of history be a source of deepening theological commitments? Is there such a thing as a Catholic or Christian approach to history? What are the roots of Christian interest in history? How can Christian genealogical work disrupt common assumptions regarding the history of Christianity? Ultimately, how can a consideration of time lead us to a better understanding of the timeless?
Join the Collegium Institute for an evening conversation exploring how and why Catholics can think about history in order to deepen our understanding of the faith. We will consider why a religion centered on the eternal needs the temporal and historical. This discussion will take place with a particular focus on genealogical approaches to history that seek to understand the conditions for the possibility of different pasts and thus different presents. In particular, we will look at whether there is a distinctively Christian approach to genealogical thinking that learns from other approaches such as Nietzche and Hegel, yet remains grounded in Catholic thought.
This event is part of the Genealogies of Modernity Project which is a collaborative initiative of the Collegium Institute and Beatrice Institute exploring stories of how we became modern, asking what it means to be modern and wondering about other possible modernities.
To check out the GenMod project, including podcast episodes and a diverse variety of engaging articles visit: https://genealogiesofmodernity.org
Speakers:
Thomas Pfau is the Alice Mary Baldwin Professor of English, with secondary appointments in Germanic Language & Literatures and the Divinity School at Duke University.
Brenna Moore is Associate Professor of Theology at Fordham University.
Maria Cecilia Ulrickson is Assistant Professor in American Church History in the School of Theology and Religious Studies at The Catholic University of America.
Cyril O'Regan is Endowed Professor and Huisking Professor of Theology at the University of Notre Dame.
This event is co-sponsored by Beatrice Institute, Duke Divinity School, Villanova University Department of Humanities, The University of St. Thomas Catholic Studies Graduate Program, the Catholic University of America School of Theology and Religious Studies: Church History Program and the Austin Institute.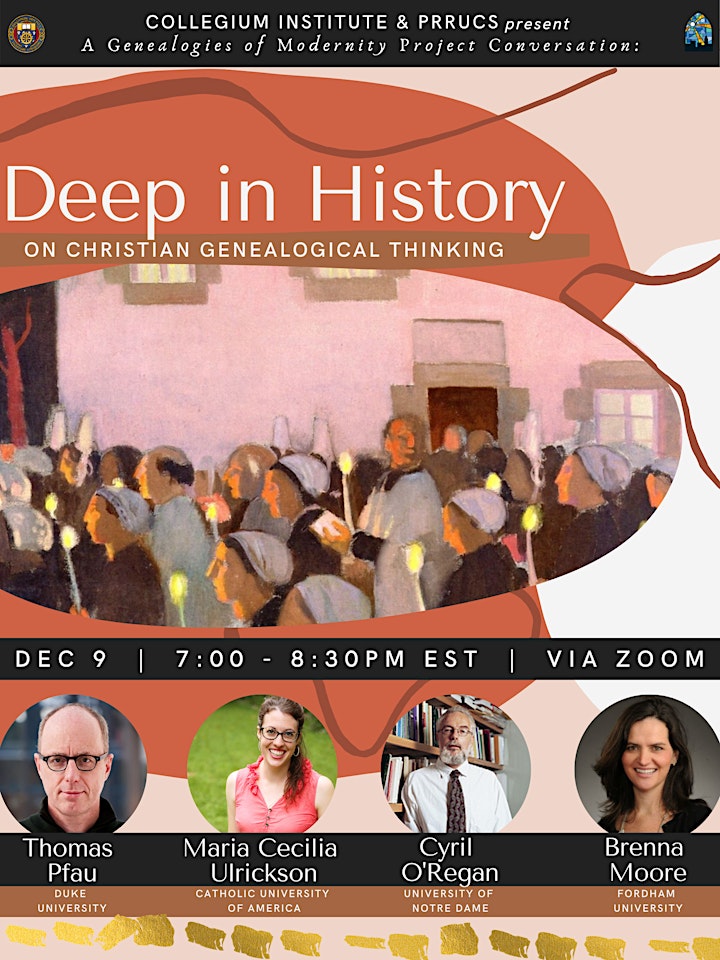 Organizer of Deep in History: On Christian Genealogical Thinking
Founded by faculty, alumni, students, and friends of the University of Pennsylvania, the Collegium Institute is an independent scholarly foundation that draws academic learning into conversation with the Catholic intellectual tradition. In so doing, it cultivates reflection on "catholic" or universal questions and on the unity of truth across the disciplines.