| | |
| --- | --- |
| Deep in Clay: Day of the Dead Edition. | |
Event Details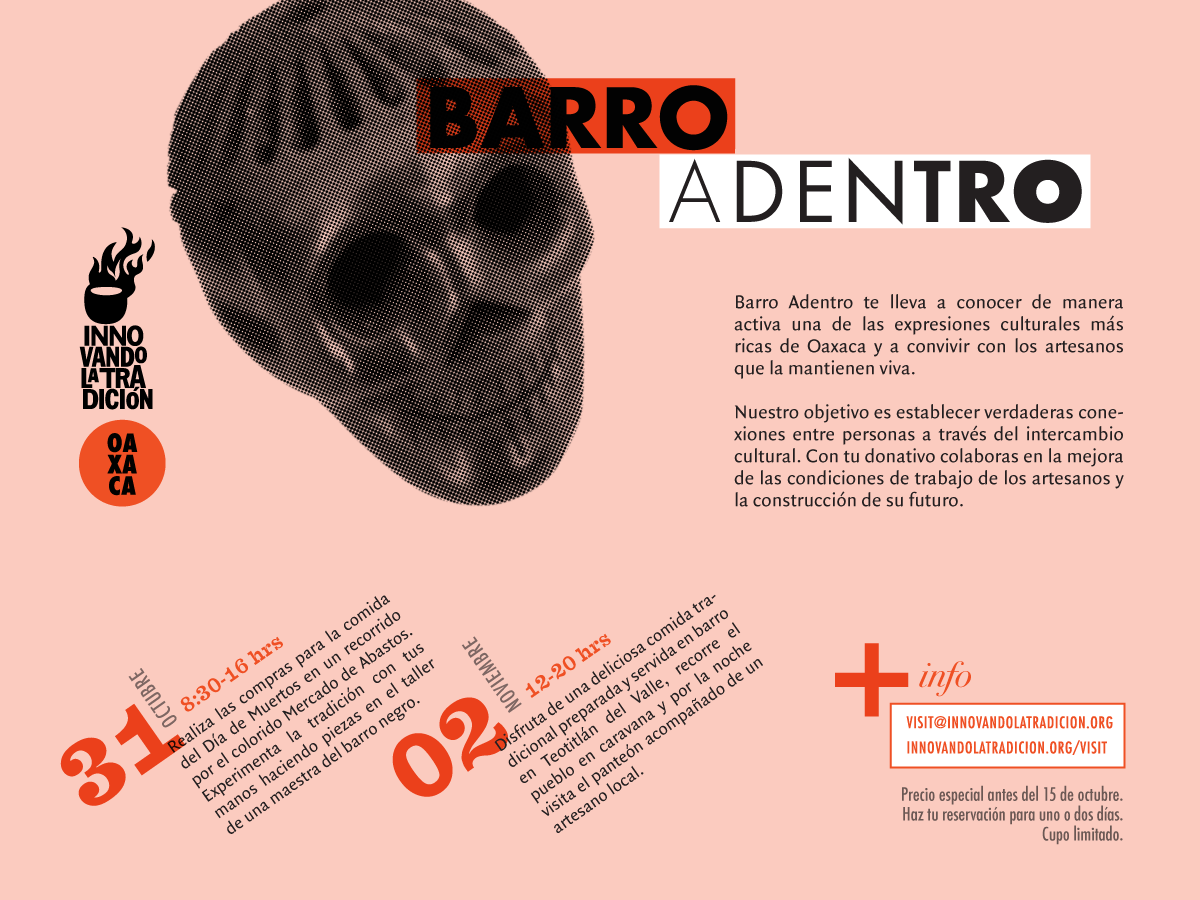 By participating in our event, "Deep in Clay", you will experience one of the most important cultural expressions of Oaxaca and also support its future. 
Dive into the world where mud, water and fire create beauty. Our artisans will open their homes and workshops, inviting you to experience Oaxacan clay traditions in your very own hands.Master potters will guide you in your exploration of form and will teach you how the pieces are made step-by-step, in order for you to create your very own piece of pottery. Afterwards, we will enjoy a local meal sitting at the artisan's table, sharing their life stories, their work and their wisdom.
Our goal is to create true connections between people through cultural exchange and to help improve the artisans' working environment. Your contribution is used to improve the conditions of their workshops.
For the Day of the Dead we have a special visit designed just for you! 
On October 31st: We will take you shopping through the most emblematic market in Oaxaca City, Central de Abastos. After this excursion, we will go to the home of Estela Cardozo, a master potter who lives in San Bartolo Coyotepec. Estela will guide us through the whole process of clay making and you'll be able to make your own piece! 
On November 2nd: Enjoy a meal in the home of Porfirio and Juana Gutierrez, two incredible textile artisans who live in Teotitlán del Valle. All the food will be served and prepared in clay pottery, which is made by our local potters. After our meal, we will explore the whole town together. To end our visit, we will go to the the cemetery for a Day of the Dead celebration.  
Please write to:visit@innovandolatradicion.org in order to reserve your spot for the Day of the Dead celebrations. Also, let us know you would like to plan a visit or schedule a special date outside of these special offers.
Please make your reservation one week in advanced to the event.
The visit costs $2,000.00 MXN per person, and all payments must be made in cash on the day of the event. Please make your reservation one week in advanced to the event. 
Check the video for highlights of our past Deep in Clay events at: https://vimeo.com/165466365
 :::::::::::::::::::::::::::::::::::::::::::::::::::::::::::::::::::::::::::::::::::::::::::::::::::::::::::::::::::::::::::::::::::::::::::::::::::::::::::::
Barro Adentro te lleva a conocer de manera activa una de las expresiones culturales más ricas de Oaxaca, y participar en la construcción de su futuro.
Sumérgete en el mundo donde la tierra, el agua y el fuego construyen una nueva historia cada día. Toma el barro en tus manos y, con la guía de los maestros artesanos, explora cómo se construyen las piezas paso a paso. Crea tu propia pieza y, al terminar, disfrutaremos de una comida local con los artesanos en su mesa, mientras compartimos su trabajo, sus historias de vida y su sabiduría. 

Nuestro objetivo es establecer verdaderas conexiones entre personas a través del intercambio cultural, y proporcionar una oportunidad, a través de tu donativo, de colaborar en la mejora de las condiciones de trabajo de los artesanos.
Para el día de muertos tenemos una visita especial:
31 de Octubre: Visita el mercado más emblematico de todo Oaxaca, la Central de Abastos para hacer todas nuestras compras, después de esto vamos a casa de Estela Cardozo quien nos guiará a través de todo el proceso para hacer barro, ¡tu mismo podrás hacer tu propia pieza!
2 de Noviembre: Vamos a disfrutar de una comida en casa de Porfirio y Juana Gutierrez, dos maestros artesanos textiles en la comunidad de Teotitlán del Valle. Toda la comida es cocinada y servida en barro. Después vamos a dar la vuelta por el pueblo para finalizar nuestra visita en el panteón del pueblo. 
Si deseas planear tu visita o agendar una en fechas especiales escribe: visit@innovandolatradicion.org
La visita tiene un costo de $2,000.00 por persona y los pagos son en efectivo. 
Mira el video promocional: https://vimeo.com/165466365
+++++++++++++++++++++++++++++++++++++++++++++++++++++++++++++++++++++
When & Where

La Tiendita del Barro
Rufino Tamayo #800-C
Oaxaca, Oaxaca 68000
Mexico

Organizer
Innovando la Tradición
Innovando la Tradición es una plataforma de creación donde artesanos, diseñadores y artistas nos unimos para honrar y reinventar la tradición cerámica de Oaxaca.

Desde la interdisciplina, las prácticas narrativas y el diseño participativo, prestamos servicios a alfareros de Oaxaca para apoyar el desarrollo de su oficio y la resilencia de sus comunidades. 
Innovando la Tradición is a multidisciplinary platform where artisans, designers and artists gather to honor and transform the ceramic tradition in Oaxaca. 
From an interdisplinary aproach, narrative practice and collaborative design, we offer services to Oaxacan potterers to support the development of their craft and resilience within their communities. 
Deep in Clay: Day of the Dead Edition.