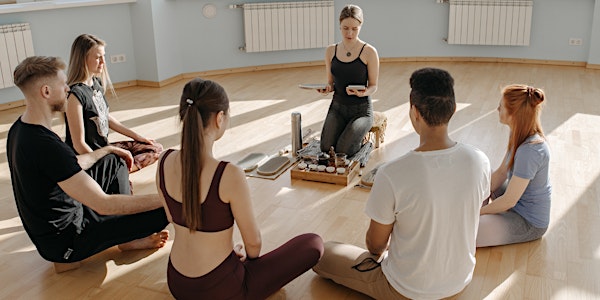 Deep Heart Meditation
This guided meditation is a deep experience and can often give you some insights about yourself.
Date and time
Saturday, July 8 · 9 - 10am PDT
Refund Policy
Contact the organizer to request a refund.
Eventbrite's fee is nonrefundable.
About this event
Guided meditations are a mind-body practice where I will walk you through the meditative process describing images and scenarios to set the scene for you to have your own personal journey.
While everyone's meditation experience is different, my guided heart meditations are deep and can often give you insights to yourself. I take you on a journey which can lead you to:
DISCOVER something about yourself
FEEL trapped emotions
LET GO of past hurts
EVOLVE on your human experience
ACKNOWLEDGE/change your state of being
Here are a few tips to prepare:
COMFORT: A comfortable place to meditate is key, you decide what comfortable looks/feels like for you. Walking, sitting, standing, laying down, blankets, pillows, cozy clothing, eye mask…etc.
JOURNAL/DRAW: You may have a few thoughts/ideas you want to remember after your experience and having a journal, pen, crayons nearby can come in handy.
WATER: It's always good to hydrate :)
ZOOM: Please arrive on time as we lock the event 10 minutes in to avoid distraction during the meditation.
SPIRIT OF GIVING: This is a donation based event and the suggested donation range is $10-$25.
This experience is open to anyone ages 18+, just show up with an open mind and a willingness to discover and experience whatever comes up for you.
Meet the Facilitator
I'm Kerri-Ann and I guide people through their transformation of becoming the designer of their life. I'm known as the Energy Alchemist - empowering humans to design a remarkable life through conscious effort. I use a hands-on practical approach with a spiritual blend, combining western and eastern philosophies and pulling from coaching, neuroscience, meditation, psychology, Reiki, somatic work, yoga and conscious living into one whole package to serve.
I support people, like you, with feeling more embodied, grounded and centered in your life. Learn more about me at
- www.kerri-ann.com
- Instagram: @bedivineandworthy
I hope you'll join us for a powerful guided meditation practice!
Kerri-Ann Appleton
PLEASE NOTE: By registering for this event, you understand that, Kerri-Ann Appleton is not a licensed health care, mental health, or medical services provider and the event is not, nor intended to be a substitute for the advice, diagnosis, or treatment by a licensed health care, mental health, medical, or other licensed professional service provider. You should never disregard the advice or treatment of such health care, mental health, or medical service provider or delay in seeking such advice or treatment because of the information offered or provided by the coaching services, events, or courses.
About the organizer
My life has led her from a small town in New Hampshire to the outback of Australia, a degree in Political Science, traveling around the world with Up with People, working over 15 years in the nonprofit sector and now living and thriving in Brazil. The moments in between have been grand but it's the finer ones that have made me who I am  today. As I was exploring the world, I started to get curious about the inner world and how it was creating my outer world experiences. 

Ten years ago I  started studying neuroscience, meditation and quantum physics. Through that journey down the rabbit hole I learned more about myself and my life began to change. At first the change was slow and I did not see a lot of differences but over time many changes have occurred, which have brought me to be where I am today, a happier and more fulfilled person. 

The universe has been guiding me to places I could never imagine, including Brazil where it helped crack my heart wide open. I sold my condo, my car, and 98% of my things…packed my dog and moved south to Brazil as it was calling me. Many thought I was crazy and others called me brave, but I am only following my heart which has led me on a wild adventure of love. 

I am  still on my unique journey but now sharing my knowledge and experience with others around the world through my work.