Description
It's a new concept

The new science of Flow is revolutionizing our effectiveness, focus and happiness at work.

Productivity Day is a mix of workshop and workday: instead of working at our office, we bring in our professional or personal work for an ultra-effective day!

How much can learning peak-effectiveness improve your life? Could more focus & concentration make your work easier & save you time?

Invest one day of your life, to make a transformation that will boost the rest of your life.
You will walk away with new mental models, habits & skills that will take your effectiveness to the next level. Even if you already are productive, this experience will take your mind to a new realm.
You will not lose a day of work, but instead make more progress than on a workday at the office .

Testimonials
" Brilliant! I even felt I wanted to skip the breaks, because the atmosphere was so energizing;) Totally recommended! "
"I probably saved about 5hrs of work time today. At my rate this is about 300Eur. "
"If you are too busy, stop making excuses. Get out of your office and get yourself to a boostcamp!"

"WOW! is what I felt at the end of the day…I have never been so focused and productive."

Training the mind for Flow
Flow is a mental state of high-performance and happiness, that most of us only rarely or even never experience at work (typically less than 5% of the work-week).
Some call Flow a superpower. When our mind enters the precious state of Flow, we become 200% more creative and 500% more productive. The process of working feels (almost) effortless. We learn 490% faster. (McKinsey study on executives)

Developing the capacity to enter Flow during our work saves hours of work, increases our creativity, and definitely boosts our happiness & fulfillment.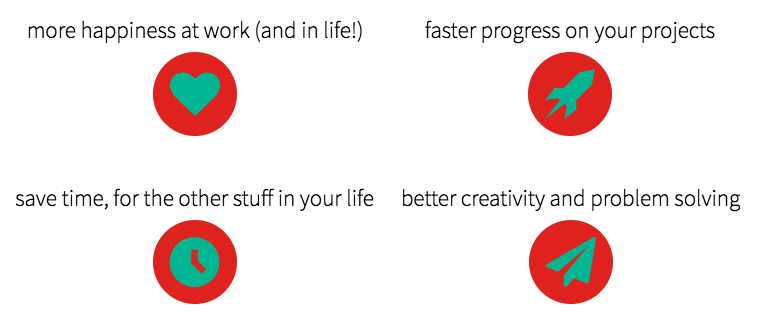 In Flow, the act of working feels effortless and stress-less. We feel energized at the end of the day, instead of tired.
0% stress, 100% deep-focus.

How Productivity Day works

The day includes
Training: 4 hr about the art and amazing neuroscience of High-Effectiveness & Flow
Workday: 3 hr total of Deep-Focus time for you to work on your own stuff, privately. That's more productivity-time than the average workday!
Several energizing sessions to feel at our best all day!
We'll address topics including:
✔ the precious skill of Flow at work ✔ making work feel effortless ✔ dealing with distractions ✔ clearing the mind ✔ happiness & fulfillment ✔ energy & performance ✔ making work feel like play ✔ perfectionism ✔ breaking our inner obstacles ✔ training the mind for deep-concentration & mindfulness ✔ zero-procrastination ✔ dealing with task overload ✔ self-management
About the facilitator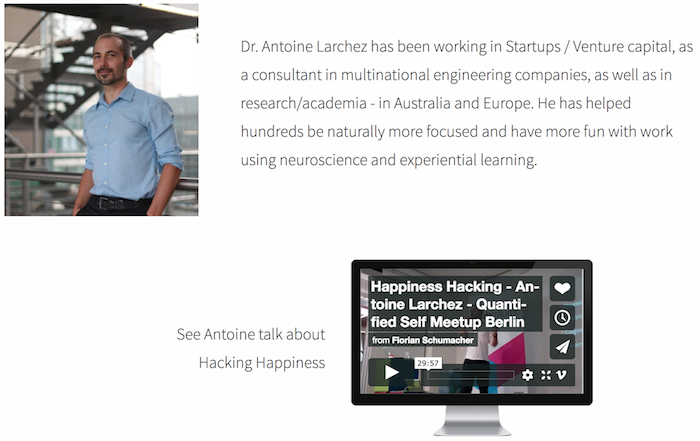 How effective are you really?
We are often unaware that we are only 25-30% effective with our work. We live in a world of too much information & distractions. Research shows that out of an 8-hour workday, we lose on average 5.5 hours in distractions and non-important tasks. What's more? Our brain naturally tends to procrastinate, causing stress.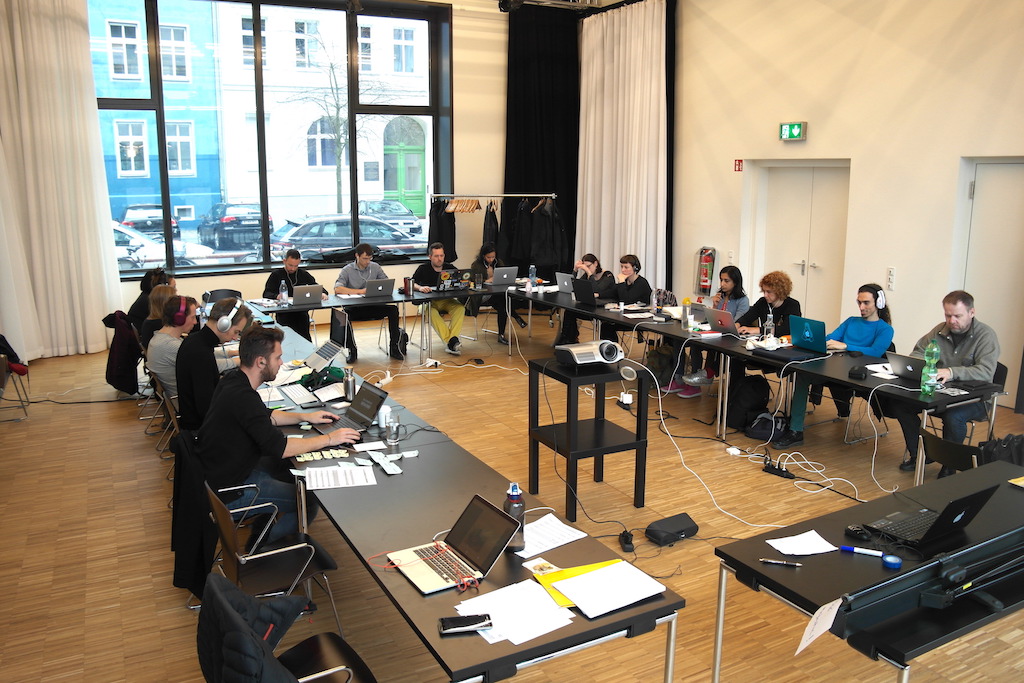 Looking forward to seeing you there for a fun and productive day!



---


! Bookings close on Sunday 3.12 !
Spots are limited and the event has been booked out in the past.
It matters to us that you enjoy this day! We will refund you 50% of the ticket price if you ever felt this event was not a valuable use of your Saturday. The language will be English, but you can also interact in French as Antoine is a French native speaker.
Lunch is included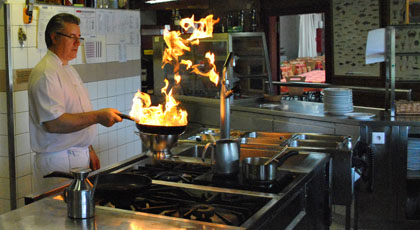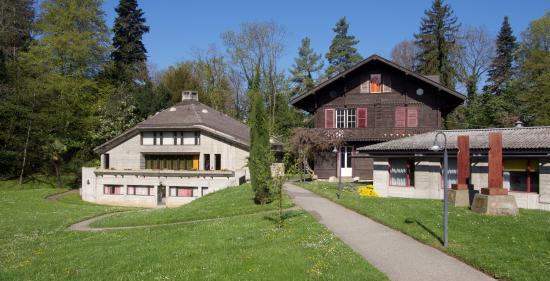 What to expect
During a 1-day boostcamp, you will get your very own tasks done, and at the same time:
practice the rare and precious skill of being in FLOW (deep, effortless FOCUS).

install new high-effectiveness habits - for stress-free productivity, based on the best proven techniques. How can this change your future ?

Working in healthy, energizing way!
Expect to make faster progress than usual and eliminate any procrastination. You'll learn and develop new skills to become your most effective self, without stress.
What can I work on ?

Bring anything you can work on without disturbing others.
Professional or personal work, strategy, website & software dev, writing a book or blog, research of any kind, sorting out finances, self-development, etc…

High-performance and fun!
Perhaps you've already tried the Pomodoro technique, the latest to-do managers app or even binaural sounds for focus. You've read all the books on productivity you could find. You've heard about Deep Work. Perhaps you'd like to experience the focusing effects of smart drugs, but without taking them.



Who is this for?
Anyone who wants to get stuff done and achieve meaningful progress on what matters to them. (That's pretty much everyone, right?)
Participants include entrepreneurs, executives, freelancers, employees, researchers, engineers, writers, creatives, developers, PhD students. In a nutshell, any knowledge worker.
Making it happen !
Simply keep the date of the boostcamp free of meetings or calls, and commit yourself to a day of deep concentrated work. It's often on such days that when we create turning points.
'The difference between successful people and really successful people is that really successful people say NO to almost everything.' — Warren Buffett
If you have any questions, contact Antoine directly on hello@ productivityday.com. See you there!