Event Information
Refund policy
Contact the organizer to request a refund.
Eventbrite's fee is nonrefundable.
Deep Dive into a case study, exploring a structured approach to assessing pain and behavior
About this event
Deep Dive: The Pain Behavior Assessment - Moose's Story
A structured approach to assessing pain and behavior
Pain is an important potential factor for cases which present with behavior problems. In this seminar we will focus on providing you with a structured, evidenced-based approach for an initial case assessment, while also taking you through the details of a real case. We will discuss pharmacological and non-pharmacological methods used to treat Moose, a 5 year old Bernese Mountain Dog presenting for anxiety, who also has a history of hip and elbow dysplasia.
Director of Canine Arthritis Management and veterinarian Dr. Hannah Capon, Neuroscientist and veterinarian Dr. Kathy Murphy, and Certified Dog Behavior Consultant Bobbie Bhambree work together through different aspects of case work up and management. As well as looking at the individual case, generic topics such as breed predisposition for early life pain, pain psychophysiology and the neurobiological link between anxiety and pain will be discussed. We will explore how we helped Moose feel better with the right pain management treatment along with behavior modification to reduce anxiety. The focus will be on leaving you armed with practical tips on how to implement the knowledge we share.
As with other events in the Deep Dive Series, this will be an opportunity to look at a real life case under a multidisciplinary lens and with the benefit of hindsight. Whether you are an animal trainer, veterinary professional, animal behaviorist or someone interested in pain and it's neurobiology, there will be something here for you.
This one-day virtual seminar will include live online lectures, video footage, and live discussion / Q&A sessions. This seminar will be recorded and available to participants after the date of the live seminar, so even if you cannot attend the live seminar, you can still access it later.
The seminar is suitable for veterinary professionals, animal trainers, animal behaviorists and anyone with an interest in the neuroscience of training and behavior.
Other info:
Sunday December 5, 2021
9am to 5pm EDT (United States and Canada)
The Zoom link will be emailed one day prior to the event.
"Doors" open at 8:30am EDT. Feel free to log in and wait in our "waiting room" via Zoom.
This is an online event.
This seminar will be recorded and available for viewing within 2 weeks after the event date. The recording will be available up to one year.
CEUs pending:
Cancellation policy: Refunds up to 30 days before event
Registration:
Early Bird Discount Ticket – before November 20, 2021: $119
General Admission Ticket - after November 20, 2021: $149
Vet Student/Vet Tech/Shelter/Rescue Ticket: $99
ABOUT DR. KATHY MURPHY:
Kathy Murphy (BVetMed, DPhil, CVA, CLAS, MRCVS) is a veterinary surgeon and neuroscientist. She graduated from the Royal College of Veterinary Surgeons UK in 1999, initially working in mixed clinical practice before studying for two post graduate clinical qualifications. In 2009 she was awarded a highly prestigious Welcome Research Training Fellowship to study for her PhD, in Behavioral Neuroscience, at The Queens College, University of Oxford, UK. She subsequently worked in the USA as Assistant Professor of Neuroscience and Anesthesiology at the Icahn School of Medicine NYC; and is now back in the UK, where she holds a clinical-academic position as Director of the Comparative Biology Centre at Newcastle University and Director of Barking Brains Ltd (a neuroscience outreach program for the animal behavior and training community). Her clinical interest has always been anesthesia, analgesia, since the age of 13yo and she has recently completed a residency at the European College of Veterinary Anesthesia and Analgesia. In addition to her primary career roles she was Trustee and Veterinary Advisor to the Rottweiler Welfare Association for 14 years, is a founder of Ethics First (a collective which lobbies for ethical decision making in clinical practice), is an Oversight Committee Member for the UK Dog Behavior and Training Charter, sits on numerous National and International boards, working groups and ethical review panels, and most of all loves spending time with her own 4 dogs.
ABOUT HANNAH CAPONE:
Hannah Capone qualified from Cambridge University in 2002 and has worked in a large variety of practices and roles from sole charge first opinion to teamwork emergency practice. She won the 2020 Royal College of Veterinary Surgeons Impact Award, the 2019 CEVA Vet of the Year and finalist in the 2019 Petplan Vet of the Year. Hannah has an incredible passion for chronic pain management, geriatrics and musculoskeletal health and rehabilitation and has been recognized for her tireless work on Canine Arthritis Management (CAM) an online education and support service for owners of arthritic dogs and professionals.
When Hannah is not working you were find her paddle boarding, kitesurfing and camping by the coast with her dog Luna.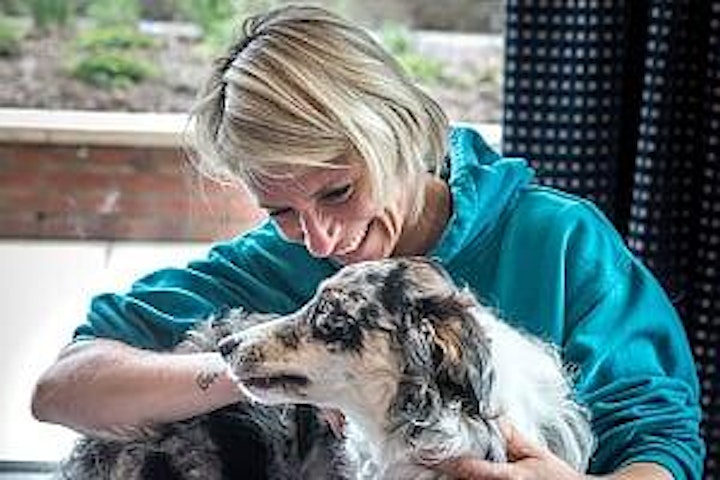 ABOUT BOBBIE BHAMBREE:
Bobbie Bhambree (CDBC, CPDT-KA) is the Director of Behavior Services and a Certified Dog Behavior Consultant at Behavior Vets. She is also a faculty member of CATCH Canine Trainers Academy and Agility University. Bobbie started her career in 2003 as a pet behavior counselor with the ASPCA Animal Behavior Center. While there, she implemented behavior modification programs for dogs who had been surrendered by the public or seized by Humane Law Enforcement. In 2007, Bobbie joined the Humane Society of Westchester, spending the next nine years as their shelter trainer. She created and implemented training and enrichment programs for the dogs, counseled adopters, trained volunteers, participated in community outreach programs, and performed evaluations. In 2016, Bobbie joined the North Shore Animal League America in Port Washington, NY as the Director of Pet Behavior. During her tenure there, she managed a team of canine and feline trainers who focused on developing behavior modification and enrichment programs for the animals in the shelter. She also deployed for the ASPCA Anti-Cruelty Behavior Team to work in the field, supporting the team with dog fighting busts, puppy mill cases, and hoarding cases. In addition to this work, she founded and directed her own company, DogCentric Dog Training, helping people whose pet dogs experienced a wide spectrum of canine behavior issues. Over the years, Bobbie has very successfully competed in agility with three of her dogs including, Marvel who came in third for Performance Speed Jumping and Performance Grand Prix at Mid-Atlantic Regionals in 2019. Bobbie periodically contributes to the agility-focused magazine, Clean Run. Bobbie currently shares her life with six dogs (Tricky, Ziggy, Marvel, Eleanor Rigby, Heady Topper, and Phuncky) and a very supportive husband in the suburbs of southern New Jersey.
Date and time
Location
Refund policy
Contact the organizer to request a refund.
Eventbrite's fee is nonrefundable.