Deep Blue presents Tiefschwarz

Saturday, April 7, 2012 at 9:00 PM

-

Sunday, April 8, 2012 at 2:00 AM (PDT)
Event Details
What: Deep Blue presents CLUB BAD Feat. Tiefscwarz (Basti/Souvenir Music/Germany)
When:  Saturday April 7, 2012  10pm - 2am
Where: Monarch SF - 101 6th St. SF
Who: With DJs: Tiefschwarz (Basti/Souvenir Music/Germany), Rooz (DeepBlue), Bo (TecTacToe)
Want to see who's going?  Check out the Facebook event page.
Resident Advisor Event Page: http://www.residentadvisor.net/event.aspx?343360 
What: Club Bad is all about the "bad boys" of underground dance music. No light fluffy stuff!  Music spun by professionals for underground heads who love being BAD ;) Every month we fly out a DJ/Producer that we love from around the world to SF. This month expect a night of creative, groovey and forward thinking house music with a splash of tech from veteran producer and DJ from Germany, Basti Schwarz of Tiefschwarz. Expect a lot of hands in the air moments, camera's flashing and recording,  with a lot of energy on the dance floor.  
Why:  Why should you not miss this show?  Our last Club Bad show with Carl Craig sold out by 12:30! This time its house music veterans Tiefschwarz on the decks.  A rare chance to see the one half of the German duo and Souvenir Music records bosses, Tiefschwarz at an intimate 300 person venue, up close and personal on a sick Void sound system. Tiefscharz is no joke people, with over 100's of remixes and original productions and multiple mix compilations under their belt they are a fixture in the underground house and techno industry.  From producing amazing underground tracks on labels like Classic, Cocoon, Viva and collaborations with Cassy, Jamie Jones and Seth Troxler. To remixing the biggest names in the industry like Madonna, Depeche Mode and Groove Armada. Not to mention headlining at the top clubs, and performing LIVE at high profile events and festivals across the globe. You usually would have to catch them behind a big stage with thousands of people around.  Don't miss this rare chance to see Basti Schwarz up close and personal at SF's hottest new venue, Monarch. 
Check out this latest live mix from Tiefschwarz live at Igloofest
 **Make sure to purchase limited discounted pre-sale tickets. $10 tix are sold out!!!  Grab $15 tickets as it will be $20 at the door.
With DJs
Tiefschwarz Feat. Basti (Germany/Souvenir Sound)
http://www.facebook.com/tiefschwarzofficial
http://www.residentadvisor.net/dj/tiefschwarz 
http://www.Souvenir-music.com
http://soundcloud.com/souvenir-music/tiefschwarz-sputnik-spring
Rooz (DeepBlue)
http://www.DJRooz.com
http://www.facebook.com/pages/Rooz-DeepBlue/160264270724715
http://soundcloud.com/rooz-sf/rooz-live-deepblue-at-mighty-1
Bo (Tec-Tac-Toe)
Tiefschwarz at Iglofest Canada:
Tiefschwarz at Fly Bermuda festival in Berlin: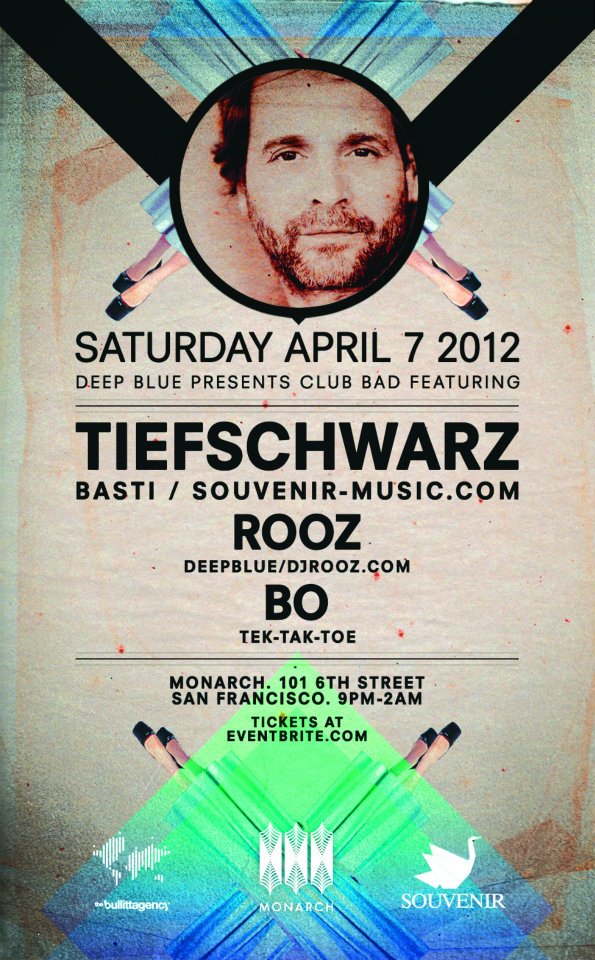 TIEFSCHWARZ:
In a world of ever- changing trends, TIEFSCHWARZ (deep black) is the most timeless of hues: it has style, depth, intrigue and above all staying power. And with a DJ & Producer career spanning more than 14 years to date, the German deep house duo has proven just how apt their moniker has turned out to be.
Born and bred in Stuttgart, brothers Ali and Basti Schwarz's passion for techno and deep house was largely driven by their experiences in the early 90's as DJs at the now legendary clubs that Ali ran in their home town, "ON -U" (1990 - 1993) and "Red Dog" (1993 - 1997). Around 1997, the brothers decided to begin producing and embarked on their joint venture as TIEFSCHWARZ, releasing their first single "Music" on Wave Music (New York) in 1998. The success of their debut spurred them to record their first album "Ral 9005", released on the Stuttgart-based label Four Music in 2000. The album was subsequently licensed to Classic Recordings in London in 2002, putting TIEFSCHWARZ on the map in the UK and laying the groundwork for international notoriety. In the same year, Classic also released Ali & Basti's mix album "A Little Help For Your Friends" and both releases were enthusiastically received by the English and international press. 2002 was also the year that TIEFSCHWARZ relocated to the electronic mecca of Berlin, where they worked closely with Jochen Schmalbach. They continued to nurture their careers as international DJs, playing high-profile venues across the globe whilst simultaneously building up an impressive remix repertoire, including reworks for the likes of Masters at Work, Ultra Naté, Freaks, Isolee, The Rapture, Cassius, Minimal Compact, DJ Hell, Missy Elliot and Kelis. TIEFSCHWARZ cemented their status as internationally recognised producers with their remix of Spektrum ("Kinda New") which was a worldwide hit. Around the same time, the brothers helped create "Fine Records" in London (a division of Four Music, their former label in Germany) where they released their fantastic 'Misch Masch' album, which not only showcased their talent as DJs but also their remix skills on a double CD release. Ali and Basti then turned their attention back to writing and producing their own material. The resulting album ("Eat Books") was met with critical acclaim, with the first single "Isst" being voted one of the best singles of the year in 2005 by Trax and DJ Magazine.
When & Where

Monarch
101 Sixth St.
San Francisco


Saturday, April 7, 2012 at 9:00 PM

-

Sunday, April 8, 2012 at 2:00 AM (PDT)
Add to my calendar
Organizer
Deep Blue Underground Events
Deep Blue presents Tiefschwarz