Deep Blue & Dax Capricorn Party Feat. Mark Farina at Mighty

Saturday, January 4, 2014 at 10:00 PM

-

Sunday, January 5, 2014 at 4:00 AM (PST)
Event Details
More tickets will be available at the door. See you on the dance floor!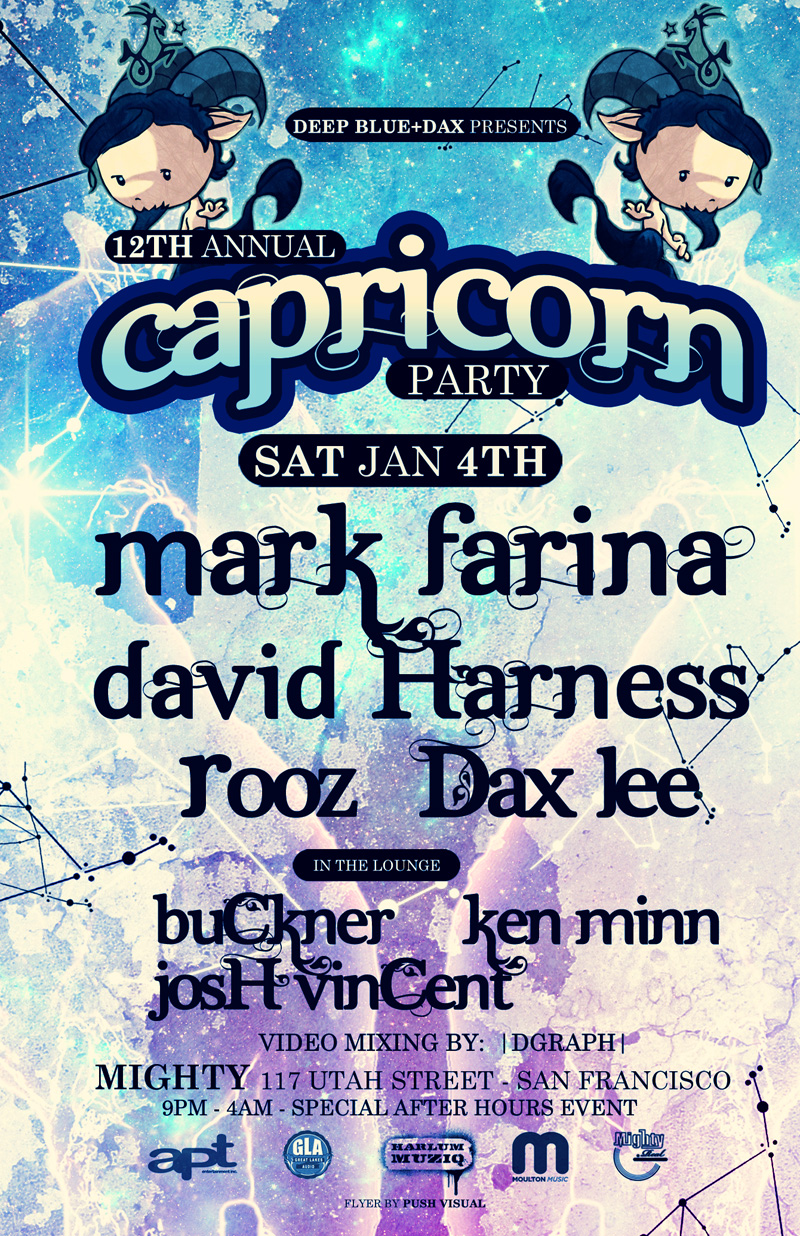 Deep Blue + Dax presents the Capricorn party feat MARK FARINA
@ Mighty. 
Celebrating Rooz & Dax's birthdays along with all the other Capricorns 
When: Saturday April 6th, 2013 10pm - 4am
Where: Mighty [119 Utah st. SF]  
Who: With DJs Mark Farina (Om/Great Lakes), David Harness, Rooz, Dax, Buckner, Ken Minn,  
Want to see who's going?  Check out the Facebook event page. 
What: A night of house music with legendary San Francisco DJ and producer, Mark Farina.  2 Rooms of house and techno music in a dark underground setting of Mighty.  Expect a lot of hands in the air moments with a lot of energy on the dance floor.  Its all about the music as SF veteran house DJ Jeno warms up the crowd, while Rooz delivers the closing set in the main room.
Deep Blue and Dax joining forces to bring you the 12th anual Capricorn party.  For the last 4 years the Deep Blue parties with Mark Farina at Mighty have never dissapointed with a consistent packed house and infectious energy on the dance floor. For the last 12 years Dax's Capricorn parties have always been a highlight in January. Now for this special occasion both crews are uniting to put together a great bday party for all the Capricorns. Expect a great night of house music with San Francisco's all time house music hero Mark Farina. Mark Farina paved the way for house music DJs in SF.  One of the few who came from the underground and went to superstar status. With over multiple productions on labels like Om Records, Defected and more.  Not to mention over 10 compilations on Om, Fabric and Ministry of Sound. To his Mushroom Jazz becoming an incredible success with over 7 series.  The man has traveled the world, played the top clubs, and high profile festivals.  In 2013 Mark joined fellow Chicago house music legends Derrick Carter and DJ Sneak on a world tour. Playing at all the hot venues along with multiple dates at one of the wolds most infamous clubs, Pacha in Ibiza. 
Expect a crazy night of hands in the air moments! I mean thats what happens when you get the #1 all time SF DJ on the insane sound system of Mighty and let him loose in that underground atmosphere where he can play whatever he wants and get creative to the MAX. Not to mention the underground crowd that is totally into the music feeding energy into Mark.  The last few Deep Blue events with Mark Farina @ Mighty have been very close to selling out. An incredible party that goes strong all the way till 4am!!!  
Our last 5 shows with Mark Farina at Mighty were all sold out!! Everyone knows this party goes off. Its an  insaaaaaane party that we host 2-3 times a year and never fails, see photos here.  Expect great music, great crowd with incredible energy exploding in front of the DJ Booth.  The music always starts off deep and funky then slowly moves into more underground banging house.  By 3am we switch to full afterhours mode as the music gets more energetic and trippy.
DOWNLOAD LIVE MIXES from our last event with Mark Farina at Mighty
Listen or download Mark Farina at Deep Blue at Mighty 9-1-2012
Listen or download Rooz at Deep Blue at Mighty 9-1-2012
Click HERE to listen or download Mark Farina's LIVE mix @ Mighty 1-7-2012
Click HERE to listen or download Rooz live at Deep Blue @ Monarch 4-7-2012
 PICTURES from our last events with Mark Farina at Mighty:
Click HERE to view the photos of Deep Blue with Mark Farina at Mighty (Sept 1, 2012)
Click HERE to view pictures of Deep Blue with Mark Farina at Mighty (Jan 7th 2012)
Click HERE to view the pictures from our event with Mark Farina at Mighty (July 31st 2010)
Click HERE to view pictures from our party w/ Mark Farina at Mighty (Jan 30, 2010)
Click HERE to view pictures from our party w/ Mark Farina at Mighty (Sept 11, 2009)
Click HERE to view the pics from our party w/ Mark Farina at Mighty (May 2nd 2009)
CLICK HERE to view the pictures from our party with Mark Farina at Mighty (Jan. 3rd, 2009)
Mark Farina Biography
"I look at my job as a modern day traveling minstrel, to bring new music to as many places as I can, and expose obscure records that, otherwise, might go hidden."    While Mark Farina may be able to sum up his job description in a sentence, there is much more to be written.
Mark developed his musical tastes in Chicago listening to house music on the radio, living in one of the country's most primordial breeding grounds for house.  Around '88, while record shopping at Imports, Etc., he met Derrick Carter and a friendship began.  "I just ended up there between classes, I ended up buying his picks.  He steered me toward the cutting edge House producers of the time."
"I started playing when I lived with my parents and didn't have any bills to pay so I could just buy records.  My intentions were never to just make money, it's nice, but it's kind of turned into a job by accident - it was a hobby that turned into a job."
When Farina first started wandering from his passion for the purist forms of House into what grew into one of his trademark styles, Mushroom Jazz, he was playing the main room in a club in Chicago and got demoted to the B-room after playing too many Martin Luther King Jr. samples.  Mark experimented with a deeper style, dropping De La Soul, disco classics and other stuff that wasn't being played in the main room.  However, in 1992, Mark found a welcome place for his collection of downtempo tunes accompanied by a small run of mix tapes entitled "Mushroom Jazz". 

Originally launched as a cassette series, the Mushroom Jazz tapes grew from the first Chicago run of 50 copies eachon to the next stage, where 500 copies of several volumes were easily distributed and sought after. 

As the Acid Jazz boom began, he perfected his sound and fused the newest tracks from the West Coast's jazzy, organic producers with the more urban sounds he had championed in Chicago.  While the predominant musical force in SF was still dark, dubby House and Wicked-style Breaks, the city embraced the downtempo movement with a healthy bunch of live bands and DJs generating the tunes.

Mark Farina, along with Patty Ryan-Smith, created the now legendary weekly Mushroom Jazz club night in San Francisco in 1992.  Every Monday night the crowd slowly germinated from 100 for the first few months to 600-700 two years later.  As time passed, Farina and Patty put their energies into another project, the first Mushroom Jazz interactive CD-ROM for Om Records.  After a three year run, where the club had established a fanatical, cult-like following for Farina and the Mushroom Jazz sound, the club closed its doors and transformed into a CD series and accompanying tours.

Since 1989, Mark Farina has been traveling the globe performing at literally hundreds of shows a year, sometimes DJing both of his preferred styles in two different rooms at the same party.  At other events, he's been known to play extended sets that lasted over eight hours.  In his House sets, Mark is known for his uniquely effortless journeys on the jazzy side of Chicago House, mixed up San Fran style.  

This wandering record minstrel has played to incredible crowds all over the globe.  Consistently drawing new fans to his style of chunky-funky rhythms and deep underground house, Mark plays upwards of 200 shows to over one million (1,000,000) club goers per year.  Voted in the top DJ's in the world by URB, MUZIK and BPM Magazine, his taste making skills continue to turn the heads of seasoned veterans as well as youngsters just getting into the music.

On CD, Mark has recorded both of his dominant musical personalities.  His first mix, 'Mushroom Jazz' on Om Records, is defined by a hip-hop sub-groove with jazzy, dubby elements in the downtempo range.  It was followed by 'Seasons', a critically acclaimed House mix.  An Imperial Dub mixed CD, a guest slot in the pedigreed 'United DJs of America' series, 'Mushroom Jazz 2' (Om Records), 'San Francisco Sessions, Vol. I' (Om Records) and Mushroom Jazz 3 (Om Records), 'Connect' (Om Records), 'Mushroom Jazz 4', and his critically acclaimed debu artist album "Air Farina' (Om Records).  Recently, Mark Farina has released a double LIVE mixed cd "Live at Om" w/ Derrick Carter (Om Records), and the long awaited 'Mushroom Jazz 5'
MUSHROOM JAZZ 6 hit #1 on iTUNES USA & CANADA (Electronic Chart)   ...MARK FARINA's 'Mushroom Jazz 6' compilation is out now on Om Records.  Mark's legendary Mushroom Jazz compilations, their cumulative sales over a quarter million copies, have essentially made Mushroom Jazz its own distinctive genre of music, blending hip-hop sub-grooves with jazzy, dubby, elements. Mark's new single 'Life', featured on MJ6 is out now on Om Records.

MJ6 Press Feedback
"For many downtempo fans, Mushroom Jazz is where it all began." –BPM
"The most influential American contribution to the laid back beats scene." –URB
"Mark Farina is an expert in creating seamless downtempo mood pieces." –FILTER
"Mushroom Jazz sets the benchmark for quality in the field of jazzy soul and hip hop." –DJ

'Fabric 40: Mark Farina' is also out now on Fabric Recordings.  Farina's mix follows installments by Carl Craig, Diplo, and James Murphy. 
When & Where

Mighty
119 Utah st.
San Francisco, CA


Saturday, January 4, 2014 at 10:00 PM

-

Sunday, January 5, 2014 at 4:00 AM (PST)
Add to my calendar
Organizer
Deep Blue Underground Events
Deep Blue & Dax Capricorn Party Feat. Mark Farina at Mighty