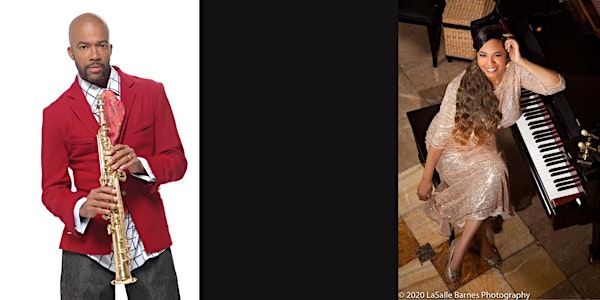 DEE LUCAS LIVE IN CONCERT FEATURING GAIL JHONSON
A minimum of $25.00 is required per person while inside the showroom.
When and where
Location
Feinstein's at Vitello's 4349 Tujunga Ave Studio City, CA 91604
About this event
PLEASE NOTE, $25 MINIMUM ON FOOD OR BEVERAGES
Doors: 6:30pm //Show: 8:00pm
DEE LUCAS LIVE IN CONCERT FEATURING GAIL JHONSON
Dee Lucas: National recording artist and saxophonist Dee Lucas has been steadily growing his brand and fan base beginning with Remembrance in 2004. Thereafter, it has been a steady showcase of unique stylings with Something to Ride 2 (2007), Standing Room Only (2010), Rebirth of the Smooth (2012), The Smooth Factor (2014), Going Deeper (2016), The Sweet Spot (2017), & Going Left (2018).
His new 2020 release "The Time Is Now" marks his best work to date.
As as runner-up in the 2007 Capital Jazz Festival Competition, Dee Lucas has opened for a plethora of artists such as Boney James, Norman Brown, Ronnie Laws, Nnenna Freelon, Hugh Masekela, Gregg Karukas, Peter White, Nick Colionne, Peabo Bryson, Miki Howard, The Manhattans, and Michael Franks just to name a few. He has performed at several jazz festivals such as The Arizona Jazz Festival, The Jacksonville Jazz Festival, The Savannah Jazz Festival, and The Atlanta Jazz Festival.  
In 1997, Lucas got his start as a musician playing as a sideman in a local band, Between 9&7. The band recorded a CD, which was a moderate regional hit. Although he got performances, both rhythm and solos, Lucas felt it was time to develop his own by ensemble to demand more challenges within himself as both a musician and entrepreneur. So, on New Year's Eve of 1999, Lucas formed his own contemporary jazz trio, Xpressions. They produced and recorded a CD titled Footprints, which gained notoriety in regional markets. The record contained the classic hit People Make the World Go Round.
In 2004, Dee Lucas's entrepreneur skills had surfaced, and his newly-formed record label, Mo Better Recordings, was conceived.
His debut solo CD, Remembrance, was released and independently distributed in 2005. Adding consistency to his young but surprising start, Dee released his sophomore CD, Something to Ride 2, in 2007, which peaked at #10 on the Smoothjazz.com's Top 50 Indie Charts. With this record, the saxman wanted to further develop his own distinctive sound as a solo artist.
In 2010, Dee Lucas released Standing Room Only which was composed and produced by several talented producers including Grammy winner Phil Davis. The CD peaked at #26 on the Smoothjazz.com's Top 50 Indie Charts and #29 on the Billboard jazz charts. In 2012, Rebirth of the Smooth was released as a compilation of Dee's first 3 solo recordings to celebrate what he has accomplished in his steadily rising career, as well as his direction in contemporary jazz. It offers a wide array of styles coming from various producers pushing the envelope in this already competitive genre of jazz.
In 2014 with The Smooth Factor, Lucas continued to season his contemporary jazz with R&B, and featured the work of such producing heavyweights as LA-based Lew Laing, Jr., and Atlanta- based and Grammy-Award winning Phil Davis.
The journey continued with the release of Going Deeper in 2016 which debuted and peaked at #30 on the Billboard jazz charts. The album included producers Phil Davis, Joel Del Rosario, Lew Laing, Jr., former Cameo member TC Campbell, and Philly-based producer/guitarist David P. Stevens.
In 2017, Dee Lucas continues to evolve with fresh ideas and an 'out-of-the-box' business approach. He is currently merging his previous music catalog with his new parent company Dee Lucas Enterprises which is home of his brand new record label ODL Music. The new label released The EP Collection....Volume 1:
The Sweet Spot, which is produced by legendary pianist Bob Baldwin. As a result, the radio single 'Road Warrior' made Billboard's Top 100 Smooth Jazz charts for over 8 weeks.
In September 2018, "Going Left" was released which generated respectable success on several smooth jazz charts. 
Dee's latest offering is "The Time Is Now" marks his 9th worldwide release and 8th studio recording to date.  It features some of the best producers in the business:  Adam Hawley, David P. Stevens, and Lew Laing, Jr.,  This project has already produced 4 radio singles on the smooth jazz & R&B charts.  It's current single 'Full Tilt' featuring guitarist Blake Aaron is an immediate favorite among smooth jazz fans worldwide; as it is currently positioned on several smooth jazz charts.
Gail Jhonson:
Gail Jhonson… piano, vocals, music director, composer, educator and author…
Hailing from Philadelphia, PA, Gail is a Berklee College of Music alumni.  Her national break in the industry stemmed from her landing her first major gig with Morris Day of The Time.  She relocated to Los Angeles and has worked with some of the top artists in the business, like Brenda Russell, Jermaine Jackson, Pink, Norman Brown, Patti Austin, Jeff Lorber, Bobby Womack, and Jonathan Butler.  Ms. Gail Jhonson is also nationally recognized as musical director for guitarist, Norman Brown, a position she has held solidly for many years.
Gail has 6 CD's penned and received a nod in the 51st Grammys. She has earned several additional awards including Best Composer/Piano from Black Women in Jazz.  Her all-female jazz ensemble, Jazz in Pink celebrated their 10-year milestone in October 2019 and continues to wow jazz fans every time they take the stage!
As a recording artist, Gail/Jazz in Pink signed with Shanachie Entertainment in 2019.  Their CD "Joy" was released Oct. 2020.
The current singles, 'Joy Joy' and 'Keystroke' which did extremely well on the smooth jazz charts!