Description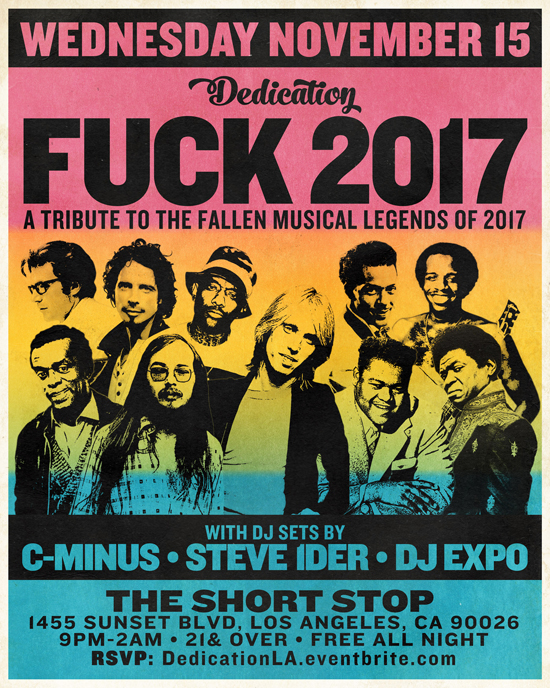 A Tribute To The Fallen Legends of 2017
RSVP to secure your spot inside!
Last year, after all of the heavy musical losses of 2016, we decided to create a night to celebrate all of the legends we had lost with "FUCK 2016". Well the year of 2017 has turned out to be another year of many talents we've said goodbye to, so we're doing it again with "FUCK 2017"! So join us for a night of musical therapy as we celebrate the dearly departed geniuses of 2017 and all of the music they are responsible for bringing into the world.
This is a night about love, unity, and coming together! So ALL ARE WELCOME, whether you're black, brown, white, asian, native American, Latin, gay, lesbian, muslim, jewish, christian, trans, mentally ill, disabled, etc, we welcome you in with open arms!
WALTER BECKER
(Steely Dan)
CLYDE STUBBLEFIELD (James Brown)
DAVID AXELROD

FATS DOMINO
CHESTER BENNINGTON (Linkin Park)
LEON WARE
JUNIE MORRISON (P-Funk / Ohio Players)
ROBERT "P-NUT" JOHNSON (P-Funk)
CUBA GOODING SR. (Main Ingredient)
CHRIS CORNELL (Soundgarden)
FRESH KID ICE
(2 Live Crew)
ALLAN HOLDSWORTH (Soft Machine)
GOLDY MCJOHN (Steppenwolf)
GREGG ALLMAN (The Allman Brothers)
JONI SLEDGE
(Sister Sledge)
RICK STEVENS (Tower Of Power)
TOBY SMITH (Jamiroquai)
PHIL COHRAN (Sun-Ra)
AL JARREAU
HOLGER CZUKAY & JAKI LIEBEZET (Can)
BRENDA JONES
(The Jones Girls)
EARL LINDO
(Bob Marley & The Wailers)
GLEN CAMPBELL

JAMES COTTON
SONNY KNIGHT
SYLVESTER POTTS (The Contours)
MIKE KELLIE (Spooky Tooth / The Only Ones)
SKIP PROKOP (Lighthouse / The Paupers)
SIB HASHIAN (Boston)
JOHN WETTON (King Crimson)
DAVID PEEL
FRANKIE PAUL
BILL DOWDY (The Three Sounds)
CLEM CURTIS (The Foundations)
EARL LINDO (Bob Marley & The Wailers)
VIRGIL HOWE (Little Barrie)
And everyone else that we may have left off this list
1455 Sunset Blvd, Los Angeles, CA 90026
SEE THIS EVENT ON FACEBOOK AT: