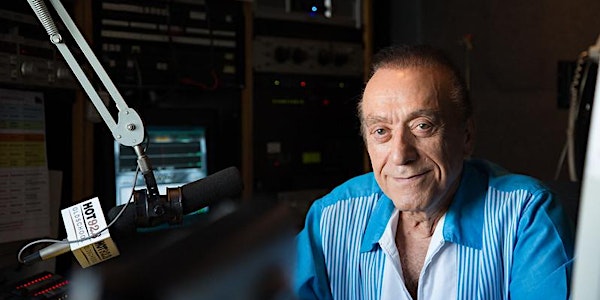 Dedicated To You: A Tribute to Art Laboe
Dublab presents Dedicated To You: A Tribute to Art Laboe, a concert in celebration of the iconic radio DJ's life and impact on Los Angeles.
Date and time
Saturday, August 5 · 6 - 10pm PDT
Location
Grand Performances 350 South Grand Avenue Los Angeles, CA 90071
About this event
Dedicated To You: A Tribute to Art Laboe (Presented by dublab and Hello Stranger) will be a star-studded heartfelt celebration of the life and legacy of the late great Art Laboe, featuring a diverse constellation of artists covering some of the legendary DJ's quintessential "Oldies by Goodies" backed a live band led by Rocky Padilla (Tierra / WAR).
Featuring performances by
Plus DJ's Ruben Molina, Soulera 5150 and Spiñorita.
Show starts at 6pm
For Location, Parking & FAQ, click here.
Dedicated To You: A Tribute to Art Laboe' will be a night of artists covering some of the quintessential "Oldies by Goodies" classics backed by Rocky Padilla and his band. Aaron Frazer, the Brooklyn-based songwriter, multi-instrumentalist and co-lead singer/drummer for Durand Jones & The Indications will be performing as well as Norman Carter of The Delfonics, Modern Funkster's Diamond Ortiz and Moniquea will be joining as well as songstresses Irene Diaz and Izcalli Marie.
Art Laboe (1925 - 2022) was a pioneering disc jockey, songwriter, record producer, and radio station owner whose legacy and impact includes introducing rock and R&B to Los Angeles airwaves, helping end segregation in Southern California, and coining the term "Oldies But Goodies" through his beloved radio show.
His dedication show "Art Laboe Connection" was an institution, because it facilitated communication amongst the community for decades. He was known for providing listeners the opportunity to dedicate songs to their loved ones, sometimes behind bars or far from home. His show stood out among the rest of mainstream radio because instead of following a rigid playlist, he incorporated lesser-known gems and deep cuts from various musical genres, such as doo-wop, R&B, and sweet soul, making each episode of the Art Laboe Connection a heartfelt experience.
Laboe erased color lines by presenting mixed race concerts and playlists and invented the concept of the compilation album which has brought nostalgic joy to generations of radio listeners.
Los Angeles Legend and community unifier Art Laboe passed away in October 2022, and although he isn't with us in the physical realm, we want to celebrate what would have been his 98th birthday (August 7th) by dedicating an entire evening to performances of his most played radio requests.
About dublab:
=A non-profit radio station founded in Los Angeles in 1999, dublab.com cultivates and supports local cultural ecosystems worldwide. Through community-generated radio, dublab promotes curiosity, experimentation, inclusivity, and connection. dublab is a platform for discovery and the cultivation of next-wave music, arts and culture. dublab has long been interested in honoring Art Laboe's legacy with the world. http://dedicatedtoartlaboe.com/ is a website and radio project by dublab founder Mark "Frosty" McNeill which explores Art Laboe's impact on radio and beyond.
About Hello Stranger:
Hello Stranger is more than just a song, (a nod to Barbara Lewis' 1963 hit single), it's a feeling. What is brought to you with Hello Stranger is a gift from the past re-imagined through the lens of today. What started as music event, food and beverage pop-ups, has evolved into a multi-branch organization that encompasses a non-profit, a media company, a production company, a brand management company, and lastly a venue/restaurant & bar. Angela Romero is the visionary behind Hello Stranger, with a deep love for her city and its people, she's intentionally cultivated a team of LA natives with aligned passions to bring this dream to life.