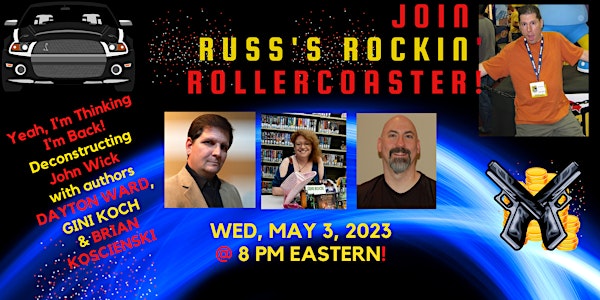 Deconstructing JOHN WICK with Dayton Ward, Gini Koch & Brian Koscienski!
Host Russ Colchamiro leads a discussion about the impact of the John Wick franchise with authors Dayton Ward, Gini Koch and Brian Koscienski
Date and time
Wednesday, May 3 · 5 - 6pm PDT
About this event
DAYTON WARD is a New York Times bestselling author or co-author of nearly forty novels and novellas, often working with his best friend, Kevin Dilmore. With Kevin and fellow author David Mack, he helped develop Star Trek: Seekers, the "literary spin-off" to the critically acclaimed Star Trek Vanguard novel series.
His short fiction has appeared in more than twenty anthologies, and he's written for publications such as NCO Journal, Kansas City Voices, Famous Monsters of Filmland, Star Trek and Star Trek Communicator as well as the websites Tor.com, StarTrek.com, and Syfy.com.
Dayton's newest works for 2020 include the Star Trek humor book Kirk Fu: A Guide to the Final Frontier's Most Feared Martial Art, the Star Trek novel Agents of Influence, and short stories co-written with Kevin and included in the forthcoming anthologies Pangaea III and It Came from the Multiplex.
Before making the jump to full-time writing, Dayton was a software developer, having discovered the private sector after serving for eleven years in the U.S. Marine Corps. Though he currently lives in Kansas City with his wife and two daughters, Dayton is a Florida native and still maintains a torrid long-distance romance with his beloved Tampa Bay Buccaneers. Visit him on the web at http://www.daytonward.com.
GINI KOCH writes the fast, fresh, and funny Alien/Katherine "Kitty" Katt series for DAW Books, the Necropolis Enforcement Files, and the Martian Alliance Chronicles. She also has a humor collection, Random Musings from the Funny Girl. As G.J. Koch she writes the Alexander Outland series and she's made the most of multiple personality disorder by writing novels, novellas, novelettes, and short stories in all the genres out there and under a variety of other pen names as well, including Anita Ensal, Jemma Chase, A.E. Stanton, and J.C. Koch, all with stories featured in excellent anthologies, available now and upcoming. www.ginikoch.com
BRIAN KOSCIENSKI developed his love of writing from countless hours of reading comic books, losing himself in the different worlds and adventures within the colorful pages. He had minor successes early in his career by getting a few short stories published in independent 'zines before teaming up with Chris Pisano and Jeff Young to form The Novel Guys. Together they have logged many hours writing novels, stories, articles, comic books, reviews, and the occasional ridiculous haiku. To find out where they may be skulking next, visit them at www.novelguys.com. If you happen to see Brian at one of the various conventions he participates in, feel free to stop by the table and say, "Hi." He's harmless!