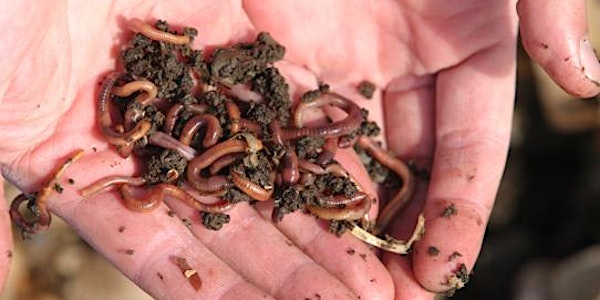 Decomposer ID Workshop at Compost-Pa-Looza
Join the NYC Compost Project Hosted by The New York Botanical Garden for a Decomposer ID Workshop.
When and where
Location
Queens Botanical Garden 42-80 Crommelin Street Flushing, NY 11355
About this event
Join the NYC Compost Project Hosted by The New York Botanical Garden for a Decomposer ID Workshop. Compost is produced through the hard work of decomposer organisms that break down organic material. Learn about the compost food chain and how this web structure maintains a healthy ecosystem. We'll discuss chemical and physical decomposition and the three levels of consumers. Don't miss the "Find the Critter" activity at the end!
This workshop is part of Compost-Pa-Looza, a day at the Garden aimed to spotlight Queens composting and empower the community to learn, network, and have fun with all things soil health! To learn more about, and register for, Compost-Pa-Looza, visit https://compostpalooza.eventbrite.com
Registration required. Drop-in upon availability.
Included in Garden Admission. Entry to Compost-Pa-Looza and related workshops and activities are included in Garden Admission, and is to be paid at Garden Entrance. Your admission supports Queens Botanical Garden, the place where people, plants, and cultures meet! QBG is a 501(c)(3) non-profit organization.
Members 會員 Los miembros 회원 – $0
Adults 成人 Adultos 성인 – $6
Seniors (age 62+) 長者(62歲+) Adultos mayores (edad 62+) 노인 (나이 62+) – $4
Students with ID 持學生證學生 Los estudiantes con ID 학생 ID소지 – $4
Children (ages 4 to 12) 兒童(4歲至12歲) Niños (4 a 12 años) 어린이 (4 세 ~ 12세) – $2
Children (age 3 and under) 幼兒(3歲或以下) Los niños (3 años o menos) 어린이 (3세 이하) – $0
If you are unable to attend after registering, please cancel your ticket in advance to allow for others to join.
___________________________________________________________________________________________________
KNOW BEFORE YOU GO
HEALTH & SAFETY
To prevent the spread of COVID-19 and for the health and safety of all visitors, follow our current health & safety guidelines, found on our website: https://queensbotanical.org/know-before-you-go
CANCELLATIONS
In the case that an event is cancelled, you will be notified via email. Please check our website or social media for updated information.
COMMUNICATIONS
By signing up and attending QBG events, you hereby opt in to receiving communications from the Garden. You may receive updates about future QBG events and news through the addresses you provide. If you do not wish to receive future communication, simply click the "unsubscribe" button at the bottom of an email or write to info@queensbotanical.org.
GARDEN ETIQUETTE
QBG staff strives to provide a place of peace, beauty, and safety for the quiet enjoyment of our visitors. QBG is a living museum, a collection of gardens for the study, culture, exhibition, and display of plants. We encourage our visitors to explore, enjoy, and be respectful of our plant collections and fellow guests. For more guidelines on garden etiquette: https://queensbotanical.org/etiquette
PHOTOGRAPHY & VIDEOGRAPHY
Queens Botanical Garden (QBG) occasionally photographs or films visitors and activities on site to support our mission in promotional media and materials, including print, online, broadcast, and social media. By attending this event, you grant permission to QBG use your likeness in perpetuity, in all forms of print and digital media used to promote, publicize, or advertise the Garden, its activities, and programs. If you do not give QBG permission to take and use your image, you must notify an event organizer or staff when you arrive for this event. QBG is a 501(c)(3) non-profit organization.
GETTING TO QBG
By public transportation, take the number 7 subway line to Main Street, the Long Island Rail Road (Port Washington line) to Main Street/Flushing, or the Q44-SBS or Q20 bus.
For driving directions and more information: https://queensbotanical.org/directions
PARKING
Parking is available year-round during Garden open hours at the Parking Garden, located at 42-80 Crommelin Street, Flushing, NY 11355. For more information: https://queensbotanical.org/directions
ABOUT QBG
QBG is an urban oasis where people, plants and cultures are celebrated through inspiring gardens, innovative educational programs and real-world applications of environmental stewardship. QBG is located on property owned by the City of New York, and its operation is made possible in part by public funds provided through the New York City Department of Cultural Affairs, Queens Borough President, the New York City Council, State elected officials, the New York State Department of Parks, Recreation and Historic Preservation, along with corporate, foundation, and individual supporters. For more information, visit www.queensbotanical.org or call (718) 886-3800.