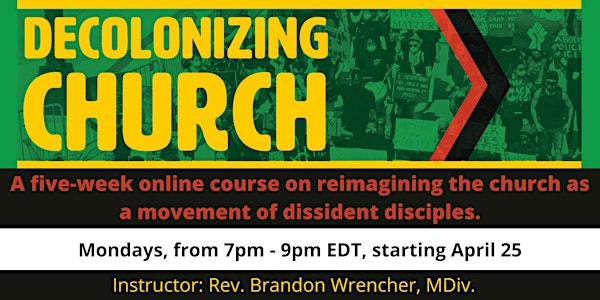 Decolonizing Church: Mobilizing Missional Communities
Refund policy
Contact the organizer to request a refund.
Eventbrite's fee is nonrefundable.
Want to see how social justice and activism can be at the center of your church's mission and discipleship? Join this movement.
About this event
"To those who need profound succor and strength to enable them to live in the present with dignity and creativity, Christianity often has been sterile and of little avail. The conventional Christian word is muffled, confused, and vague. Too often the price exacted by society for security and respectability is that the Christian movement in its formal expression must be on the side of the strong against the eak." – Rev. Dr. Howard Thurman, Jesus and the Disinherited
Howard Thurman expresses a truth that his mentee Martin King also discerned in his "Letter from a Birmingham Jail" through this haunting question: "Is organized religion too inextricably bound to the status quo to save our nation and the world?" This continues to be one of the biggest challenges for the church to this day, perhaps more than ever. It is urgent for churches to move beyond conventional staff-centric and self-serving mission and discipleship models. Come learn about how the history of Black prophetic spirituality can shape a decolonizing model of mission and discipleship to unleash everyday dissident disciples* for spiritual formation and social impact in local communities.
This course is for pastors, church planters, faith-based nonprofit leaders, seminary students, faith-based activists and organizers, religious educators, congregational lay leaders, and any leaders who:Are looking for a fresh, decentralized, and decolonized approach to mission and discipleship.
Want to see how social justice and activism can be at the center of your church's mission and discipleship.
Want to be inspired by stories of ordinary disciples growing in decolonized faith that informs their social action.
Are ready to take away tools and language to share with your church or organization to get started with developing leaders and communities of decolonized practice.
COURSE SEQUENCE: Pre-assignment: Roots in the Hush Harbors w/ enslaved Africans
Week 1: Soulcraft w/ Chinua Achebe
Week 2: Solidarity w/ Audre Lorde
Week 3: Sensitization w/ Septima Clark
Week 4: Shared Leadership w/ Ella Baker
Week 5: Struggle w/ Frederick Douglass
EXPECTATIONS:
Plan to commit around 2-4 hours each week for personal work + live sessions. Brandon will hold optional weekly office hours for participants.
STEP ONE: You will be sent reading materials, an audio/visual element, and reflection activities through email and Canvas.
STEP TWO: You will post your response to a short reflection activity in Canvas.
STEP THREE: You will attend a live Zoom lecture/group conversation about the week's materials with Brandon Wrencher. Live sessions are each Monday from 7pm - 9pm EDT, beginning April 25.
INSTRUCTOR:
Rev. Brandon Wrencher is a minister, organizer, writer, and trainer. He has worked over the last 12 years across the US within faith, education, and non-profit sectors at the intersections of decolonizing church, contemplative activism, and local presence to build beloved communities. He's one of the founders of The Good Neighbor Movement, a faith justice community based in Greensboro, NC that is a network of contemplative activist groups. Brandon is an ordained elder in the Western North Carolina Conference of The United Methodist Church. He holds a Bachelor of Arts in Religion from UNC-Chapel Hill, a Master of Divinity from North Park Theological Seminary, and completed post-graduate studies in theology and ethics from Duke Divinity School. Brandon has two forthcoming books in 2022 - Liberating Church: A 21st Century Hush Harbor Manifesto (Wipf & Stock and The Voices Publishing) and Buried Seeds: Learning from the Vibrant Resilience of Marginalized Christian Communities (Baker Academic). Brandon is married to Erica, his life and love partner, and they have two beautiful and energetic elementary school-aged sons. Together Erica and Brandon founded Wrencher Collaborative LLC, a community-rooted education and consulting project that works with faith leaders, activists, congregations, and non-profits to catalyze spiritual and social impact.
Contact your instructor with any questions at info@wrenchercollaborative.com.
*Dissident discipleship: a concept we were first introduced to by our mentor Rev. Lynice Pinkard, who we'll read from in the course.