Description
Abstract:
In the past several years, there have been great efforts on the part of individuals, groups, organizations and government agencies to show the benefits of human breastmilk. Much of these endeavors stem from emerging empirical and scientific data that highlights the importance of human milk that calls for community action and activism to counter illness and disease that stem from a lack of breastfeeding. Local and national advocates place large and important emphases on these areas and frequently adhere to the mandates set forth by the overarching medical establishment. This has been the conversation over the past number of decades.
But what does it mean that much of the information we receive about breastfeeding comes from mainstream white, male and female-dominated health systems that has historically been built upon 'othering' those outside of these identities? In the age of IBCLCs, professional services and various emerging credentials that promote practical breastfeeding mechanics along with mother-infant bonding and other benefits, does it matter that much of this discourse originates from within the United States that does not always discuss the nuances of those outside mainstream avenues?
In this webinar, we will take a look at this form of breastmilk promotion and gauge how Communities of Color are impacted. We will highlight different ways we adhere to an overarching social structure of breastfeeding and also work together to learn and understand the challenges and benefits of using varied avenues and legacies from within and outside of our communities to support the breastfeeding tradition.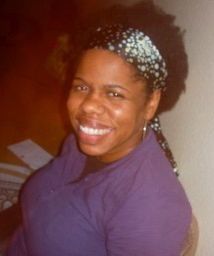 About the speaker: Acquanda Stanford is a critical Black feminist anthropologist, Certified Lactation Educator and a doula. Acquanda has a master's degree in anthropology, a bachelor's in anthropology -- and even her two-year Associates of Arts and Sciences degree concentrated in anthropology.
Acquanda's political activism and academic research highlights breastfeeding among Black and African Americans in the United States. Her work is concentrated in the Mississippi Delta, where she conducts ethnographic fieldwork. Acquanda is a fourth-year PhD student of sociocultural anthropology, creator of a grassroots Black feminist library, activist and community organizer. You can learn more about her and her work by visiting her website: http://acquandastanford.com/
Title: Decolonizing Breastfeeding in Communities of Color
Date: Friday, October 21, 2016
Space is limited. This allows all of us to better engage each other without being overwhelmed or overcrowded. There will be no additional spaces opened should it sell out, so don't wait to register.
Time: 10:30 am -12:00 Pacific Time
Duration: 90 minutes; 45 minutes of presentation followed by 45 minutes Q&A and dialogue. This involves back and forth conversations between host and participants. This means that in addition to participants asking me questions, I will also draw on your thoughts and ask you questions, in order to create a critically engaging reciprocal learning environment and moving the conversation along.
Price: Prices vary from individual, small group and large group rates. See pricing below for details.
Once you submit your payment, you will receive a receipt from Eventbrite of the transaction. Approximately 2 weeks prior to the webinar, I will email you with a password that you will use to log into Fuze on the day of the webinar.
Accommodations: I am in the process of working to gather the proper materials in order to transcribe and/or interpret and to make this webinar more available to visually impaired, Deaf and hard of hearing participants.
[Important Update}: Because of some recent and unexpected changes to Fuze, the platform required changing. Decolonzing Breastfeeding in Communities of Color will now be hosted on GoToMeeting. You will receive an email, in enough time before the webinar, with instructions for participating. If you have already downloaded the Fuze application, you only need to simply delete it.
Platform: Fuze
System Requirements:
A computer monitor and speakers, or a compatible device such as an iphone, tablet or another supported device. Note: If you do not have access to a computer monitor and speakers, you can participate via calling in.
High speed internet connection
How to participate:
Approximately 2 weeks before the webinar, I will update the registration list with your information, and you will receive an invitation and instructions for accessing the webinar.
On the day of the webinar, click on the link you receive in your email. In order to participate using video and audio, you are required to download the fuze application https://www.fuze.com/download. If you do not download this application, you will be still able to see and hear the presentation, but you will not be able to participate in the live chat.
Other points to remember:
At the bottom of the screen on the left side underneath the meeting chat, you will see a small arrow: use this to open the panel for chat and video.
I recommend navigating to the user panel of your computer and clicking on 'view' and selecting 'enter full screen.' I think this will provide the best experience.
---
Frequently Asked Questions:
Can I get a refund?

Since there is limited seating, no refunds will be given. Any plans to cancel by you once a space is purchased will be counted as a donation.
Have I applied for CERPS?
There are no CERPS at this time.
Is this webinar only for People of Color?
Anyone can attend this webinar. POC, of course, will be highlighted here.