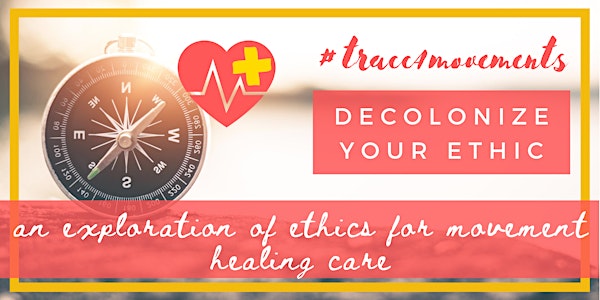 Decolonize Your Ethic: An Exploration of Ethics for Movement Healing Care
Join us as we explore in community how we live into the role of healer in movements in a way that is ethical, decolonized and accountable.
Refund Policy
Contact the organizer to request a refund.
Eventbrite's fee is nonrefundable.
About this event
EVENT DETAILS:
This interactive webinar session is where we will deep dive into the ethic of this work we do - this healing care in movements work.
In an era ripe for abuses and appropriation where lines are crossed - intended and not - we want to dig in, together, as community into the hard conversations about how we can do this work while holding an ethic in our work that is decolonized in its approach and accountable to community. We want to do this work together - in community.
As we build and grow community space with all of you in TRACC we want to do it transparently, authentically and in conversation about these hard things. This conversation will include discussions of:
1. REIMAGINING IS REMEMBRANCE: Where we will discuss how we remember what our ancestral lineages have taught us, that which we know in our bones, and how we do that without co-opting someone else's ancestral memory and acknowledging whose memories we are holding.
2. THE ETHIC OF HEALING CARE TEAM-BUILDING: Building on the foundation of holding our own work and our own practices with integrity and engaging the work of One Life Institute working with movement healers helping folks build out an equitable and balanced healing team we will explore what it means to meet WHOLE-istic needs of community in care.
3. WHAT IS EQUITY AND INCLUSION?: From our discussion of team-building we will move into conversation about what it means when we say things like "equity" and "inclusion." These words have become the go-to for everything from mission statements to grant-writing. They are the buzz words that everyone wants to own but many do in name only - to the harm, often, of their communities. What does it mean to build true equity in healing care, in community and in how we hold ourselves in this work? We'll close lifting up some of the ways we can consider this question with integrity.
Healers include but are not limited to: mental health care workers, medical care workers, holistic medicine and somatic workers, spiritual care workers, and beyond. We believed in a decolonial framework on how we define and engage healing and so if you support healing in community you are welcome to join in whatever way you do that.
Join TRACC (trauma response and crisis care) 4 Movements care co-founder and director Teresa Mateus along with TRACC Core Team Organizers Vahisha Hasan and Xan West.
VIEWING/ATTENDING DETAILS: Every registered attendee will receive the link to attend the event within 6 hours prior to the event and just prior to the start time, including the sign-in password information. Please don't share the viewing link - ask folks to register for safety and privacy of the space to registered and known attendees. PLEASE CHECK YOUR SPAM AND JUNK MAIL FOLDERS TO MAKE SURE YOU ARE NOT MISSING OUR EMAILS as they will come via EVENTBRITE and spam folders can weed them out.
SESSION RECORDING: After the session (within 48-hours) attendees will receive a link to view the recording of the session. Even if you can't attend in real-time please do register to get access to the link for viewing after the fact.
CONVERSATION PARTNERS DETAILS:
Teresa Mateus (she/her/hers) is a clinical social worker, trauma specialist, author and educator on trauma, crisis and healing. She has spent nearly 15 years as a trauma therapist and educator including 8 years with the Department for Veterans Affairs working with combat veterans and survivors of military sexual trauma.
She is the co-founder and project coordinator for TRACC4Movements as well as co-founder and director of The Mystic Soul Project. She has offered trauma care for communities in Charlottesville, VA and Standing Rock as well as consulting on movement trauma response and care around the country over the last five years.
She is also author of three books: Sacred Wounds: A Path to Healing from Spiritual Trauma, Mending Broken: A Journey Through the Stages of Trauma & Recovery, Going Naked: The Camino de Santiago & Life as Pilgrimage. For more on Teresa and her work visit her here.
Vahisha Hasan (she/her/hers) | TRACC CORE ORGANIZING TEAM MEMBER | is a faith-rooted organizer working at the intersections of faith, social justice, and mental health. She is the Executive Director of Movement in Faith, facilitator, social justice trainer, minister, and writer with a deeply prophetic voice and imagination for how faith communities can be an active part of healing and collective liberation.
She is Assistant Professor and Department Chair of Applied Psychology at MCUTS.
Vahisha holds a dual Master's of Divinity and Master's of Mental Health Counseling with an Education Specialist Certification from Gardner-Webb University and a bachelor's degree in Communications with a concentration in Interpersonal Organization from The University of North Carolina at Chapel Hill. She also serves as an associate minister at Christ Missionary Baptist Church, under Rev. Dr. Gina Stewart, Senior Pastor, where she was licensed and ordained June 23, 2019.
She has offered emotional support in times of social justice responses in Asheville NC, Charlotte NC, Charlottesville VA, Ferguson MO, New Market TN, and St. Louis MO. In addition to penning book reviews, journal articles, and online publications, she has published three editions of Resipiscence: A Lenten Devotional for Dismantling White Supremacy, 2018-2020.
Xan West (she/her/hers) | TRACC CORE ORGANIZING TEAM MEMBER | is the Executive Director at One Life Institute in Oakland, California which centers healing care and support for BIPOC/QTPOC and folks on the frontlines of social change. She considers herself a street theologian, a messy mystic, radical ritual holder, and spiritual trauma healer.
Xan holds a Certificate of Spirituality & Social Change from the Pacific School of Religion. She has been a participant and volunteer at OneLife for several years, and is part of the facilitation team for our Healing Black Lives retreats.
Proud to have been born and raised in Oakland, Xan has over 20 years of experience in social justice movement work, mostly related to police accountability, queer rights, Black liberation, and community healing. She lives with her partner M.J. and their toddler son Glory.
TRACC4Movements DETAILS:
TRACC (trauma response and crisis care) for Movements was a project grown out of the stress and unrest felt within communities of community organizing, activism, and social change - which is also multiplied in marginalized communities. The original intent of this project was to mobilize to support community crisis and stress within and beyond social change. We believe in many ways this is a time of radical social change and deep community crisis.
We hope that the vision for which this project was born can be leveraged to support this kind of care for each other in this moment. We know that organizers, activists, marginalized community members and first responders (among others) are faced with a number of intersecting and growing stressors--from the personal, to the systemic, to the global. We hope to offer support quickly, not instead of other ongoing mental health, spiritual wellness, somatic healing work, etc, but as increased support in this moment where it is needed.
SLIDING SCALE PAYMENT & TRACC DONATIONS: We are offering this webinar session on a sliding scale basis from $1-$20. Many of us are struggling but if you have anything to give, we appreicate your support. We especially call on non-BIPOC allies who have the resources to pay more to give into this work and to support the fee costs of those who can't afford. Sometimes this is he way we build equity and accessibility as community, together. You can also donate into the project as part of your registration beyond the $20 maximum training cost. Thank you for working together, as community, to build community and healing!
To view our previous FREE INTERACTIVE WEBINARS please click here. To rent or purchase our previous TRAININGS IN THIS SERIES please click here.
We encourage folks that are interested in engaging with this work in a community of other healers to join our Healer Network. Join our healer network here.