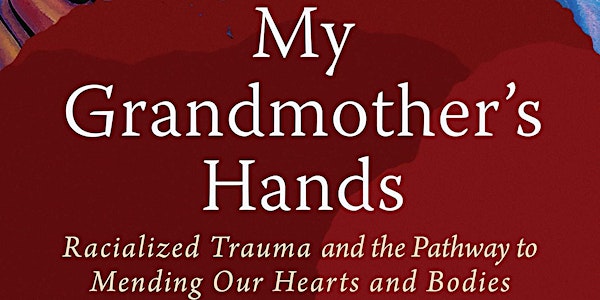 Decolonize You: My Grandmothers Hands Racialized Trauma and the Pathway to
Decolonize You: My Grandmothers Hands Racialized Trauma and the Pathway to Mending Our Hearts and Bodies by Resmaa Menakem
About this event
This is a support group for individuals who feel they have lost their cultural roots, impacted by toxic cultural norms, surviving religious oppression, and healing from historical trauma.
This will be a closed group where people will need to have the book prior to participating (for those who cannot afford the book I have a limited supply of 7. It will be first come first serve. This box is also available on audible.) If you have not sent your proof of a copy of the book by September 22th, I will have to remove your registration. If you cannot afford the book please let me know ASAP to ensure you receive it in time, no later than Sept 17. The pre-survey must be completed in order to receive the book/zoom link. I will send the readings required with the zoomlink. This will be a commitment to attend all 6 sessions.
This group is made for and by BIPOC, it is intended to be a brave space where we are able to share issues of intersectionality and how it influences who we are and how we navigate. If you identify as white, this space is for you to listen and learn. I will not tolerate entitlement to the education of experiences and I will not allow anyone to interject to disagree with people's lived experiences, this includes all levels of intersectionality. Thank you.
We are all on different parts on our paths of decolonization. I ask for patience, understanding, and bravery in navigating our truths.
We will be reading segments every week, for a total of 6 weeks. We will be meeting every Saturday morning from 10-12pm (we may not stay the whole time, I would just like to allow discussion for everyone). Our first meeting we will be doing brief introductions on what brought you to the group and what your goals are as well as the structure of the group/readings. I will have a brief presentation at the beginning of each meeting reviewing the segments assisgned, focusing on the individual where they are open to share feelings on what was reviewed, how they feel currently, and other ways they are looking into decolonizing their thoughts.
This is a closed group and requires the commitment of meeting every week starting on Saturday at 10am. Dates for each session include: our first introductory meeting on Sept 24th, Oct 1st, Oct 8th, Oct15th, Oct 22nd, Oct 29th,. This support group will be a total of 6 weeks, 6 sessions total, reviewing a section of the book reviewed at each session. Each session will be an hour and a half long. Individuals may contact me with their interest at hstbgrant@borderlandrainbow.org. This will be free of charge other than the book purchase and requirement of a pre-survey.
Alex Ramirez will be facilitating:
"I recognize the impact of colonialism in my own life, having no idea where to start in reconnecting to my cultural heritage and merely trying to navigate my own healing that both honors my roots and with what works best for me. The goal is to help others do the same as we are all entitled to our own culture."