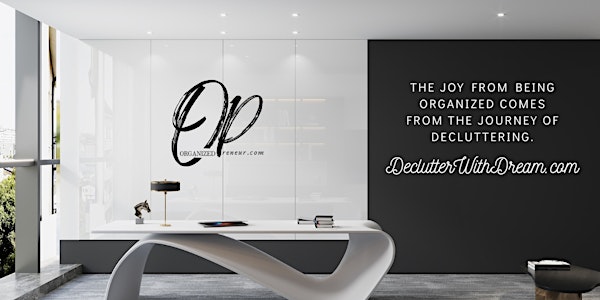 Multiple dates
Declutter With Dream Workshop for Female Entrepreneurs
FREE Decluttering workshop. Learn the secrets to clutter free living. Organize your work space for optimum productivity and success.
Date and time
March 6 · 9am - December 7 · 10am PST
About this event
Here's the deal, clutter and disorganization can be the death of your ideas AND your business...costing you millions!
It's costing you peace of mind...and that's priceless!
Clutter...
✔️Clogs up your creative flow.
✔️Cost you physically, emotionally and financially.
✔️Causes you to feel overwhelmed and ineffective.
As Female entrepreneurs we often struggle with keeping their workspace organized and free of clutter. This can lead to a lack of productivity and stress, as they are unable to find the items they need quickly or have difficulty focusing in a cluttered environment.
Additionally, feeling overwhelmed by the clutter can lead to feelings of guilt and even shame, feeling like you should be more organized. Finally, physical clutter can cause mental clutter, which can lead to difficulty understanding and processing new information.
I don't want that for you and I'm sure you don't want that for yourself.
Join the next Decluttering Workshop and take your life and business to the next level!
Unlock 3 Powerful Secrets to Triple Your Productivity through the Power of Decluttering
Secret #1
Eliminating that Feeling Of Overwhelm especially when you don't know where to start.
Secret #2
Turning Your Home Office into an income generating powerhouse.
Secret #3
Creating The Perfect Environment conducive to creativity and productivity with 5 Steps.
By the end of the Declutter with Dream Workshop, you'll be equipped with the tools, knowledge, and mindset necessary to transform your life and business.
+++++++
What they're saying...
"You have definitely helped me become more organized and uncluttered so that I'm able to think and get these ideas flowing!" Stacey R.
"Thank you so much Aldreama Harper for this challenge and your encouragement. I am taking back my house and my peace of mind. Now I have more time. And I just don't know what to do with myself." Tonya R.
+++++++
I'm Aldreama Harper, I'm a Certified Organizational Specialist and Declutter Coach.
I help female entrepreneurs reset and refocus to relaunch the business of their D.R.E.A.M. through the power of decluttering.
Fulfill your DREAM of clarity, hope, peace & sustainability in life and business.
"The Critical Difference Between Struggling Entrepreneurs And Successful Small Business Owners, Simply put...it's organization." ~Aldreama
For more on getting organized, managing time, and staying productive subscribe to the #OrganizedPreneur podcast here: http://organizedpreneurpodcast.com