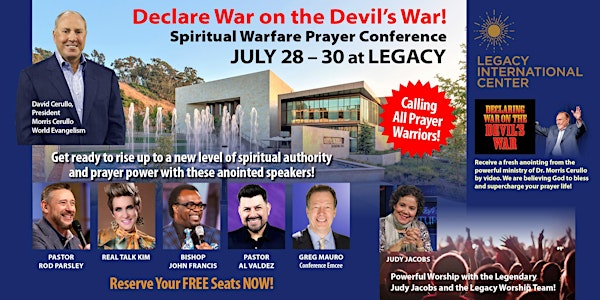 "Declaring War On the Devils War!" Spiritual Warfare Prayer Conference!
God said to Morris Cerullo, "Tell My people, It is time for the church of Jesus Christ to DECLARE WAR ON THE DEVIL'S WAR!"
About this event
David Cerullo invites you to the Spiritual Warfare Conference, July 28-30, 2022, at the beautiful Legacy International Center with special guests Pastor Rod Parsley, Real Talk Kim, Bishop John Francis, Pastor Al Valdez plus powerful worship with Judy Jacobs and the Legacy Praise Team, and many others! Rev. Greg Mauro will present "breakthrough power moments" from the Declaring War on the Devil's War ministry of Dr. Morris Cerullo by video.
Thursday, July 28 - 5:30 pm Volunteer Training in Theatre
Thursday, July 28 - 7:00pm
Friday, July 29 - 3:00pm & 7:00pm
Saturday, July 30 - 10:00am, 3:00pm & 7:00pm
Legacy International Center
875 Hotel Circle South
San Diego, 92108
Admission Is FREE, seating is limited, therefore registration is required.
Parking is FREE!
Special limited conference hotel rates are available, call to book now:
Legacy Resort Hotel & Spa • (619) 782-9155
Thursday $179
Friday & Saturday $199
Overflow hotels within walking distance with special conference rates:
Courtyard by Marriott • (619) 291-5720
Reservation code: MCW20220728
$199
Days Inn by Wyndham • (619) 297 8800
$179 per night plus tax
Holiday Inn Select • (619) 795-7705
King Bed - $223 plus 12.75% tax
Two Queen Beds - $253 plus 12.75% tax
Two Queen Bed Suites - $273 plus 12.75% tax
Foreign delegates requesting an invitation letter, please contact partner services at partnerservices@mcwe.com.