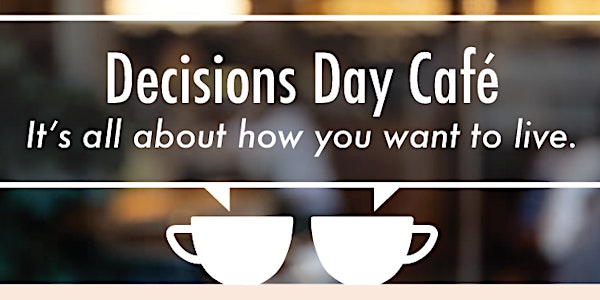 Decisions Day Café. It's all about how you want to live.
Attendees are invited to chat about how you'd prefer to live when faced with a serious or sudden illness in a relaxed, friendly setting.
About this event
All of us can expect to experience a sudden or serious illness at some point in our life. Knowing this, we still find it difficult to talk with our loved ones about that certainty and share how we would want to live when that happens. For National Healthcare Decisions Day, Community Hospice & Palliative Care offers that opportunity at one of our Decisions Day Cafés.
At a Decisions Day Café, while eating desserts and sipping tea or coffee, attendees are invited to chat in a relaxed setting about what is important to you. This is not a counseling or bereavement session, but rather a chance to casually talk about something that affects us all and yet is ignored, often until it's too late. It will be uplifting and enlightening, so join us for The Conversation.
Due to current health considerations, we have made the decision to postpone the Decisions Day Cafes scheduled in April. We will be setting new dates and will notify you as soon as they are chosen.
Jacksonville
Monday, April 13
2 - 4 p.m.
Neviaser Educational Institute
4266 Sunbeam Rd.
Jacksonville, FL 32257
St. Augustine
Tuesday, April 14
2 - 4 p.m.
Stephen R. Chapman Family Community Campus
1355 US Highway 1 South
St. Augustine, FL 32084
Jacksonville
Wednesday, April 15
2 - 4 p.m.
Neviaser Educational Institute
4266 Sunbeam Rd. Jacksonville, FL 32257
Gainesville
Thursday, April 16
2 - 4 p.m.
Elder Options
100 SW 75th Street, Suite 301
Gainesville, FL 32607
Fernandina Beach
Friday, April 17
2 - 4 p.m.
Nassau County Council on Aging
1901 Island Walkway
Fernandina Beach, FL 32034
Decisions Day Café is open to the public and free to attend. Space is limited and registration is required. To register by phone, call 904.407.6686 and leave your name, the number of people attending, the date you plan to attend, and your phone number.