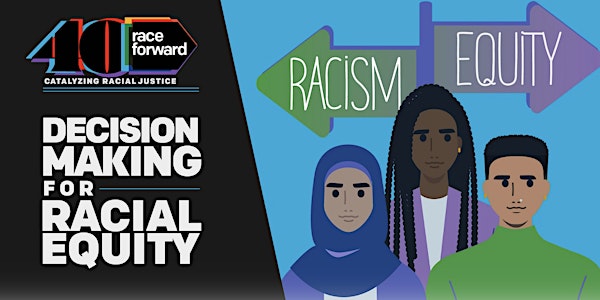 Decision-making for Racial Equity (DRE) Virtual 7/19/23
Provides a framework that seeks to disrupt dominant forms of decision-making that perpetuate racial bias.
Date and time
Wednesday, July 19 · 9am - 3:30pm PDT
Refund Policy
Contact the organizer to request a refund.
About this event
6 hours 30 minutes

Mobile eTicket
Description: In 2020, following the murder of George Floyd, many organizations and institutions realized the need to incorporate racial equity into their practices. However well-intentioned, many face challenges implementing racial equity across their organizations as too often, their plans and decisions are made without sufficient attention to racism, participation from people of color staff and communities, and deliberate attention to the opportunities to advance equity.
The Decision-making for Racial Equity (DRE) training provides a framework that seeks to disrupt dominant forms of decision-making that perpetuate racial bias. Through the use of Race Forward's Racial Equity Decision-Making Tool ("RED Tool"), participants will engage and be guided through building an organization-wide racial equity decision-making practice and culture that centers Black, Indigenous, Latinx, Asian American, Native Hawaiian, and Pacific Islander staff and communities..
Participants are asked to attend with other colleagues from their organization to practice working on an actual "choice point" from their real work. A choice point is a specific decision (e.g. program planning, hiring, budgeting, event planning, service delivery, grant-making, etc.)--generally a routine aspect of your core work--where applying a racial equity framework could change actions and outcomes.
Audience: This training is intended for a general audience from different types of organizations and institutions, particularly the non-profit sector, public agencies, philanthropic organizations, educational institutions, labor, businesses, and social justice groups.
Level: Intermediate
Prerequisite: Participants are required to first participate in a full day "Building Racial Equity: Fundamentals" training offered by Race Forward.
Training Objectives:
By the end of the training, participants will:
1. Learn and identify ways that dominant practices and patterns of power and decision-making can perpetuate systemic racism, whether intentional or not
2. Learn an alternative decision-making framework that centers Black, Indigenous, Latinx, Asian American, Native Hawaiian and Pacific Islander communities and racial equity
3. Learn how to use the Racial Equity Decision-Making Tool ("RED Tool")
4. Identify a Choice Point and practice using the RED Tool
5. Develop some next steps for applying the RED Tool to everyday work.
Training Duration:
This is a full-day training that includes four modules:
1. Disrupting Dominant & Racist Decision-Making
2. Adopting a Racial Equity Decision-Making Framework
3. Using a Racial Equity Decision-Making Tool ("RED Tool")
4. Creating an Equity-Centric Organizational Practice and Culture
FAQ
Zoom Use:
Please note that you will need to be able to access zoom in order to participate in this training. We are unable to accommodate dial-in only participation at this time.
Access Needs
If you are registering for this event and have any access needs (see here for more information on what access needs are), please fill out this form: https://forms.gle/PjFMZA2bYVkJZH6JA We are currently able to offer ASL interpreters and Live Captioning for our training sessions.
Where's my access link?
If you don't have access to your Zoom link or encounter problems with registration, we ask that you first check your spam folder. If you cannot find your zoom link please email the BRE team at bre@raceforward.org. We try to respond to urgent requests within 24 hours of receipt. For all other requests please allow up to 2 business days to respond.
Scholarships:
We are offer scholarships to grassroots organizers and community organizations. If you need a scholarship please fill out the following form: https://forms.gle/82yieAu8cKBgbhbx9
Space:
We have limited space in our virtual training as we believe it is critical for our participants to be able to receive tailored support and coaching throughout the duration of our virtual training session.
About the organizer
Race Forward is home to the Government Alliance on Race and Equity (GARE), and also publishes Colorlines, a daily news site where race matters. The new Race Forward also presents Facing Race, the country's largest multiracial conference on racial justice. Founded in 1981, Race Forward brings systemic analysis and an innovative approach to complex race issues to help people take effective action toward racial equity. Founded in 2002, CSI catalyzes community, government, and other institutions to dismantle structural racial inequity and create equitable outcomes for all. As one organization, the new Race Forward is dedicated to transforming institutions and empowering the community in order to move policy, culture, and narrative for racial equity.