Location
Internet Archive Headquarters
300 Funston Avenue
San Francisco, CA 94118
Refund policy
Refunds up to 1 day before event
Description
When you use today's Web platforms, ever wonder why the platforms get to control how you log-on, your identity, your data and your media? Is there a way that identity and data could be "self-sovereign" (controlled by the individual not the corporations?) That's the subject at our next SF DWeb Meet Up--Tuesday April 30 from 6-9 pm. We'll show you three new approaches to taking back control of your identity and your data.

Up this month:
DWeb Meet Up SF is excited to welcome our friends from DWeb Meetup Berlin: Ellie Stephens and Eugeniu Rusu of Jolocom who will share the latest on self-sovereign identity management (aka: "how to control your personal data.") Then the Jolocom Team will show you how to use Jolocom in your own work & life. (See how Joachim Lohkamp gave his new surfboard a Decentralized Identity!)

Next, Mark Nadal (ERA founder and author of GUN) gives you a first look at the new privacy extension that stops mass surveillance capitalism, called "Private Party." Later we'll break into small groups to discuss the social, legal, cryptographic, and political impact of this technology, and how decentralized systems are uniquely suited to address societal problems.
Finally, you know about Sir Tim Berners-Lee's SOLID-- the open source platform built to decentralize the web by allowing you to decide where your data gets stored. Inrupt is the company founded by Berners-Lee to bring SOLID to market. Inrupt engineer, Jackson Morgan, will demo the latest in Solid/Inrupt and lead a workshop on how to build apps using SOLID protocols.
We will also give you the latest information on DWeb Camp--July 18-21! Registration opened this week, so don't wait to get your ticket to this 4-day retreat about decentralization, tech, creativity, art, nature and community.
Tentative Schedule:
6:00p: Welcome, social hour + food & Drink (We provide the pizza and beer!)
7:00p: Welcome & Intros
7:05p: Demo by Jolocom's Ellie Stephens & Eugeniu Rusu on how to manage your Decentralized Identity.
7:15p: Q & A
7:20p: Talk by Era/Gun Founder, Mark Nadal on Private Party
7:35p: Q & A
7:40p: Demo by Inrupt's Jackson Morgan, showing the latest from SOLID
7:55p: Q & A
8:00p: Break into 3 workshop groups: Jolocom on Decentralized Identity; ERA on Cryptographic Control of data; and Inrupt on how to work with SOLID technology.
9:00p: Time to leave & consider After Party Options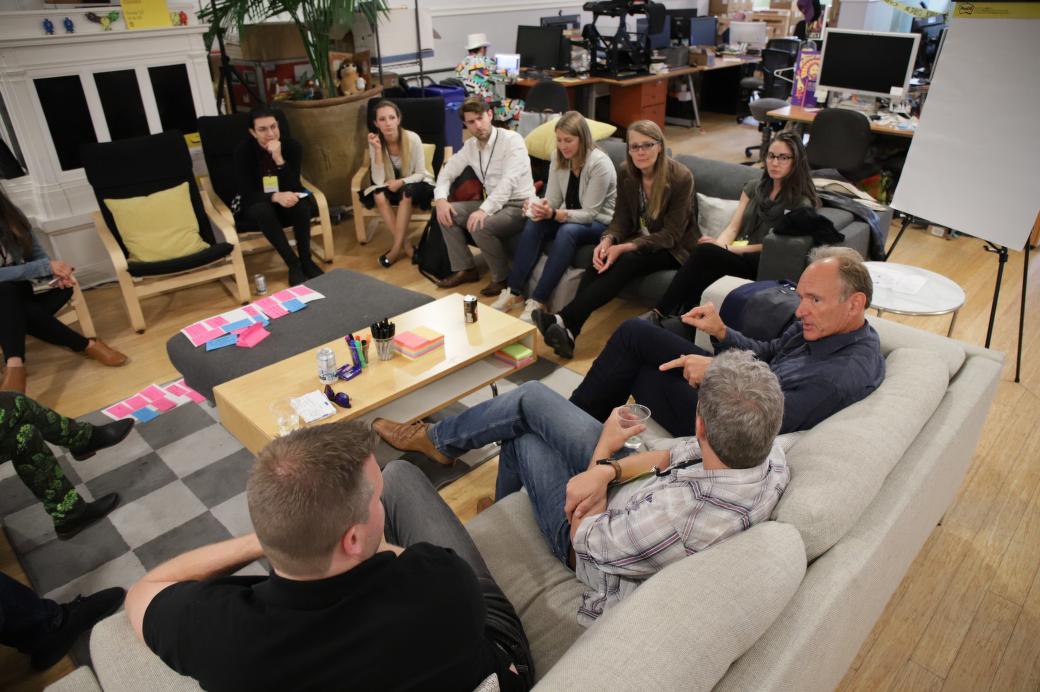 Tim Berners-Lee in break-out group at Decentralized Web Summit 2018.