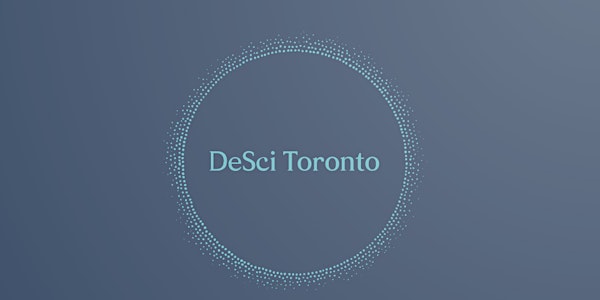 Decentralized Science (DeSci) Toronto Meetup
Decentralized Science (DeSci) is a movement which aims to empower the public with an alternative infrastructure for research. Join us!
When and where
Location
OCAD University 100 McCaul Street Room 654 (elevator to 6th floor, turn right, end of the hall) Toronto, ON M5T 1W1 Canada
About this event
Open to all!
This is an informal meetup to discuss the emerging movement of Decentralized Science (DeSci). DeSci lies at the intersection between the ongoing efforts to change how knowledge is shared and efforts within the web 3.0 movement to shift ownership and value away from industry intermediaries*. These meetups are intended to be multi-disciplinary, encouraging discussions from all disciplines and walks of life.
This meetup will include an introduction to DeSci and some current projects in the space. We'll end the event with a workshop aimed to define an initial shared purpose for the continuation of these meetups and discuss the question: "How might we open knowledge production to new players and ideas, fairer and freer forms of ownership and access?"
Meetup Agenda:
6:30- 6:40pm - Welcome and Introductions
6:45- 7:00pm - Introduction to DeSci
7:00- 7:30pm - DeSci Projects: Get to know VitaDAO + Q&A
7:30 - 8:00pm - DeSci Projects: Get to know AthenaDAO + Q&A
8:00-8:30pm - Shared Purpose Workshop + Wrap up
Guest Speakers:
VitaDAO - A DAO collective for community-governed and decentralized drug development. Their core mission is the acceleration of research and development (R&D) in the longevity space and the extension of human life and healthspan.
AthenaDAO - A DeSci collective funding research in women's health research and drug discovery. AthenaDAO brings researchers, women's communities, and funders together in a collaborative way to support such underfunded areas of research. They are backed by companies like bio.xyz and MoleculeDAO and aim to overcome some of the barriers in women's health research.
Organizers:
Tania De Gasperis and Vesta Korniakova - Web3.0 enthusiasts and researchers in strategic foresight and innovation and in synthetic biology. Inspired by the current DeSci movement worldwide, they are eager to help foster a local meetup for DeSci here in Toronto.
Greg Van Alstyne, Director, Strategic Innovation Lab - Greg is a designer, educator, and co-founder of sLab at OCAD University in Toronto. His reflective practice investigates designing with emergence, inclusive innovation, speculative design, social data literacy, and critical visualization.
------
Please join the DeSci in Toronto Telegram group to stay in touch and learn about future events!
*For an introduction to DeSci, check out this article.
Accessibility commitment: We are committed to making this an inclusive and accessible event. If there is anything that you need, please feel free to email taniafdegasperis@gmail.com and we will do our best to accommodate.