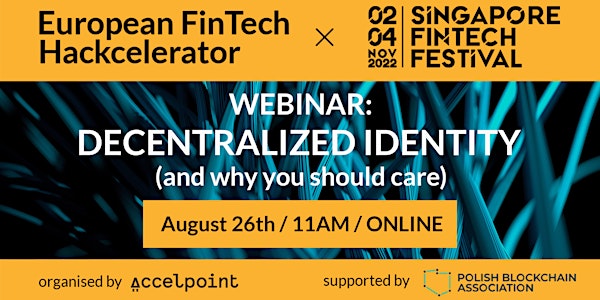 Decentralized Identity (and why you should care)
Self-Sovereign Identity (SSI) – Will blockchain technology allow us to be in control of our personal information?
About this event
Decentralized identity is considered to be the backbone of web3 and the digital society of the future. But what exactly is decentralized identity and how long do we have to wait for its general adoption?
-----///-----
About this event:
In the upcoming webinar, we will unpack the concept of Self-Sovereign Identity (SSI) – a set of solutions that will allow each citizen to own, govern and be in control of their personal information. The need for each citizen to hold a digital, transferable, and available on demand attestation of their personal data is becoming more and more pressing. Governments, public sector agencies and businesses are increasing their efforts to pilot the technology, with some projects now in production. In the webinar, our experts will dive deeper into the fascinating area of SSI and address the following topics:
📌 What is the difference between digital identity and Self Sovereign Identity
📌 What are the practical applications and use cases of SSI and core adoption initiatives around the world?
📌 What needs to happen for SSI to go mainstream?
📌 What are the possible business models around SSI (if at all), and why should businesses care?
📌 Identity of Things – can SSI be applied to machines also?
-----///-----
Panelists:
🎤 Jakub Zarembiński - Blockchain & Cloud Expert / Hapag-Lloyd AG
🎤 Maria Minaricova - Director of Business Development / Fetch.ai
🎤 Dominik Beron - Co-Founder & CEO / walt.id
🎤 Moderator: Agata Slater PhD - Blockchain Practice Leader CEE @ IBM & Vice President @ Polish Blockchain Association
-----///-----
This webinar is organised as a part of European FinTech Hackcelerator 2022 campaign. The event is free, but registration is required. We invite everyone, no matter what your understanding of the topic is. Because it's an innovation that affects us all.