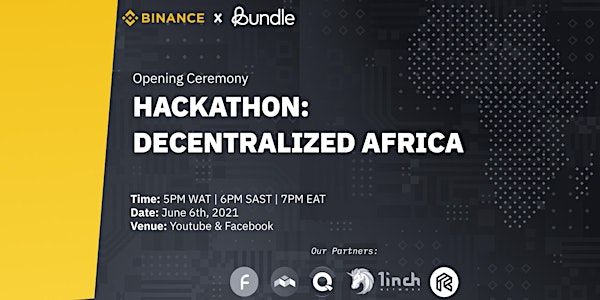 Decentralized Africa Hackathon: OPENING CEREMONY
HACKATHON: Decentralized Africa, Opening Ceremony!
About this event
Binance, the world's leading blockchain ecosystem and cryptocurrency infrastructure provider will hold a DeFi & NFT hackathon for African blockchain enthusiasts from June 7 to June 28, 2021.
We will be kicking off the Hackathon with an opening ceremony. This event is organized to provide you an indepth understanding of what the Hackathon for Africa is all about and how you can be a part of this movement.
Register for the opening ceremony of the Binance Hackathon
Time: 5PM WAT/ 6PM SAST/ 7PM EAT
Venue: Binance Youtube (https://www.youtube.com/watch?v=h_xKsd-OAwA) and Binance Nigeria, Kenya, South Africa Facebook page.s
Date: June 6th, 2021
The 20-day hackathon, co-hosted by Bundle, a social payments app for crypto, will empower blockchain engineers to rapidly build blockchain solutions on the Binance Smart Chain in order to solve real problems identified in the African systems in place today.
We are looking forward to your questions.
Invite a friend!
,
Cheers
Binance Team