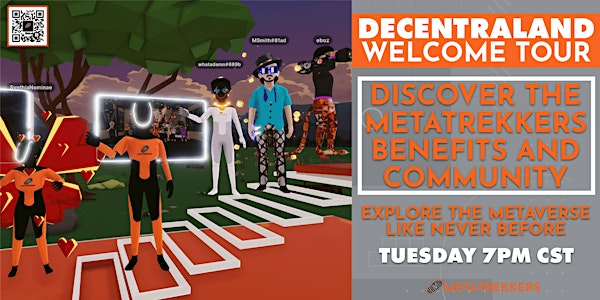 Decentraland Welcome Tour
Welcome to an exclusive tour aimed at metaverse rookies. We'll be visiting popular places in Decentraland.
About this event
The Welcome Tour in the Metaverse is with Synthia Nominae - our well-versed partner and a Metatrekkers NFT holder who helps newbies in the Metaverse explore and learn the history of Decentraland. Synthia Nominae is an avid crypto and Web3 enthusiast. She explores multiple platforms in an effort to reignite the spark of inspiration within every person she meets and help them launch their dreams to the moon. After discovering Decentraland in September of 2020, she fell in love with the possibilities presented by this new frontier, and with the welcoming community within it. She now works alongside Metatrekkers to present the Welcome to Decentraland Tour to welcome new users to this amazing world
We will be discussing their features, novelties, and activities, in detail.
Our Itinerary:
MetaTrekkers Clubhouse - Beyond the innovative architecture, our Decentraland CLub has become a hub for NFT art lovers and metaverse party goers. With half a year of activity and over 20 events hosted, we're proud to introduce a new stage in our development - the MetaTrekkers collection and all the entertainment opportunities that will debut with it.
Genesis plaza educational - At the heart of Decentraland, Genesis Plaza was always meant to be an experience that welcomed users to the metaverse, providing a stepping off point for the rest of the virtual world.
Wonder mine game - WonderMine lives in Decentraland, a free-to-play virtual world. We're in the WonderZone Amusement Park district at -29,56.
Multi NFT - "YOUR METAVERSE NIGHTLIFE CENTER. We focus on bringing the joy of music and live parties to the Metaverse. Our events connect musicians, artists, and creators to highly engaged web3 audiences to forge new relationships and share unique experiences across the space"
The tour will end at the MetaTrekkers Club where we'll explain what it means to be an official Point of Interest and we'll be taking in questions.
The event is open for everyone!
Join our Discord so you can participate in the tour in the Lobby Channel,
Discord: https://discord.com/invite/EYF3sNp3WN
Twitter: https://twitter.com/MetaTrekkers
MetaTrekkers Clubhouse: https://play.decentraland.org/?position=-69%2C-139&server=dg&realm=dg
Website: https://metatrekkers.io/