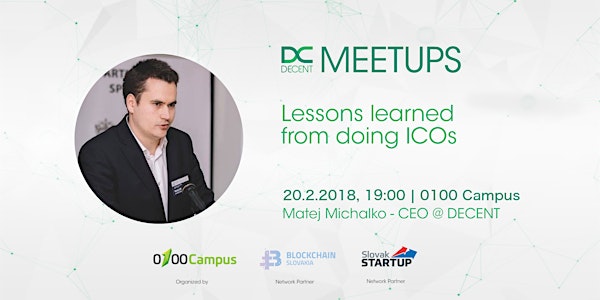 When and where
Location
0100 Campus 18 Staré Grunty 2nd floor 841 04 Karlova Ves Slovakia
Description
0100 Campus in collaboration with DECENT is bringing you the fourth DECENT Meetup.
The workshop will be joined by Matej Michalko, CEO at DECENT. If you want to find out more about the 'Lessons learned from doing ICOs' register for free and join us 20.2. 18:30 at 0100 Campus.
DECENT has raised in their ICO almost 6000 BTC, which makes about 50 million US dollars in current price. During their two months campaign they've learned a lot about how to manage a successful ICO and on 20th February their CEO will share their experience with you.
Event will be in English.
Matej Michalko is a Blockchain Pioneer. His interest in online privacy was fueled first while studying Computer Science at the Swiss Federal Institute of Technology (EPFL) in Lausanne where he completed a project implementing privacy protection for mobile devices at Nokia Research Center. Since 2011 he became extensively involved with Bitcoin. Mining at his own laptop in the beginning, later switching to GPUs and ASICs. He served as the CEO of many Bitcoin, Blockchain and Cryptocurrency conferences in Austria, China, Belgium, UK (BitcoinExpo, Central European Bitcoin Expo, BTC2B Congress) and more. Matej founded the first Bitcoin Marketing agency in the world. He also founded the first Cryptocurrency e-Gaming Consulting Firm and served as a consultant in the Isle of Man. Matej is a regular speaker at major conferences about the immense potential and vertical integration of Blockchain Technologies into various industries. He now serves as CEO of DECENT and is on the mission to lead the redefinition of the internet enabled by DECENT Blockchain Network.