Sales Have Ended
Ticket sales have ended
All ticket sales have ended, please stay posted for our next event!
Sales Have Ended
Ticket sales have ended
All ticket sales have ended, please stay posted for our next event!
Description
Ultimate Agile Experience: Scrum Master Certification
Experience. Education. Exam.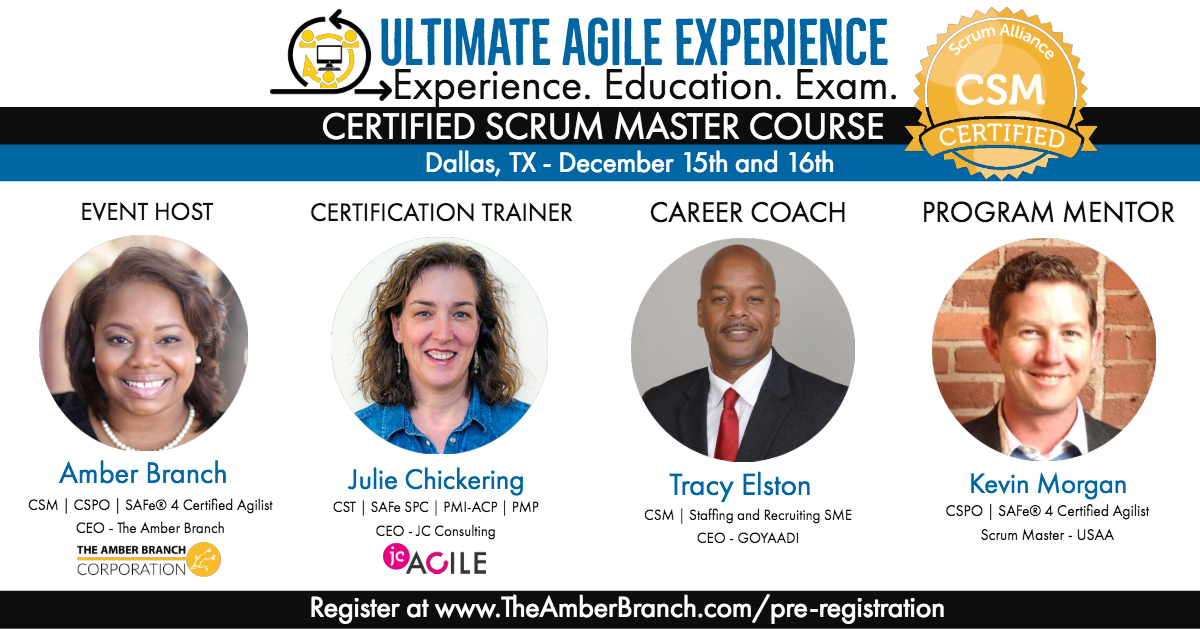 Overview:
As an introductory course, this will provide a deep dive into the Scrum Master role and end with the official certification through Scrum Alliance. What makes the Ulitimate Agile Experience? We offer exclusive, optional and FREE electives that you can add on to your course days.
Get ready for the Ulitimate Agile Experince!
Course Dates: December 15th and 16th (Two day workshop, followed by 1 hour exam)
Audience:
Professionals interested in adopting agile
Project Managers
C-Suite Executives
Developers
Scrum Product Owners
Scrum Development Team Members
Project Mangers transitioning to Agile, becoming a Scrum Master
Small Business Owners
IT Directors and VPs
Organization Leaders looking to adopt Agile
Optional Free Electives
Foundations of Agile
A Day in The Life of a Scrum Master
Selling Scrum:Getting Others on Board
Prerequisites: As this is an introductory class, there are no prerequisites. However, the recommended materials should be reviewed before the class date.
Objectives​
Lean, Agile, and Scrum​

Scrum Values, Principles, and Theory​

Scrum Roles

Scrum Events

Scrum Artifacts

Agile Facilitation

Techniques

Communication and Collaboration

Agile Coaching

Service to the Development Team

Servant Leadership​

Agile Engineering Practices

Service to the Product Owner

Creating Positive Relationships​

Service to the Organization

Impediment Removal​

Impact on Management

Supporting Scrum in the Organization
Complete List of Objectives: https://www.scrumalliance.org/ScrumRedesignDEVSite/media/scrumalliancemedia/files%20and%20pdfs/certifications/csm/csm_learningobjectives.pdf
Class Duration: 2 Days – Please arrive by 8:30 to receive materials.

Capacity: Only 20 Seats Available
FAQs
What's the refund policy?
Please Note: Refunds Available Up to 30 Days Prior to Event.
Materials Needed: Note taking materials (pens, paper), electronics are welcome for break time but will not be require during class.
Breakfast, Coffee, and Snacks will be available.
More Information:
https://www.theamberbranch.com/pre-registration