Sale for Collectible Toys, Comics and Video Games!
About this Event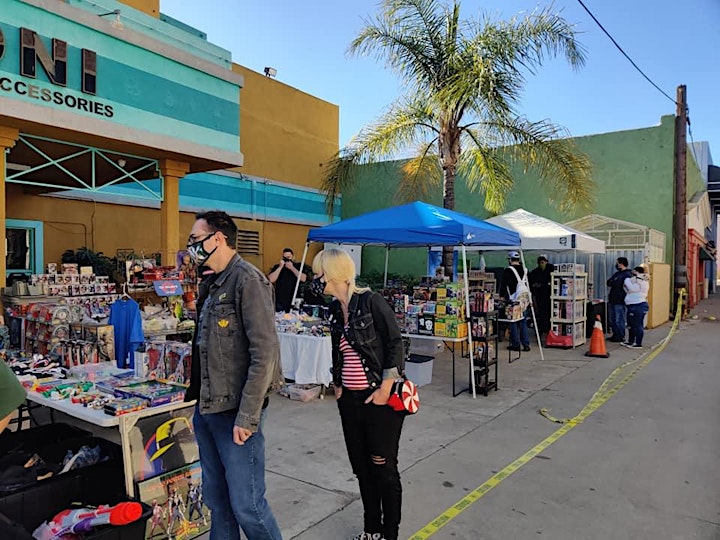 FREE EVENT TO THE PUBLIC! Tons and tons of FREE PARKING! NO TICKETS REQUIRED! ENTRY ALLOWED AS LONG AS NOT AT 20% CAPACITY AS STIPULATED BY CITY & STATE GUIDELINES!
THANK YOU FOR MAKING OUR LAST EVENT A BIG SUCCESS! WE ARE NOW ON OUR 3rd YEAR! OUR DECEMBER TOY SWAP MEET WILL BE A GREAT TIME! OUR PRIMARY GOAL IS TO CREATE A SAFE ENVIRONMENT SO WE WILL BE STRICTLY FOLLOWING ALL STATE & LOCAL SAFETY GUIDELINES & REQUIRE ALL ATTENDEES TO AS WELL.
2PM IS OUR ANNUAL WHITE ELEPHANT GIFT EXCHANGE (details below)!!!
Come to the TOY-ZILLA/RIONI OUTDOOR SIDEWALK SALE for tons of treasures in our at RIONI- ! We will have an array of amazing pop culture items for sale. Come hang out with local community members and browse for Collectibles - Toys - Games - Comics - and Art while enjoying the beautiful morning air in the heart of Alhambra. Our December Swap Meet will be a great chance to get rare holiday gifts at great prices!
FREE GIFTS for EVERYBODY while supplies last!
STATE & COUNTY GUIDELINES ENFORCED
This outdoor event follows current State and County social guidelines. Social distancing is required. Please do your best to keep 6 feet distance and face masks must be worn as mandated by the State of California.
Event begins at 10am to the public and ends at 3pm.
PLEASE NOTE: You do NOT need to get tickets here to attend for FREE. We will have FREE GIFTS (one per person) for anyone who signs up in advance! If you do not register here you may still attend the Swap Meet for FREE and get FREE GIFTS AFTER 2PM if anything is left.
OUTDOOR LOCATION & PARKING: The Parking Lot behind RIONI is located at 183-69 N Chapel Ave. Alhambra CA 91801. Park in the public lot and walk to the Swap Meet directly behind RIONI.
TOYZILLA STORE LOCATION: 247 E. Main St, Alhambra, CA 91801 SIGNS WILL DIRECT YOU TO THE OUTDOOR SALE FROM MAIN STREET
Please note, TOY-ZILLA's Underground location can be entered from Main Street in the basement level and is open to Members one group at a time by appointment in half-hour intervals. Reservations can be made here through eventbrite. NO RESERVATIONS REQUIRED FOR THE OUTDOOR SALE.
Parking is free on street or in parking structure behind building on Chapel.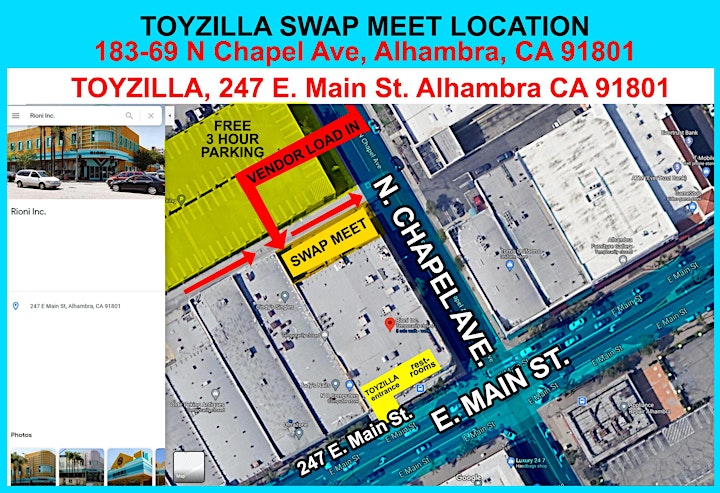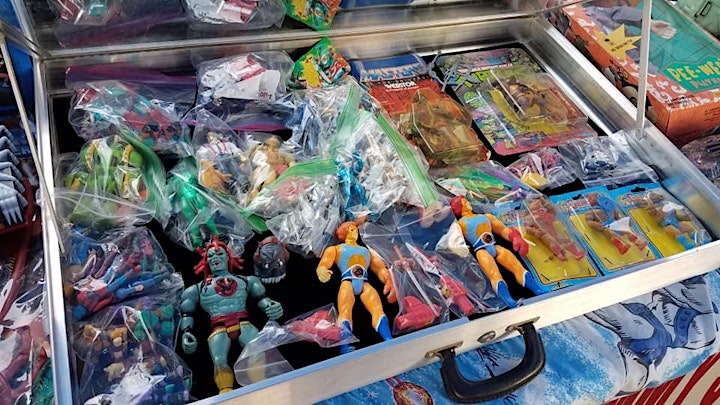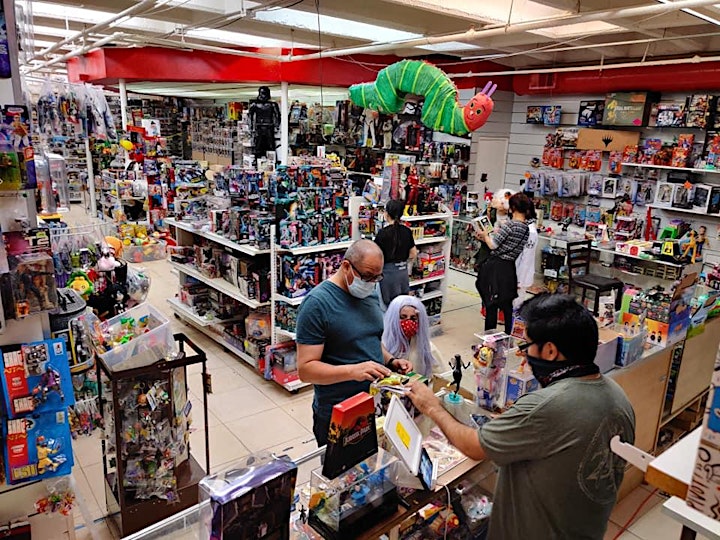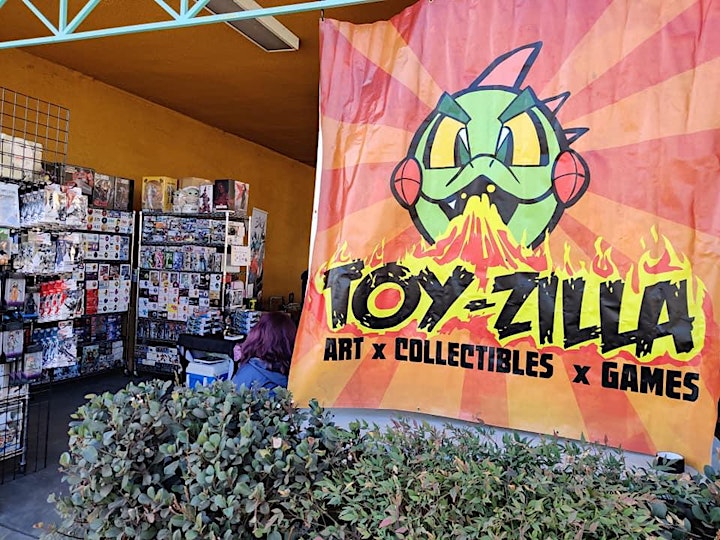 Official WHITE ELEPHANT GIFT EXCHANGE RULES:
WHAT TO BRING:
1. One Wrapped Toy worth $20 or More. Only New, Functioning Toys! No Junk! Only one Entry per person!
2. Cameras – Smile Everyone! Pictures and/or videos are a great way to capture the moment, so feel free to bring your cameras!
3. Positive Attitude – Be yourself, be cool and enjoy the company of being around fellow fans and collectors because everyone is getting together to have a great time!
(Please read; if you bring a gift, you are acknowledging the rules listed below)
To participate in the White Elephant Gift Exchange all you have to do is bring a wrapped gift that is valued at $20 or more. The gift must be a collectible toy, brand-new and/or an unopened item with no significant damage to its box. When selecting your White Elephant Gift, be sure to get something someone may want to steal! That's right… STEAL!
Here's how the White Elephant Gift Exchange works…
The participants of the White Elephant Gift Exchange will draw numbers starting with 1 and up to the total number of participants.
Once the order has been established, each person takes his or her turn choosing a gift.
The 1st participant opens a gift from the pile and then shows it to everyone.
The next player can either "steal" an already opened gift or be adventurous and go for a wrapped gift from the pile.
If the participant chooses to steal an unwrapped gift, the person whose gift was stolen now repeats their turn and either steals another person's gift (they cannot immediately steal back the gift that was just stolen from them) or they can unwrap a new gift.
Note – Since gifts can be stolen, the gift in your possession is not actually yours until the game is over. Hence you CAN NOT LEAVE until the game is over! However, a gift is labeled as "frozen" after it has been stolen a total of 3 times. So the 4th person to have the gift in their possession owns it.
When all the gifts have been opened, the person that had the first pick will have a chance (if they want) to steal a gift that is still available. Once they have made their decision, the game is over.
Once again, all you have to do to participate in the White Elephant Gift Exchange is bring a wrapped gift that's brand-new or unopened and valued at $20 or more.
You have from 10AM to 2PM to place your gift on the TOYZILLA booth at the front of the swap meet and receive your ticket (number on the ticket determines your order. At 2:01PM the White Elephant begins and there will be NO more entries. If leave a gift but are not present at 2PM to participate in the gift exchange then your gift will be donated to the charity of our choice!