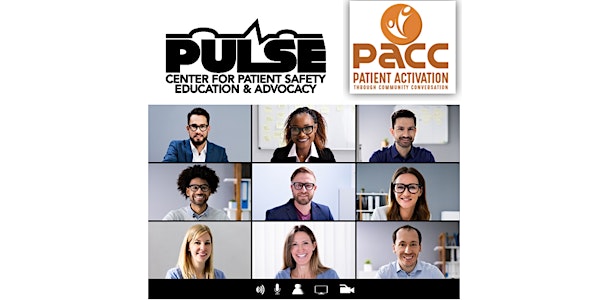 December Patient Activation through Community Conversations (PACC)
Pulse Patient Activation through Community Conversation (PACC) - A PACC is Not a Support Group-Although You May Very Well Find Support.
About this event
A PACC is not about your health. It is about your health care, the experience leading up to good health.
Participants share experiences with each other by choosing what they want to talk about or learn about from the experience of others.
Whether it is medical professionals, Board Certified Patient Advocates, caregivers or interested community members, there is something to learn when hearing about healthcare experiences. Do we really know what the standards are when it comes to high blood pressure or how to talk with a clinician about treating high blood pressure? What is the appropriate age for a man to get a prostate exam? Do you believe your mother, father or client is a "drug seeker"? What have others done?
PACC is a full hour of facilitated conversation using actual cases to ask participants what has worked for them or how they would handle a situation. The following is encouraged at all Pulse programs:
● Terms such as "you should" are discouraged to practice not giving advice.
● Advocates are encouraged to practice their listening skills and avoid interrupting.
● Participants should use "plain language" and no acronyms.
● Sharing experiences and information without opinion such as: "That hospital is the best".
PACC's are not taped and what is said at a PACC stays at a PACC. All people may attend with their experiences to learn what others have done to help people through various health care experiences.
Each month has a topic which includes actual cases and will be shared for the participants if no one comes with their own topic.
Come early to check in and chatter!
Pulse's Patient Activation through Community Conversation (PACC) series is approved for 1.0 General CE by the Patient Advocate Certification Board to satisfy the requirements for Board Certified Patient Advocates (BCPA). December 7, Approval Code # 18221.1207 through 12/6/2023