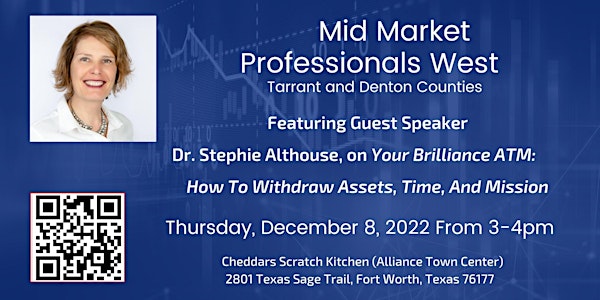 December Mid Market Professionals West (Tarrant and Denton Counties)
B2B networker, business developer, salesperson, or marketer who resides, works, or targets businesses in zip codes beginning with 76XXX?
When and where
Location
Cheddar's Scratch Kitchen 2801 Texas Sage Trail Fort Worth, TX 76177
Refund Policy
Contact the organizer to request a refund.
About this event
Mark your calendar for the next Mid Market Professionals West featuring Dr. Stephie Althouse, as our guest speaker discussing Your Brilliance ATM: How to Withdraw Assets, Time, And Mission.
How can you convert the "stuff" in your head into a permanent asset? What if you could scale your business, free up your time, and speed up your mission?
Dr. Stephie will share with us how to create your Brilliance ATM. You need to get critical expertise, experience, and wisdom out of your head and put it into the heads of others. You can do it - and Dr. Stephie will show you how.
Meet Dr. Stephie,
• Dr. Stephie Althouse ("Dr. Stephie") is the owner and CEO of The Brilliance Mine. She identifies your brilliance and helps you put it from your head into the heads of others. In doing that, she positions you for scaling your business and for a lucrative business exit. Much of what has made your business successful is in your head. Dr. Stephie is a master at pulling it out of your brain, making it visible to others, and enabling them to use it. She has helped hundreds of business owners worldwide achieve their goals. Her insights and business acumen bring quick results.
• Dr. Stephie earned her doctorate in chemistry from the University of Tennessee in Knoxville. She performed award-winning research and development with DARPA, NSF, and DOD agencies. Her work includes novel landmine detection technology in use today.
• Stephie lives with her husband, Adam, and their son Dylan in Flower Mound, TX. She is always keen to learn something new. She is a Rotarian, a Toastmaster, an outdoor enthusiast, and a martial artist.
• She is the author of 2 books, "101 Quick Tips for High-Talent Companies" and "101 Quick Tips for ESOP Leaders." Her new book, "365 Brilliance Nuggets," is about to be published.
Join us Thursday, December 8, 2022, at 3 PM!
Format: Networking -> then Discussion Topic -> Q&A -> more Networking!
Agenda:
• Pre-event B2B networking and 1-on-1s
• 3 pm - 4 pm The Event
• Post-event B2B networking and 1-on-1s
About Mid Market Professionals
• Established in 2016 in Dallas County.
• Focused on B2B (not B2C) networkers, No Dues, No Exclusive Seats - Just be a generous GIVER of referrals.
• Members of this group seek to do business with mid-size companies (20+ employees or $1+ million dollars in revenue).
• Our Goal is to connect with professionals that have a similar, B2B target market and share best practices. We meet monthly, In-Person geared around a particular "table topic" in a networking environment focused on:
• Group Mixers
• Break Out sessions
• 1 on 1s
• Referral/lead generation
Connect with Jack: https://www.linkedin.com/in/johndjackkearneysr/
Connect with Dr. Stephie: https://www.linkedin.com/in/stephiealthouse/
Connect with Mid Market Professionals:
https://www.linkedin.com/groups/12135824/