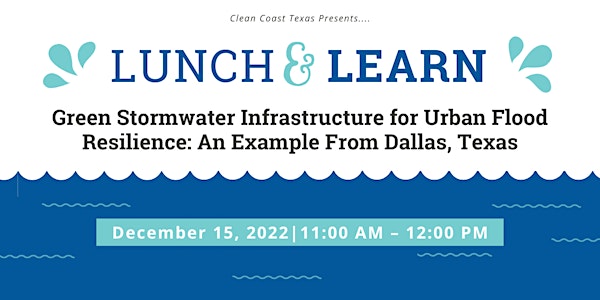 December Lunch & Learn with Clean Coast Texas
Bring your lunch and join the Texas General Land Office (GLO) for an informal lunch and learn virtual series!
About this event
Green Stormwater Infrastructure for Urban Flood Resilience: An Example From Dallas, Texas
Featuring Katherine Jack, Ph.D. - Texas Climate Program Director, The Nature Conservancy in Texas
Tune in for engaging presentations and Q&A sessions from experts along the Texas Coastal Zone, courtesy of Clean Coast Texas — a new GLO initiative that supports sustainable stormwater management in coastal communities as part of the Coastal Resiliency Master Plan and the Coastal Management Program. Stay in the loop with Clean Coast Texas - subscribe to our email list: http://bit.ly/CCTEmail.
As coastal communities grapple with existent flooding issues coupled with growth, lessons learned in Dallas can offer guidance for the Texas coast. Attendees will learn about cost-effective opportunities for incorporating green stormwater infrastructure, how "hot spots" were identified to reduce flooding, and best practices for community health and resiliency.
Development can be exciting for a community's growth, but it can also create unintended consequences for the surrounding environment, such as increased stormwater runoff and pollution. However, incorporating green stormwater infrastructure into developments can reduce stormwater runoff and improve its quality while providing a host of additional benefits.
This month's event will explore how green stormwater infrastructure practices can be used to enhance stormwater management in urbanized watersheds with featured speaker Dr. Katherine Jack, Texas Climate Program Director at The Nature Conservancy in Texas.
Dr. Jack will share findings from a study conducted by The Nature Conservancy and Texas A&M AgriLife Extension, in cooperation with the City of Dallas and the Trust for Public Land, that evaluated where green stormwater infrastructure could most effectiv­­ely enhance urban flood resilience within the City of Dallas.