Description
The next installment in our monthly Lunch & Learn series where we feature a current NAWBO member as the guest speaker, educating other women business owners in her area of expertise.
The Attitude of Gratitude 2018 will it help you recognize your growth
It's December and the year will be over before we know it. It has gone fast, hasn't it? There is a lot for which most of us would be grateful. We've enjoyed business successes—some failures too. But truthfully, nothing is a failure unless we give up on reaching, striving, learning, and running our businesses. Speaking for myself, experiences that did not go as I had planned or hoped taught me lessons, helped me refine my mission and message, and stirred the fires of my resolve. Headed into the winter holidays, I am reflecting on the year as a whole, and it occurred to me that the Lunch & Learn series needed to come full circle in December so we could close out the year mindfully and set ourselves up well for a year in 2019!
On December 18, please join me (Noreen Sumpter) and other Lunch & Learn presenters from past months (among them, Stephanie Gunning, Rebecca Maxwell, Lara Kisielewska, Tania Sterl, and Elizabeth Eiss) for a special participatory lunchtime workshop to end the year with gratitude. Gratitude is a transformational state of being and feeling. It's a personal reset button. And, it's also good for business because it opens avenues of connection and trust between you and your clients.
Sure, this year has been filled with what some might say were bad days/weeks, disappointments, discouragement, and at times, burnout. However, it's December now and you've landed with your feet on the ground! You've made it through the year! You're alive! You're wiser! You still have a business and you did not yet throw in the towel or skip town!
Bring a pad and pen or your laptop to this special L&L workshop, where we're going to do some releasing of our feelings and a touch of mental reframing of events and people we experienced as negative, admitting to ourselves how they helped us learn, grow, and develop.
THEN… we're going to reflect on and share insights on the fantastic, powerful conversations and opportunities that racked our brains and made us sweat and stretch ourselves. Positive experiences—defining them so that we can seek out more of the same.
Together, side by side, each of us is going to come up with a strategy to thank the staff, clients, and customers who provided you with the opportunity to do what you love—our work, our service and businesses and, in our own way, to express gratitude for the prospects that did not choose us.
How can all these experiences—the ups and downs—be turned into new opportunities going forward? How can expressing gratitude liberate us and inspire us?
THE GOAL: To walk away with a simple plan that genuinely empowers your business path for you.
Lunch will be provided.
Curated by Noreen Sumpter, Personal Life Coach and VP of Member Engagement. Get your time in the spotlight!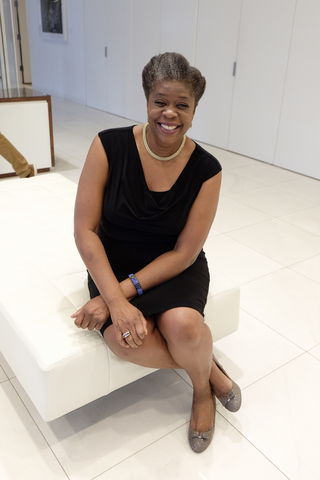 Organizer of December Lunch & Learn: The Attitude of Gratitude 2018
The National Association of Women Business Owners is the voice of more than 10 million women-owned businesses in the United States. Since 1975, NAWBO has helped women grow their businesses by sharing resources and providing a collective viewpoint to help shape economic and public policy. It is the only dues-based national organization representing the interests of all women entrepreneurs across all industries.