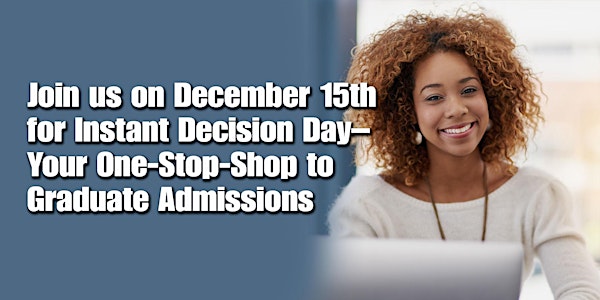 December Graduate Studies Instant Decision Day
Join us for Instant Decision Day - Your One-Stop-Shop to Graduate Admissions.
About this event
Peirce College's Graduate Studies division invites you to participate in our virtual Instant Decision Day on December 15th.
If you are interested in receiving an Instant Admissions Decision - including for our MBA program - please first complete a Graduate Studies application online.
Next, please provide the following documents to Graduate Admissions at PeirceGradStudies@peirce.edu December 14, 2022:
- A personal statement of intent
- Your resume
- An official or an unofficial transcript with conferred date and final GPA provided
Visit review the graduate admission requirements. You will receive a confirmation from our Graduate Enrollment Advisors that we have received your documents. If more information is required before rendering an admissions decision, you will have an opportunity to interview with the Dean of Graduate Studies.
Best of all - participants of the December 15th Instant Decision Day will receive FREE books for your first class and a $50 application fee waiver. Plus, if you are a Peirce bachelor's graduate, we will request your transcripts on your behalf.
If you have any questions regarding Instant Decision Day, please contact us at masters@peirce.edu or 215.670.9235.