Description

As always, new markets and updates on all markets. Special deals. Extensive Q&A. Roaming experts. Incredible cash-flow opportunities, and speakers that change lives.
Adiel Gorel, CEO of ICG Real Estate Investments will be opening the EXPO with a keynote speech.
Not to be missed!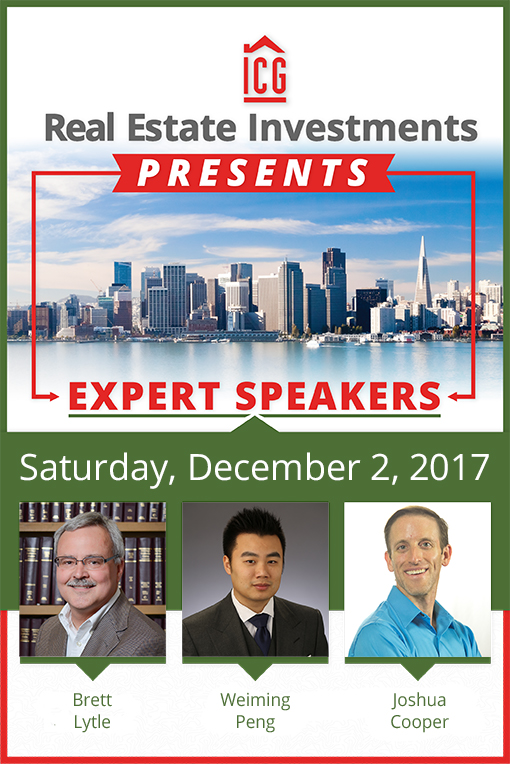 SPEAKERS:
Attorney Brett Lytle, McDowall Cotter, APC - He will talk about ASSET PRESERVATION, ENTITY FORMATION, mistakes in asset protection and how to avoid them; and how 2017 tax reform from a legal standpoint may effect your investments.
Weiming Peng, Asset Exchange Company - Weiming is a 1031 TAX DEFERRED EXCHANGE expert. Learn the complexities of the 1031 Exchange process, HOW TO USE EXCHANGES TO OUR ADVANTAGE AS INVESTORS with possible end of year changes.
Joshua Cooper, CPA - SPECIAL TAX PLANNING TO IMPLEMENT BEFORE DECEMBER 31, 2017 to maximize tax benefits for this year. Other important, relevant tax issues for the real estate investor.
LENDERS:
Great loans for those with under 10 properties, over 10, and those just starting out.
NETWORKING AND Q & A:
We always dedicate a generous amount of time for networking and an interactive Q & A with our roaming team of experts, speakers, and other like-minded investors. Don't miss out on your chance to participate in this critical expo. It sells out every quarter we offer it! The event is a fantastic opportunity for learning from other like-minded investors.
MARKETS:
Teams from the most interesting and relevant markets will be present with real estate deals ready to move, and updates and forecasts will be discussed. One-on-one discussions will be available on individual interests and needs.
PRICE: $20/person or $35/couple
Lunch is not included.
Plenty of free parking available.