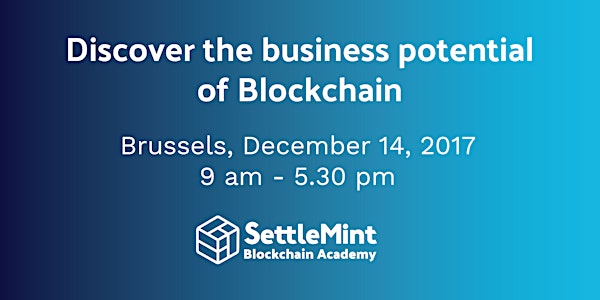 December 14, 2017 - Discover the business potential of Blockchain - Blockchain training for managers - Brussels
When and where
Location
The Hotel Brussels 38 Boulevard de Waterloo 1000 Bruxelles Belgium
Refund Policy
Refunds up to 7 days before event
Description
Content of this training
Introduction to course
Purpose and format of course

Welcome and introductions
Introduction to blockchain
Where did blockchain come from? Bitcoin, altcoins and why were they created?

Blockchain: a missing layer of the internet

Blockchains and distributed ledgers

What impact has blockchain had until now?
Blockchain basics - Part 1
What are hashing, ledgers and distributed networks and how do they fit together?

Reaching distributed consensus

The cryptography involved

Wallets, public and private keys
Blockchain basics - Part 2
Blockchain technology vs traditional data storage

Key attributes: Immutability, Transparency, Security

Architecture: private vs public networks
Blockchain basics - Part 3
What are smart contracts?

What are distributed autonomous investment funds?

Open source vs proprietary blockchains

Key advantages of blockchains

Key constraints of blockchains
Discussion and questions
Attributes of existing technologies
Blockchains:
Bitcoin

Ethereum

MultiChain

BigChainDB

Hyperledger

Corda
Blockchain applications in industry
Identity Management and KYC/KYB

Land registration

Voting

Prediction markets

Procurement

IoT data: storage and monetization
Government and healthcare use cases
Which governments are engaging and how so?

How can blockchain be used by governments?

How can blockchain be used in healthcare?
The regulators' perspectives
How do regulators react to and view blockchain technology?

How can blockchain enhance regulation and what are the use cases?
Europe

Asia

North America
Discussion and questions
Applying blockchain – 4 examples
Example 1: IoT Data – Smart Cities and Smart Buildings
Secure data storage

Permissioned data sharing

Real-time monitoring

Monetization of IoT data

Examples in practice
Example 2: Blockchain government services
Which countries are taking the lead? Why? How?

Healthcare applications

Documents and attestations

Land registration

Voting
Example 3: Procurement and Supply chain – authenticity and efficiency
Efficiency advantages

Smart contracts for workflow management

Storing sensitive data on-chain

Interacting with non-blockchain sources
Example 4: Self-Sovereign Identity – citizen centric identification management
User driven identity management

Smart contracts for access control

GDPR proof solutions
Discussion and questions
Open discussion: How fit for purpose are the solutions presented? Where do they tick the boxes, where do they fall short?

Open discussion: How can these solutions support your organization?
Breakout session: making blockchain a reality in financial services
In this session course attendees will breakout into groups to begin to put into practice some of the lessons learned in the day's training. Each group will discuss the problems their businesses face and how blockchain could help to address them. Our expert trainers will guide discussion and provide practical assistance so course attendees will have taken the first steps towards implementing blockchain at work before they walk out the door.
Wrap-up from break-out session
Each break-out group to present back to overall group

Share and discuss the key lessons to take away from each break-out group
Course summary and conclusions
Brief summary of what has been learned during course

Final opportunity to ask questions
We go for a personal approach, so the number of participants is limited.
Program of the day
8.30 am – 9 am: Welcome coffee
9 am – 10.30 am: Training part 1
10.30 am – 11 am: Coffee break
11 am – 12.30 am: Training part 2
12.30 am – 1.30 pm: Lunch
1.30 – 3.30 pm: Training part 3
3.30 pm – 4 pm: Coffee break
4 pm – 5.30 pm: Training part 4
Trainer
Matthew Van Niekerk, CEO of SettleMint
In 2016 and after several years of self-study and experimentation with blockchain technologies, Matthew set up his own company, SettleMint, offering a set of modular middleware solutions that abstract away the complexity of the blockchain journey for clients.

Prior to this, Matthew made Belgium his home in 2006, where he worked at KBC first as an internal management and operations consultant, later as COO for the Belgian Consumer Finance business and finally as the Head of Platform Innovation at KBC Securities Bolero where he was responsible for the technical side of the online retail brokerage platform 'Bolero' and the equity crowdfunding platform 'Bolero Crowdfunding'. Bolero Crowdfunding was the first bank/broker in Europe to launch a publicly available blockchain application in Europe.

A Canadian by origin and an Economist (Western) and MBA (Vlerick) by education, Matthew spent the first 7 years of his international career in Tokyo, where he worked in the FX business and launched several online retailing companies.
Language of the trainer
English


Registration fee
Early bird rate (until October 31, 2017): 450 EUR, ex. VAT
Standard rate: 550 EUR, ex. VAT
About the venue
The Hotel.
Boulevard de Waterloo 38
1000 Brussels
Belgium
T: +32 (0)2 504 11 11
F: +32 (0)2 504 21 11
About the catering
Welcome coffee, coffee breaks with pastries & fruit and a buffet style lunch are included.
How to reach the venue
Please click here.
Any questions about this training?
Please contact:

Els Meyvaert
Program Director
+32 476 999 539
els@settlemint.io