Description

MACY'S BROADWAY PLAZA INVITES YOU TO A FALL IN LOVE WITH THE HOLIDAY'S FASHION SHOW to Benefit The AHA Movement
Saturday December 1, 2018 - 11:00 - 12:00 pm 2nd Floor
Macy's 1301 Broadway Plaza Walnut Creek
RSVP for Free Tickets includes Continental Breakfast with Coffee
Fashion Show - Presentation of the Macy's Grant Check for AHA
$100 Gift Card drawing, Gift Baskets, Prizes and more.
Free Parking first 3 hrs. $5.00 3-5 hrs
Get your free tickets through this EVENTBRITE Invitation or as follows
From the Organizer: Mary Ann Cadorna, my passion for fashion resulted in my Modeling for Macy's Broadway Plaza. However, coupled with my passion for community, it became a Fashion Show Event

to benefit

the Anti Hazing Awareness Movement a Pleasant Hill non-profit, Founder/CEO

Debbie Smith.
Macy's is truly giving back to the community. Join us for a great fashion fun event from 11:00-12:00 p.m. Fashion Show highlighting the latest Holiday styles and learn more about Anti-Hazing.
We'd love to see you there, make sure to RSVP, so you too can fall in LOVE with the Holiday Fashions at Macy's Broadway Plaza in Walnut Creek.
Attend for a good cause to help raise

awareness through education

of the cruelty and the crime that is caused by hazing.
Mary Ann Cadorna Model for Macy's, Realtor, Radio Talk Show Host and Organizer Call/text (415)-810-1888 or email maryanncadorna@gmail.com
Debbie Smith, Founder & CEO of AHA Anti Hazing Awareness Movememnt
(209)-470-7116
---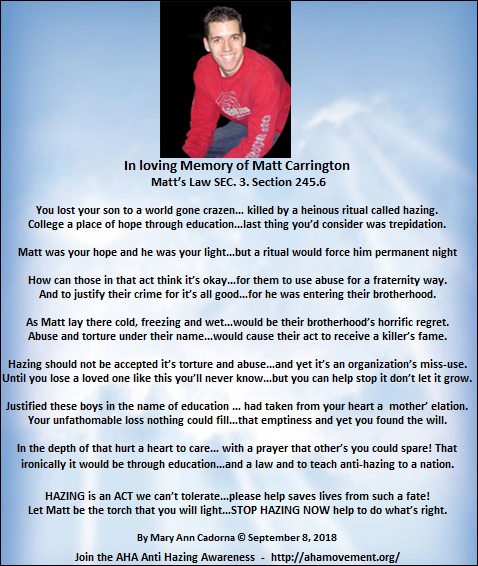 From Mary Ann Cadorna: I was so moved by Matt's story and what impact and damage it had on his mother's heart, that I was compelled to write this poem. My hope is that you too will be moved to attend and an RSVP includes Continental Breakfast. Call/text 415-10-1888. Organizer Mary Ann Cadorna, Realtor, Fashion Model, Radio Talk Show Host & Personality. Thank you, see you there RSVP me.