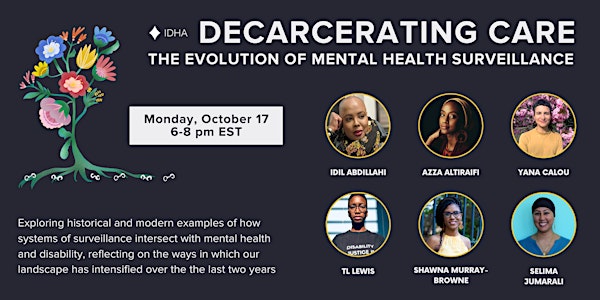 Decarcerating Care: The Evolution of Mental Health Surveillance
A virtual panel discussion exploring historical and modern examples of how systems of surveillance intersect with mental health
Refund Policy
Contact the organizer to request a refund.
Eventbrite's fee is nonrefundable.
About this event
About the Series
IDHA organized our first-ever Decarcerating Care conversation in September 2020, in the midst of ongoing racial uprisings in the United States and globally. As abolitionists and organizers called to divest funding from the police and some advocated for reallocation to mental health care, IDHA sought to draw attention to the ways in which the mental health care system maintains white supremacist, racial hierarchies and operates on logics of surveillance, coercion, and control. In the two years since, IDHA's four panels have reached more than 7,000 people with urgent dialogue about alternatives to policing that are rooted in the lived experience of mental health service users and survivors, movement leaders, and disabled community members. We have discussed the importance of taking policing out of mental health crisis response, the ways in which "reforms" uphold the ongoing coercion and control of marginalized communities, concrete steps and tools for decarcerating one's practice, and how to build community-based healing alternatives.
About the Event
At the two-year mark of the series, IDHA is starting the Decarcerating Care lifecycle over. We reflect on the ways in which our landscape has intensified since the series began, bringing both new challenges and new opportunities to cultivate autonomy, self-determination, and liberation for those experiencing crisis and distress. Historically, mad, mentally ill, and disabled people have been surveilled at astonishingly high rates within hospitals and prisons; since deinstitutionalization, however, these populations have been increasingly surveilled by other means – in what scholar Liat Ben-Moshe has termed "carceral sanism." Today, this pattern is evident in the expansion of mandatory reporting, particularly within Black, Native, and Latinx communities; the deployment of geolocation technologies by crisis hotlines in "active rescue" situations; and the advent of medications that utilize digital tracking systems to ensure compliance with treatment.
On October 17, 2022, IDHA will continue the conversation with Decarcerating Care: The Evolution of Mental Health Surveillance. This fifth installment will examine how systems of surveillance intersect with mental health and disability by reviewing historical examples and exposing present-day iterations. A panel of mad and disabled community members, mental health practitioners, activists, and scholars will explore responses within and adjacent to our mental health system that often result in coercion, confinement, and incarceration. Drawing on deep lineages of resistance – particularly by Black, Brown, Indigenous, disabled, mad, and queer communities – we will uplift ongoing resistance and movement efforts that respond to these covert forms of control and prioritize community-based frames for safety in pursuit of collective healing.
After registering via Eventbrite, you will receive a confirmation email with details on how to dial into the Zoom webinar. We will also send you a reminder email the day of the event.
Donations
IDHA is a small organization that strives to meet the accessibility needs of our community to the best of our ability. Our events are by tiered suggested donation to ensure we can provide closed captions on our events and other programs, though we strive to never turn anyone away. The suggested donation for this event is $10, and we appreciate donations of any size for those who have capacity to give.
Access
ASL + CART will be provided in Zoom. If we reach maximum capacity (1,000 people), this webinar will also be broadcast live on IDHA's Facebook page (note that the Facebook stream will have ASL interpretation visible, but not live captions). The session will be recorded and shared with all registrants. If you have any questions about access, please email us at contact@idha-nyc.org.
Panelists
Idil Abdillahi
Dr. Idil Abdillahi is an assistant professor in the School of Disability Studies, cross-appointed to the School of Social Work. Dr. Abdillahi is a critical Black Interdisciplinary scholar, researcher, policy analyst, grassroots organizer, and experienced practitioner across healthcare, institutional, policy, and social service settings. Dr. Abdillahi works to challenge the ways that research data about communities experiencing structural oppression are increasingly used to further the oppression of those communities. Dr. Abdillahi's work integrates an understanding of how these institutions and 'care' spaces continue to disproportionately negatively impact Black women/people.
Azza Altiraifi
Azza is a senior policy manager at a national movement support organization working to advance economic justice. Over the past several years, Azza has immersed herself in Disability Justice learning, organizing, and advocacy, and they are committed to envisioning new approaches to movement work that value rest, sustainability, and joy. Azza has worked in senior research and advocacy roles within the progressive policy space, working on issues spanning disability, carceral surveillance, poverty and economic security. Azza has served as an advisor for various national disability and health equity policy and research projects.
Yana Calou
Yana Calou is a non-binary Brazilian-American organizer and storyteller leading Trans Lifeline's campaign for safe hotlines - a campaign aimed at ending nonconsensual 911 interventions on crisis hotlines. Their work centers lived experiences in service of an abolitionist and anticapitalist future. They live in Brooklyn & Northern New Mexico.
TL Lewis
Talila "TL" Lewis is an abolitionist community lawyer, educator, and organizer who is entering a period of rest, recovery, and redefinition. TL's work has primarily focused on highlighting the inextricable links between ableism, racism, classism, and all other forms of oppression and inequity. TL co-founded and served as the volunteer director of the cross-disability abolitionist organization, HEARD for a decade. TL also serves as a consultant for social justice organizations and as an attorney and "expert" on cases involving multiply-marginalized disabled people.
Shawna Murray-Browne
Shawna works at the intersection of healing, ancestral wisdom, and deep support for organizations, corporations, and humans seeking liberation. Shawna is known for holding grassroots healing circles to equip Black families and change-makers with the tools to heal themselves and her training intensive, Decolonizing Therapy for Black Folk, where she co-creates space for deconstructing and reimagining mental health care. Shawna is a doctoral candidate at the University of Maryland, School of Social Work where she is exploring oral histories as a site of inquiry around the healing ways of Black women advocates during the civil rights movement.
Moderator
Selima Jumarali
Selima is a queer, Indo-Caribbean, Muslim educator, researcher, and therapist committed to spreading radical care and revolutionary love. Selima is a fifth year PhD candidate in the Clinical-Community Psychology program at the University of Maryland, Baltimore County. Her research focuses on the mental health experiences of queer and trans communities of color and the material needs of survivors of intimate partner violence. As a therapist, her practice is shaped by the teachings of Black feminist scholars and disability justice activists who remind us of our inherent resilience, right to joy, and duty to strive for liberation.