Join the cross-Atlantic discussion on Decarbonizing Transportation focusing on the potential of hydrogen and electrified maritime vessels
About this event
Decarbonizing Cities: A Nordic – US Dialogue
More than half of the world's population live in cities, accounting for more than 70 % of the global carbon emissions and 60-80% of the energy consumption. In order to reach our climate goals, it is crucial to reduce emissions from the cities.
The Nordics and California are both front-runners when it comes to sustainable cities. But to reach the ambitious goals for decarbonizing cities; sharing of best-practices, innovative approaches and collaboration is needed. In order to kick-start new collaboration between the Nordics and the US, the Nordic Missions in Silicon Valley will organize three virtual deep dive sessions on decarbonizing cities, focused on Decarbonizing Buildings, Decarbonizing Transportation and Decarbonizing Cities with Data. The sessions are sponsored by the Nordic Council of Ministers.
All sessions are free and open for everyone to join.
This event: Decarbonizing Transportation - The Potential of Hydrogen and Electrified Maritime Vessels
Where do zero emission maritime vessels fit into the quest to decarbonize cities? What are the regional challenges with using hydrogen and other zero emission technologies? Where is there potential for Nordic - US collaboration?
To help answer these questions, we have invited three experts. The event will be moderated by Jennifer States, Vice President for Projects and Strategy at Washington Maritime Blue, who will start of with contextualizing "decarbonizing transportation" when it comes to vessels and lead us through the session where Heidi Wolden, CEO of Norled and Joe Pratt, CEO and CTO of Zero Emission Industries will share their insights and approach to decarbonizing maritime vessels, including key technologies, newest trends, and how to approach the transformation. Together they will discuss drivers for change, common challenges and future opportunities for cross-Atlantic co-operation.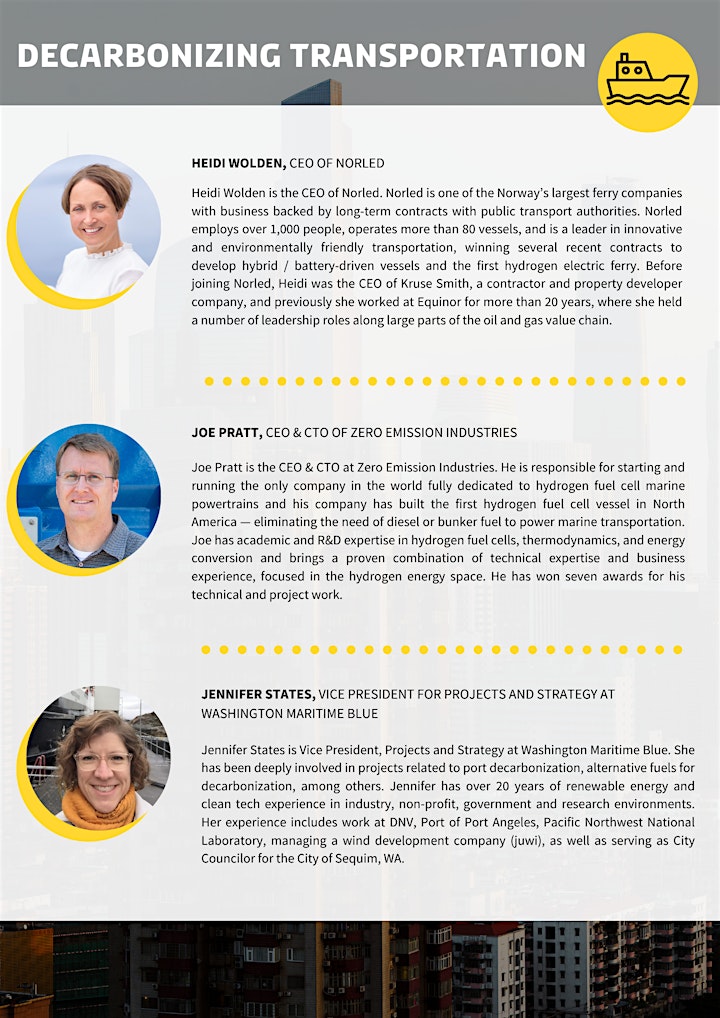 The deep dive takes place on November 3 across time zones:
09:30 - 11:00 (am) California, USA
16:30 - 18:00 Iceland
17:30 - 19:00 Denmark, Sweden, Norway
18:30 - 20:00 Finland
Organizers
The Decarbonizing Cities series is sponsored by the Nordic Council of Ministers and co-organized in collaboration with Innovation Centre Denmark, Silicon Valley, Nordic Innovation House, Vinnova Sweden's Innovation Agency, Business Finland, Innovation Norway and Business Iceland
Following deep dive
We hope to see you at this event. You might also be interested in the following deep dive:
November 17: Decarbonizing Cities with Data
Organizer of Decarbonizing Transportation: A US – Nordic dialogue