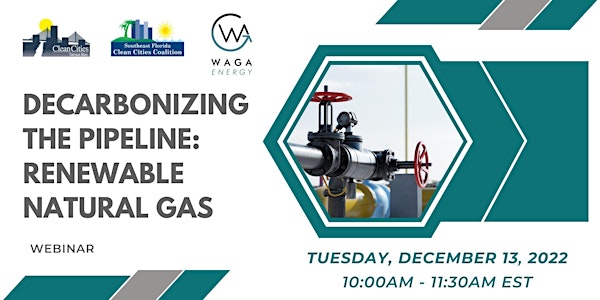 Decarbonizing the Pipeline: Renewable Natural Gas
Join us on December 13 for a webinar on opportunities for renewable natural gas (RNG) in Florida.
About this event
Tampa Bay and Southeast Florida Clean Cities Coalitions are partnering with WAGA Energy to host an educational session on the benefits of renewable natural gas (RNG) for Florida. RNG is carbon neutral, versatile, pipeline quality, and is able to be produced from a variety of renewable feedstocks. Municipal solid waste landfills are the third-largest source of human-related methane emissions in the United States. Partnering with RNG developers to capture methane and convert to RNG can create substantial environmental and economic benefits with the potential for additional revenue generation from the sale of landfill gas.
Join us on December 13 to learn more from industry and fleet experts on the economic opportunities and environmental benefits of RNG!
Topics include:
Introduction to Renewable Natural Gas (RNG)
The Need for Low Carbon Fuels in the Pipeline
Leveraging the RNG Potential of Small- to Medium-sized Landfills
Permitting Challenges and Environmental Benefits of Methane Capture
Benefits of Powering a Fleet with CNG and RNG
Q&A
An email with the link to the meeting will be sent following registration.