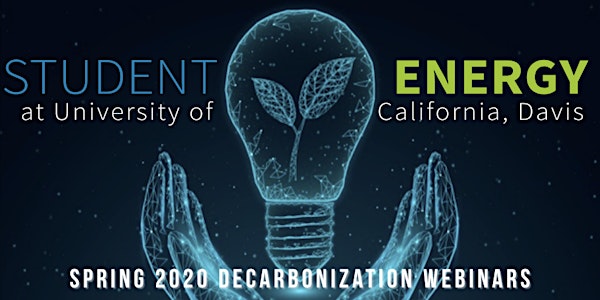 Decarbonization Webinar #7: Leah Stokes and Fran Moore
Short Circuiting Policy: Climate Politics and Political Economy in the Covid-19 era
About this event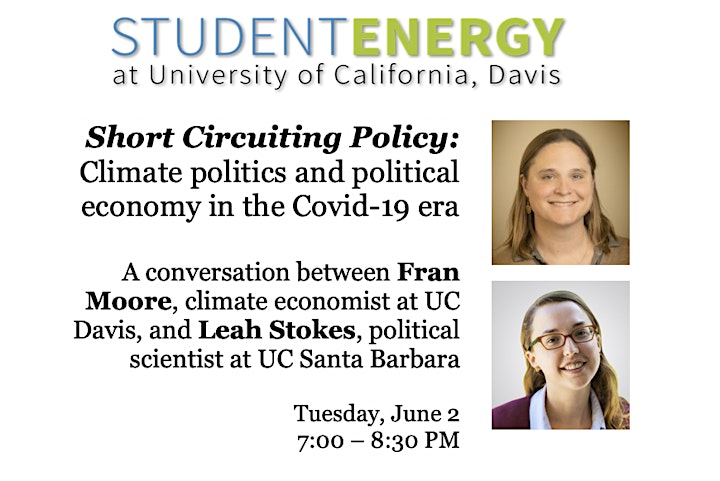 About Student Energy
Student Energy at UC Davis is connecting graduate students across all disciplines in order accelerate the clean energy transition in California. Upcoming events, blogs, and other resources can be found at studentenergydavis.org.
About Leah Stokes
Leah Stokes is an Assistant Professor in the Department of Political Science and affiliated with the Bren School of Environmental Science & Management and the Environmental Studies Department at the University of California, Santa Barbara (UCSB).
Dr. Stokes works on energy, climate and environmental politics. Within American Politics, her work focuses on representation and public opinion; voting behavior; and public policy, particularly at the state level. Within environmental politics, Leah research climate change, renewable energy, water and chemicals policy.
About Fran Moore
Fran Moore is an Assistant Professor in the Department of Environmental Science and Policy at UC Davis, working at the intersection of environmental economics and climate science. Her research seeks to improve our understanding of the economic and social impacts of climate change and to better understand our ability to adapt to those impacts. To do this, Dr. Moore combines econometric analysis, experimental approaches, climate model output, and economic modeling.
Event Zoom link
https://ucdaviscoe.zoom.us/j/390828185?pwd=Wm96dlRvbDREVjgxN3FyZVQ0OTljdz09