Virtual Panel Series on Sustainable Transportation - Decarbonization pathways for transportation
About this event
The Decarbonization Pathways for Transportation panel series is being hosted by the Sustainable Transportation Committee (STC) of ASCE's Transportation & Development Institute (T&DI). The three-part virtual-event series will provide an overview of the scope, challenges, and opportunities towards transitioning effectively to a decarbonized transportation network.
The second panel will provide practical insights on the green transportation modes, their supporting infrastructure and low carbon fuel technologies with the potential to drive decarbonization. The discussion will highlight affordability and incentives programs initiated by some transportation agencies, aiming to make the transition easier and meet targets and strategies to fully decarbonize by mid-century.
Panelists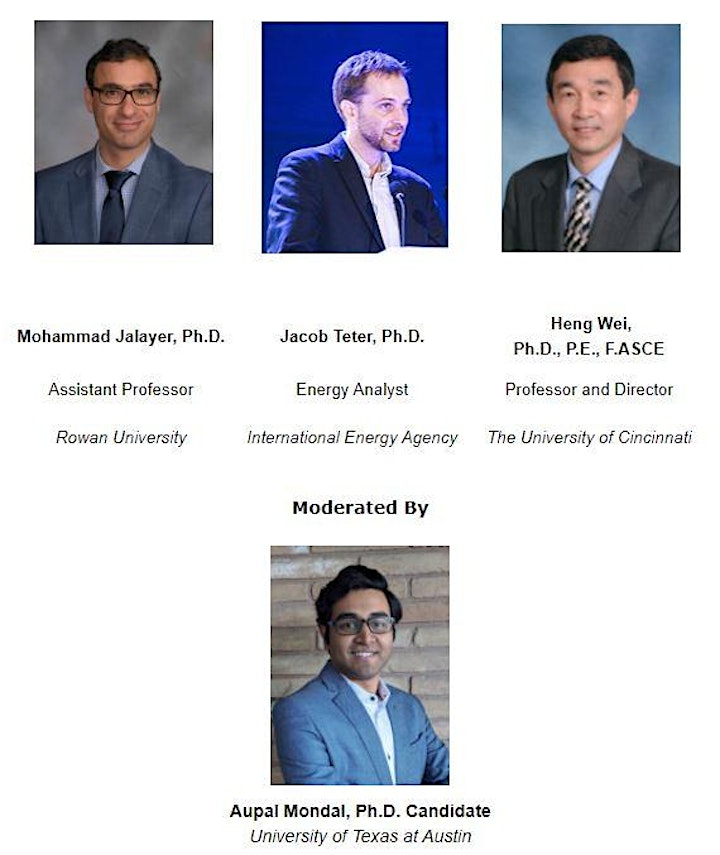 About this Virtual Panel Series
Overview
Virtual Panel Series on Sustainable Transportation is a series of online panels moderated by civil and environmental engineering students where leaders from the transportation industry and academia are invited to speak about various technical and career development related topics on Sustainable Transportation. The panel series are planned and organized by the Sustainable Transportation Committee (STC) and ASCE-T&DI.
Goal
The goal of the ASCE T&DI webinar series on decarbonization pathways for transportation is to discuss and develop a summary of the scope of the transportation system and relationships with other systems that drive transportation carbon emissions, identify pathways to decarbonizing transportation considering the full system, and share and discuss the results with the civil engineering profession.
Scope
The system definition and pathways will be identified from presentations and discussion with international experts in different areas of transportation and related systems and synthesized by ASCE series organizers and committee members. System elements are expected to include housing, land use, fuels, vehicles, civil and other infrastructure, asset management, freight movement, and travel behavior affecting travel demand and mode choice.
Organizer of Decarbonization Pathways for Transportation
The Orange County Branch Transportation and Development Institute (T&DI) was established in September 2016 as an evolution of the long-standing Transportation Technical Group (TTG). The mission of the Orange County Branch T&DI  is to advance the transportation engineering, planning and development community in a manner consistent with the purpose of the American Society of Civil Engineers and the Transportation and Development Institute of ASCE and also to provide members with opportunities to expand and share their knowledge and expertise of transportation engineering, planning, construction and development, particularly as it relates to the unique environment of the Orange County Branch area.
The T&DI hosts technical lectures, specialty seminars, tours and other events to give our members the opportunity to interact with other professionals in the transportation and development fields of civil engineering and to provide continuing education events that are relevant to T&DI members. We hope you will come out and participate in our Institute and work with us to build a strong organization.