Description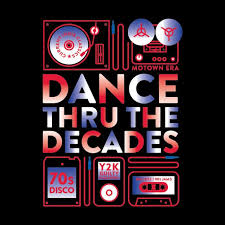 For our newest Get-together, we're taking over The Saloon and hosting a party so big that it spans several decades. We'll wind back the clock 4 or 5 generations and progressively dance our way back to present day!!
Cost (all ticket purchases are tax deductible donations):
General Admission- Free, with a donation. Online donations are accepted at http://bit.ly/2liZNcZ or at the door. Suggested donation is $15
Premium Donor- $25 donations includes (1) Complimentary Drink (Craft Beers, Domestics, House Wine, or Rail Drinks)
Free Door Prizes!!
EVENT DETAILS:
We all love charity and we all love an epic party. Why not combine two great loves for one amazing night?
We are raising funds for scholarships in support of two high school students and one college student interested in pursuing careers in journalism.
The Saloon, in the upstairs grand space, will serve as our hosts, as our entertainment for the evening, DJ Nupes and DJ Cory Beez, takes us on a musical journey through the decades as we make our way through each generation's best dance hits. Throughout the evening, you can enjoy the festivities however you see fit: gather around a few tables with old friends and enjoy some craft beers, tap your foot and people-watch from the sidelines, party from high heights in the "Platinum Lounge", or dive into the heart of the dance party as we enjoy music from Abba to Prince, Michael Jackson to Britney Spears, Notorious BIG to Beyonce. Regardless of how you enjoy, we'll gather together and party the night away.
Decades Attire is Optional but Encouraged!
Here is a taste of the experience:
50s/60s--https://www.youtube.com/watch?v=XC-gEzaYFfI
https://www.youtube.com/watch?v=TS8op9z-Qm4
70s-- https://www.youtube.com/watch?v=tQmbDDP0L3M
https://www.youtube.com/watch?v=qNMCj2L7vdg
https://www.youtube.com/watch?v=0CFuCYNx-1g
80s-- https://www.youtube.com/watch?v=_SJp9FGWSGs
https://youtu.be/ICZ9ya6kBS8?list=PLNyqKoB_t_1qrtC-SjI-O0mgme6AkFwi6
90s-- https://www.youtube.com/watch?v=qq09UkPRdFY&list=PLrbsIj7db4PLu4ojmlGtx91FAygLTLs06
2000s-- https://www.youtube.com/watch?v=b8m9zhNAgKs
Gather up your friends and family, and dance with us, April 1st, as we raise funds to create opportunities, spread awareness, and empower communities!
ABOUT LANCAR Ink!
LANCAR Ink, Distinctly Diverse Storytelling, is a 501 ( c ) (3) nonprofit news outlet. LANCAR Ink's mission is to create and distribute diverse multimedia content to news outlets, showcasing the impact of nonprofit initiatives, programs, and services aiding a plethora of communities. Our primary goal is to diversify mainstream newsrooms across America by providing for-profit news outlets with our specialized media created by multicultural journalists.
This past year, three college students received a paid fellowship opportunity to learn of and create content with LANCAR Ink to help spread awareness of nonprofits addressing; human trafficking, issues faced by those on the Autism Spectrum, and the scholastic achievements of DC students ages 6-18. (Stay Tuned! Documentary Screening in December!)
This year, we are bringing on three (3) interns to help develop their journalism portfolio, strengthening their ability to compete for employment in mainstream news outlets upon graduation.
Please come out and support! Our goal is to raise $10K towards scholarships through a series of events.