Dec. Monkey Masterminds--2nd Friday Nights in Tumalo
Description
MONKEY MASTERMINDS is a social occasion for fun inspiring speakers and audience members to talk about passionate, inventive, and imaginative ideas about products, business, hobbies, & life. It's your chance to try something new and chill back in your chair with appetizers and an intriguing small group on a Friday night in comfy cozy Tumalo. Bring a friend or a date, or come with your lil' ol' self.
Bring your own monkey wine or beer, we provide awesome appetizers and coffee, the guest speaker, plus a fun innovative activity. This is no plain old passive lecture---you'll leave inspired and energized!
---
"MAGIC FOR EVERYDAY LIVING"
Sharon Balsamo, Counselor, Coach & Earth Witch
Friday, December 14th 5:30 to 8 P.M.
Sharon will talk about how she found magic and how it coincides with her expertise in mental and emotional health, the foundational basics of how magic works, and popular misconceptions about earth-based spiritual practices (aka: witchcraft). We will discuss how you can use magic in everyday living, especially to support and enhance personal growth work.
AND----we will conclude the evening by concocting a prosperity spell to increase abundance for all of us during the holiday season!
"I have always been called to live a magical life. I suffered from anxiety and depression as a teen and began reading tarot cards at 13 years old and used spirituality as a lifeline to get me through young adulthood. This translated into going into the field of counseling to help others overcome their own demons. Over time I have worked to join the therapeutic and spiritual worlds, which has given me a sense of joy and expansiveness that goes beyond words!"
I am a counselor, healer, intuitive, and facilitator of transformational experiences. I have become a Licensed Professional Counselor, a Nationally Certified Counselor, a Certified Sacred Breathwork Facilitator, and trained in Dialectical Behavioral Therapy, Equine Facilitated Psychotherapy, Psychodrama, Interpersonal Neurobiology and Hakomi. I hold a Master's Degree in Clinical Mental Health Counseling and incorporate alternative modalities into traditional psychotherapy techniques for holistic, lasting transformations. I also offer transformational coaching as a holistic approach to profound change and healing, helping women create and walk a spiritual path that is empowering and fulfilling.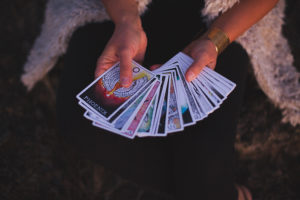 Join us for some magic!!!
$25 per person (covers appetizers, coffee & event). Sign up by 2 days prior to event!
MONKEY (Buddha believed that the human mind is filled with drunken monkeys jumping and flinging themselves from tree branches and chattering nonstop—essentially that our minds are in constant motion.) MASTERMIND (a person who supplies directing or creative intelligence.)Our goal is to inspire innovative thinking and action, develop awareness of the creative efforts of the community around us, and offer fun ways to explore yourself and others through discussion and activities.
_________________________________________________________________________________