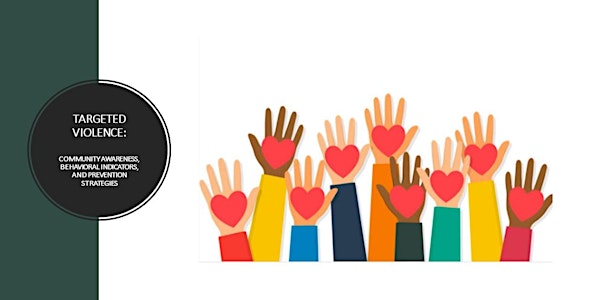 Dec. 15 - Targeted Violence: Community Awareness and Prevention Strategies
Sales Have Ended
Registrations are closed
Thank you for your interest! If your school district / county office of education is interested in leveraging federal grants to increase collaboration and coordination across multi-disciplinary threat assessment and management teams, please reach out to ViolencePrevention@batep.org. Visit our website for Targeted Violence and Terrorism Prevention resources at: http://www.bayareauasi.org/TVTP
Sales Have Ended
Registrations are closed
Thank you for your interest! If your school district / county office of education is interested in leveraging federal grants to increase collaboration and coordination across multi-disciplinary threat assessment and management teams, please reach out to ViolencePrevention@batep.org. Visit our website for Targeted Violence and Terrorism Prevention resources at: http://www.bayareauasi.org/TVTP
Training on domestic violent extremism awareness, process of radicalization, risk factors, behavioral indicators, and violence prevention
About this event
Preventing violence in our communities starts with empowering communities to help those in need before there is a problem. This training will cover the threats we face, the process to radicalization and violence, and how to identify and prevent problems before they happen. This training is based on a public health prevention framework. The course will define the current threat of extremism in the Bay Area, enhance each attendee's knowledge and understanding of the behaviors and actions that represent pre-incident indicators, and discuss the process to radicalization. We will also cover when and how to report behaviors, and present examples of community based, local, state, and federal strategies and programs that can prevent targeted violence.
Organizer of Dec. 15 - Targeted Violence: Community Awareness and Prevention Strategies
The Bay Area's Targeted Violence and Terrorism Prevention (TVTP) Grant Program supports a public health approach to violence prevention. Projects funded by the TVTP Grant enhance local violence prevention frameworks and are effective, efficient, and sustainable. The Bay Area UASI is currently offering federally funded targeted violence awareness and terrorism prevention training for public and private school faculty, staff, and volunteers, community and faith based based organizations, behavioral and mental health professionals, parents, school resources officers, and juvenile probation officers.