About this Event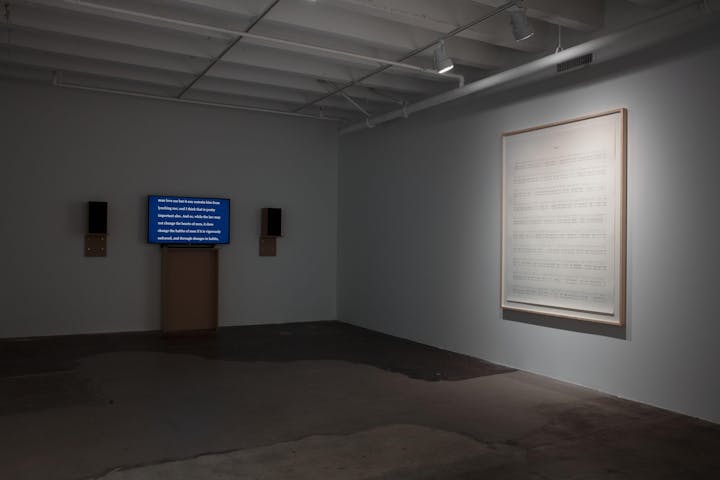 Join us for a one-night-only live musical performance of 'Manifestos 3' (2018), composed by noted American artist Charles Gaines, on the occasion of his first exhibition with Hauser & Wirth, 'Palm Trees and Other Works.'
Exemplifying Gaines's interest in music, language, and visual art, 'Manifestos 3' is a multimedia installation that functions as a systematic transliteration of two revolutionary manifestos into musical notation: Martin Luther King, Jr.'s speech from 1967 and James Baldwin's essay 'Princes and Powers' (1957).
For the first time, the musical notations of 'Manifestos 3,' as written and arranged for piano by Gaines, will be played live by pianist Richard Valitutto, who also performed the recorded version of the composition currently featured in 'Palm Trees and Other Works.'
Valitutto's performance will be followed by a discussion with Gaines, as well as a book signing of the new exhibition catalogue published by Hauser & Wirth Publishers.
Previous performances from the Manifestos series have taken place at the Hammer Museum, Los Angeles CA; Museum of Modern Art, New York NY; REDCAT, Los Angeles CA; and The Village Vanguard, New York NY.
Program
'Manifestos 3' (2018), written and arranged by Charles Gaines
Piano, Richard Valitutto
Followed by a discussion with Gaines and Valitutto, as well as a book signing of the new exhibition catalogue published by Hauser & Wirth Publishers.
This event is free, however, reservations are required.
About 'Manifestos 3' (2018)
Reflecting on his personal history, Gaines observed that 'one thing that made me different from other conceptual artists is that I was not shying away from language or meaning or content' – a truth perhaps best exemplified by 'Manifestos 3' (2018). This work functions as a systematic transliteration of revolutionary manifestos into musical notation. The installation is comprised of two parts: a single channel video monitor that scrolls the manifesto texts, and two large graphite drawings of the music scores that were produced by the translation. Each text scrolls in succession on a monitor while a recording of the music produced by Gaines's system plays. Created by way of a rule-based system, Gaines transcribes letters 'A – H' from the text into their equivalent musical notes. The use of the letter 'H' represents the code used in early Baroque tradition for B-flat. All other letters and spaces between words are noted as rests or silent beats. While the resulting composition does sound intentional, it is controlled only by the preconceived notation system that follows the compositional structure of language. This produces the fluidity that the audience hears.
The two political texts transcribed in 'Manifestos 3' are Martin Luther King, Jr.'s speech given at the University of Newcastle upon Tyne (1967), wherein King nominates racism, poverty, and war as the three most urgent problems of the contemporary world, and James Baldwin's essay 'Princes and Powers' (1957) which describes the dominating power of cultural control. These two manifestos are systematically translated into the above described musical notations as written and arranged for piano by Gaines and edited by John Eagle.
This series not only takes social justice and politics on as its subject, but also as it may critique our understanding of the relationship of the practice of art and politics. By converting these powerful and poignant texts into music, Gaines unites the rational, mathematical, and lyrical structures of music with the irrationality of violence, racial tensions, and social injustice. The predetermined process developed by Gaines widens the distance between concepts and their interpretation, effectively removing the artist's subjectivity while empowering the viewer's. The combination of the elegiac music with the stirring words of the scrolling manifestos creates an unexpected conflict for the viewer; it is within this dissonance that the indelible truths of Gaines's work are revealed.
About 'Charles Gaines: Palm Trees and Other Works' from Hauser & Wirth Publishers
Published alongside Charles Gaines's 2019–20 exhibition at Hauser & Wirth Los Angeles, this monograph charts the evolution of the palm tree in Gaines's work from the 1980s to the present. In a new text, David Platzker explores the cultural and art historical contexts of the series, particularly the recent 'Numbers and Trees' works, shown for the first time in Los Angeles, that take palm trees as their subject. Also featured is a conversation between Gaines and Cherise Smith, which delves into the conceptual underpinnings of the artist's work. Additionally, this publication documents and discusses other works from Gaines's decades-long career, including the 'Manifestos' series (2008–18), exploring the threads that unite various parts of his practice.
About Charles Gaines
A pivotal figure in the field of Conceptual Art, Charles Gaines's body of work engages formulas and systems that interrogate relationships between the objective and the subjective realms. Using a generative approach to create a series of works in a variety of mediums, he has built a bridge between the early conceptual artists of the 1960s and 1970s and subsequent generations of artists pushing the limits of conceptualism today.Gaines lives and works in Los Angeles, and has been a member of the CalArts School of Art faculty since 1990. He has been the subject of numerous exhibitions in the United States and internationally, and his work is in prominent public collections including the Museum of Modern Art, New York, the Whitney Museum of American Art, the Studio Museum in Harlem, and the Los Angeles County Museum of Art, Los Angeles. Gaines' work was presented at the Venice Biennale in 2007 and 2015.
About Richard Valitutto
With a focus on contemporary keyboard performance, including organ and harpsichord, Grammy-nominated pianist Richard Valitutto is a soloist, chamber musician, vocal accompanist, and composing/improvising creative with an active performance schedule that spans both coasts of the US, across the country, and abroad. Described as 'a keyboard superstar' (The New Yorker), and as a 'vivid soloist,' 'vigorously virtuosic,' 'quietly dazzling,' and 'all around go-to new music specialist' (LA Times), he is a member of the critically acclaimed Wild Up Modern Music Collective and the 'startlingly versatile' (NY Times) quartet, gnarwhallaby. He regularly performs modern and contemporary art song with various singers and concert series. Richard is currently in residence at Cornell University's Keyboard Studies DMA program. He holds degrees in piano performance from the California Institute of the Arts (MFA) and the University of Cincinnati's College-Conservatory of Music (BM, summa cum laude).
Charles Gaines, 'Manifestos 3' (2018) (Detail) © Charles Gaines Photo: Fredrik Nilsen
Installation view, 'Charles Gaines. Palm Trees and Other Works,' Hauser & Wirth Los Angeles, 2019 © Charles Gaines Photo: Fredrik Nilsen