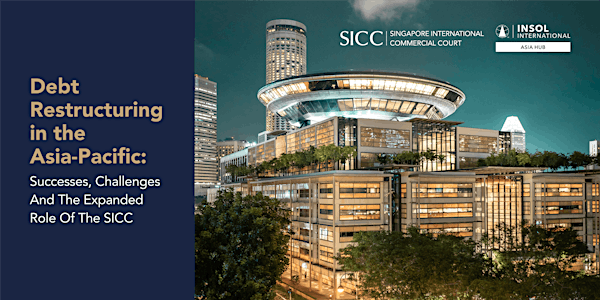 Debt Restructuring in the Asia-Pacific
Join us either in person or over Zoom in a half-day seminar hosted by Scott Atkins, President of INSOL International.
When and where
Location
Supreme Court Auditorium 1 Supreme Court Lane Singapore, 178879 Singapore
About this event
Registration is complimentary, and in-person attendance is limited to 150 on a first-come-first-served basis.
Please select in the registration form if you would be attending in-person or virtually via Zoom.
We are now operating in a very challenging economic environment, with global stagflation, tightened monetary conditions and supply chain issues expected to spark widespread defaults. Rapid globalisation and digitisation have also led to business invariably being conducted across borders, with assets and creditors located in multiple jurisdictions.
In that context, the demand for jurisdictions that offer flexible restructuring processes underpinned by strong and respected institutions and highly developed restructuring ecosystems in the Asia-Pacific is at a renewed high. Businesses and financiers in the Asia-Pacific seek predictable outcomes, and reliable and competent forums in the region for the resolution of international restructurings and insolvencies.
Singapore's law reform process – which commenced in 2017 – introduced new restructuring tools that have enhanced Singapore's status as a restructuring jurisdiction of choice within the region. Procedural amendments in August 2021 have now also given the Singapore International Commercial Court (SICC) express jurisdiction to hear cross-border insolvency matters.
Is the SICC now ideally placed to drive Singapore's further growth as a preferred nodal jurisdiction for restructuring in the Asia-Pacific? Does it have the capability and a robust framework for adeptly resolving cross-border restructuring issues? What will be the recognition, judicial cooperation and other challenges to Singapore's ambitions to enhance its status as an international restructuring hub?